During the month of October, in honor of National Breast Cancer Awareness Month, the Chiefs celebrate a breast cancer survivor, a caregiver or someone who has furthered the cause of breast cancer awareness. Today, the Chiefs and the University of Kansas Hospital recognized Stephanie Reynolds as this week's Pink Seat Honoree.
Stephanie was recently diagnosed with breast cancer in June of this year. She is a Chiefs super fan and is not letting cancer keep her from cheering on her Chiefs at Arrowhead.
"I could not sleep at all last night because I was so excited about coming to the game today," Stephanie said. "This experience has been almost unbelievable."
The Pink Seat Honoree sits in the designed pink seat at the stadium, receives pregame field passes and has the opportunity to meet the Hunt family.
"Being the Pink Seat Honoree today and having the chance to be on the field before the game, meeting Clark Hunt and his daughter and being able to bring my kids today is incredible," Stephanie explained. "It's been an overwhelming experience."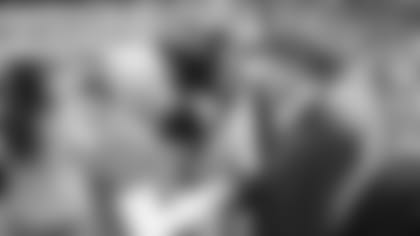 Stephanie is a strong woman, fiercely battling breast cancer. She has been through a double mastectomy, three rounds of chemo, with five rounds left and then starts radiation.
"Breast cancer doesn't even run in my family, so you never know," Stephanie noted. "You need to get checked, you need to make the appointment today and go. By the time I went to get checked I was already in stage II."
The Kansas City Chiefs, Hy-Vee and The University of Kansas Hospital are all encouraging the same message, learn more about breast cancer and schedule your appointment today.
"On behalf of the Chiefs, Hy-Vee and The University of Kansas Hospital, we encourage all fans to learn more about breast cancer and to take a stand against this deadly disease," the Chiefs commented.
While at Arrowhead today, Stephanie, along with her three kids were wearing shirts that read, "Cancer – Fight it like a girl."
"Don't let cancer take over your life, continue to do what you love and what makes you happy," Stephanie said. "If you don't have hair, are going through chemo, or whatever it is that you are going through with cancer, don't let it rule your life. Nothing is better medicine than laughter and making memories."
Stephanie made some incredible memories at Arrowhead today and was thankful for the chance to encourage fans to get screened and kick cancer to the curb.
"Fight cancer like a girl and don't let it drag you down," Stephanie said. "You may have cancer, but don't let cancer have you."