On Tuesday, the Chiefs Community Caring Team visited Nativity of Mary School, located right down the street from Arrowhead Stadium. Former linebacker and Chiefs Ambassador, Shawn Barber hosted a Play 60 assembly for the 285 students, along with KC Wolf.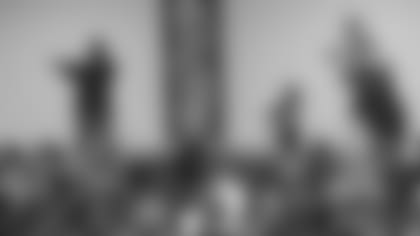 "We are thrilled to have KC Wolf and the Chiefs Community Caring Team at our school, teaching our students more about being active and staying healthy," Elizabeth Baker, Principal of Nativity of Mary School said. "The students were so excited to have the Chiefs here and really enjoyed the assembly."
Nativity of Mary was celebrated for outstanding participation in the NFL Play 60 Fitnessgram Project. This project requires much time and attention. It is an intense exercise program and involves a baseline test and a final test, tracking the students' progress.
"This school has been participating in the Fitnessgram program, as well as Play 60 events, and encouraged the Play 60 ideals all year long," Shawn Barber, former Chiefs player noted. "We had an assembly for them with KC Wolf, who helped demonstrate the exercises for the kids and encourage them to move and be active."
Barber spoke with the students about nutrition and maintaining healthy eating habits.
"It was great to have Shawn Barber talk to the students and asking them about what they had for breakfast, or which foods help your body when your exercising and which foods are best for your growing bodies," Baker explained. "He encouraged them to be active and healthy and think about what they are eating."
The school is committed to helping kids lead healthier, more active lives. Nativity of Mary School has nutrition and fitness classes to encourage the students to learn more about healthy eating and being active.
"During P.E. class, we have the students participate in all kinds of activities, push-ups, sit-ups, running, as well as different drills to keep them active and running around, but having fun at the same time," Krista Daniels, Nativity of Mary School's Physical Education Teacher explained.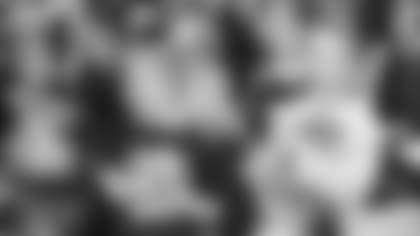 The Chiefs congratulated Nativity of Mary School and awarded them a special game ball, as well as a banner, recognizing their dedication and hard work, throughout the year.
"This school has done a great job encouraging their students to play for 60 minutes a day and stay healthy," Barber commented. "It's fun to be around these young kids, seeing them get a huge grin on their faces when they see KC Wolf and they were thrilled when we presented them a game ball and banner."
The 285 students that gathered in the school's gymnasium were ecstatic to have the Chiefs Community Caring Team hosting an assembly and the teachers were glad to know their hard work is paying off.
"The kids have been going through the Fitnessgram program all year, but this assembly helps bring it all together and show the kids, plus the teachers, this is why we are involved in this program; this is seeing it all pay off," Daniels said. "It's such an impactful event and helps the kids to better understand the importance of eating healthy and staying active."