The Kansas City Chiefs are getting stronger and smarter this offseason.
During the team's Phase One of the offseason training program, guys are walking in and out of the University of Kansas Hospital Training Complex with the feeling of soreness and optimism.
"It's intense," said Chiefs DB Tysyn Hartman.
"We're starting to develop a little culture here, getting a winning attitude and it's a lot of hard work. A lot of guys went and put in a lot of hard work in the offseason, before we even got here, just to get back into shape. Even with that, guys are walking around (with) sore muscles, hopping in the cold tub afterwards and it's been fun, challenging each other, doing extra reps and extra sets that we can."
All of the Kansas City Chiefs coaches are commited to making the players better, including head strength and conditioning coach Barry Rubin and assistant strength and conditioning coaches Travis Crittenden and Brent Salazar.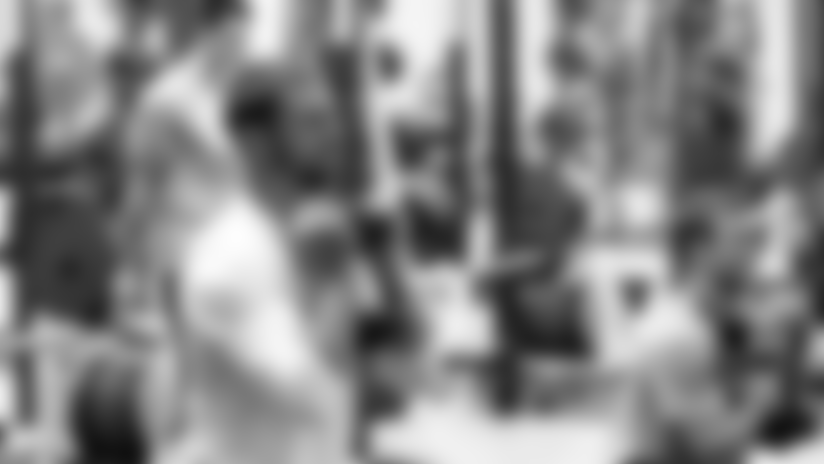 "They're real positive, not really get in your face, yelling at you (or) scream at you, but (instead say) 'Good work, good set', challenging you to do more weight, if you can, and they know a lot about what they are doing," Hartman said.
"We're doing some different things that we didn't do last year and we're real optimistic how it's going to change our bodies, make us stronger, make us quicker."
Every athlete usually wants to get bigger, faster and stronger but there's an additional benefit coach Rubin brings to the Chiefs
"I just like that he (coachRubin) focuses so much, especially on the field, working with bands and explosiveness and that's what it boils down to, is being explosive on the football field," Chiefs LB Edgar Jones said.
"Anybody can go in the weight room and lift all the weights in the world but if you're not explosive with it, that's different. Even while warm-ups, how we're getting warmed up in the morning, with the bands and then our explosive moves and warming up, I'm sweating; I'm drenched and that's even before the workouts. Every day I leave here, I feel I've put a good day's work in and that's tremendous."
It's not just the defensive players noticing the new weight-room protocol.
"We did this thing called "bags", Chiefs OL Jeff Allen told me, "It's like crash-test dummies (that you're holding), where we're running in place for 15 seconds, something that you think is simple and wouldn't hurt you, but it's pretty tough. I know it's going to pay off."
Chiefs WR Devon Wylie can already see the work inside and outside of the weight room is paying off.
"There's definitely an attitude of everybody working hard and we all have the right attitude and we all want to be the best," Wylie said.
"We want to win the Super Bowl and it starts in the weight room. You hear that in college and it's the same way at this level. Your work ethic is not just on the field, it's watching film and in the weight room."
The discipline and dedication of the guys not only helps the team on the field, but also developing camaraderie and chemistry in the locker room, with each other. "Everyone works out in the offseason, on their own, but it's nothing like being together with the team, pushing each other and having a little bit of competitiveness," said new Chiefs TE Anthony Fasano.
"I couldn't be more fortunate to step into this kind of situation with these guys in the same room as me."
To see the level of commitment by the guys each and every day, even just during voluntary workouts, is exciting, trusting that the hard work pays off in the win column in 2013.