Versatility is certainly the theme when looking at the Kansas City Chiefs' secondary, as most of the 18 defensive backs currently on the roster have experience at both cornerback and safety. The positional distinction simply isn't that relevant nowadays when considering how opposing offenses have evolved, and that's particularly the case in Defensive Coordinator Steve Spagnuolo's scheme that often blurs the line between the two positions and utilizes defensive backs in a variety of roles.
For the purpose of this article, however, we're going to take a look at the 10 players currently on the roster who have significant experience at cornerback. This group returns three of its biggest contributors from 2020 in L'Jarius Sneed, Charvarius Ward and Rashad Fenton, but it will be without veteran Bashaud Breeland this upcoming season following his departure for the Minnesota Vikings. The good news is that Kansas City features several players - from individuals like Fenton who could earn a larger role this season to newcomers such as Mike Hughes – eager to show that they can fill that void.
Let's examine all 10 players on the Chiefs' roster who possess significant experience at cornerback heading into camp. For a look at the eight players with significant experience at safety heading into training camp, click here.
Sneed was quite simply one of the best rookie cornerbacks in all of football last season. A fourth-round pick in the 2020 NFL Draft, Sneed quickly established himself as an absolute steal and an immediate playmaker. He tallied interceptions in each of his first two professional games, and despite an injury that forced Sneed to miss six games midseason, the Louisiana Tech product seemed to pick up right where he left off upon returning.
Overall, Sneed allowed the third-lowest completion percentage (46.5%) among all defenders (minimum 30 targets), according to NFL.com's Nick Shook, while earning praise from virtually every analytical outlet. For example, here's what Pro Football Focus had to say about Sneed earlier this offseason:
"The grades, stats and tape all agree: No rookie held a candle to Chiefs' cornerback L'Jarius Sneed."
Elsewhere, the folks at CBS Sports selected Sneed at No. 7 overall in their re-draft of the 2020 class, making him the top defensive back selected and the second defensive player taken overall if the league was to do things over again. Sneed's performance was also enough to earn him a spot on NFL.com's "All-Under-25 Team" earlier this summer.
The 24-year-old defensive back is a star in the making, setting the stage for an exciting sophomore season in 2021.
A three-year veteran, Ward's development into a starting cornerback is a tremendous example of what makes Kansas City such an elite squad. Originally an undrafted free agent signee of the Dallas Cowboys in 2018, the Chiefs traded for Ward prior to his rookie season and have watched him grow into a significant piece of their defense during the time since.
He logged just 245 defensive snaps as a rookie, but his 1,844 snaps over the last two years lead Chiefs' cornerbacks and rank 13th among all corners across the NFL. Ward has tallied 16 passes defensed and two interceptions in that time, earning performance grades from Pro Football Focus that placed him among the top 23 cornerbacks in the NFL during both seasons (min. 750 snaps played).
Ward is still just 25 years old and has room to grow, but his continued development is one of many success stories for the Chiefs' front office.
Speaking of developmental success stories, Fenton is another example of a player with humble beginnings who has grown into a reliable contributor. The Chiefs selected Fenton in the sixth round (No. 201 overall) of the 2019 Draft, and in the time since, the former South Carolina standout has carved out a role as an effective member of Kansas City's secondary.
He doesn't see the field as often as some other members of the defense, but when called upon, Fenton has often delivered. In fact, according to Pro Football Focus, Fenton was the Chiefs' top-graded cornerback in 2019 (minimum 100 snaps) and Kansas City's second-best corner in 2020 behind only L'Jarius Sneed. Fenton only tallied 694 snaps between those two campaigns, so that context is important, but the point remains that Fenton has impressed whenever he's taken the field.
Fenton has experience at both slot and outside corner, making him a useful chess piece who can contribute in various ways. With former cornerback Bashaud Breeland no longer in Kansas City, Fenton could earn an even larger role moving forward.
Hughes was the No. 30 overall pick in the draft just three years ago, making him the third cornerback taken that year behind only the Browns' Denzel Ward (No. 4 overall) and the Packers' Jaire Alexander (No. 18).
Hughes made 24 appearances with seven starts during his three-year tenure with the Vikings, recording 13 passes defensed, three forced fumbles and two interceptions. Injuries have limited his time on the field, as he tore his ACL in Week 6 of his rookie campaign and battled a neck injury that caused him to miss all but four games in 2020.
Now a member of the Chiefs, Hughes has an opportunity at a fresh start in Kansas City. Like Fenton, Hughes could help fill the void left by Bashaud Breeland's departure depending on how he performs in camp.
The Chiefs selected Keyes in the seventh round (No. 237 overall) of the 2020 NFL Draft to round out last year's class of draft picks. He went on to appear in eight regular season games during his rookie campaign - contributing mostly on special teams - but Keyes did manage to see the field defensively in three contests.
He received his greatest opportunity in the Chiefs' regular-season finale against the Chargers, tallying 57 snaps at outside corner. Keyes made seven tackles in the matchup.
Featuring good length at 6-foot-1 and impressive athleticism to go along with it, Keyes certainly has intriguing physical tools and could grow into a contributor on defense if he performs well during camp.
One of the more intriguing names on the Chiefs' roster, Baker was selected by the New York Giants in the first round (No. 30 overall) of the 2019 NFL Draft. He went on to start 15 games for New York that year - recording eight passes defensed – in what turned out to be his lone season for the Giants.
New York waived Baker prior to the 2020 campaign, opening the door for the Chiefs to sign him to their practice squad in late November. The 5-foot-11, 189-pound Baker eventually appeared in two games for Kansas City, including a start in Week 17. He played well in that performance - recording a pass breakup and a sack - but Baker suffered a leg injury midway through the game that effectively ended his season.
Baker is still working his way back to the field following the injury, but once he's healthy, the 23-year-old cornerback will certainly be a player to keep an eye on. It was only two years ago that Baker was considered a consensus first-round talent, and much like the Chiefs' acquisition of Mike Hughes, it's possible that a change of scenery could unlock the potential that made him so highly regarded in the first place.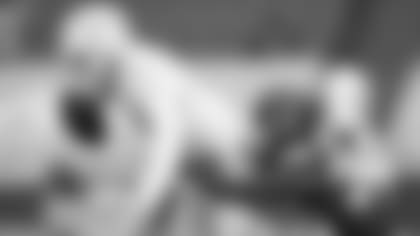 Originally an undrafted free agent signee of the Falcons in 2018, Lammons joined the Chiefs' practice squad late in the 2019 season and has been around the organization ever since. He even saw action in four games (including the playoffs) last year, suiting up for Kansas City's Week 13 and 14 matchups before appearing in both the Chiefs' Divisional Round contest against the Browns and AFC Championship Game vs. Buffalo.
He was strictly a special teamer in those appearances, recording a total of 68 snaps between his four games of action. According to the folks at Pro Football Focus, Lammons' performance against the Bills (which included 12 total plays) was the best among all special teamers' playing on conference championship weekend.
An undrafted free agent signee this past spring, Character Jr. was the No. 1 safety prospect coming out of junior college prior to the 2018 college football season. He went on to sign with Louisville and appeared in 34 games for the Cardinals over the last three years, lining up as a cornerback for a significant number of his snaps.
He was particularly productive this past season, as the six-foot-one, 195-pound defensive back racked up 37 tackles and 12 defensive stops while missing just three tackles, per Pro Football Focus. He was also a force on special teams during his career at Louisville, showing off impressive athleticism in kick and punt coverage.
Like many players in the Chiefs' secondary, Character Jr. has the positional versatility to play either cornerback or safety. We'll have a better idea of where Kansas City envisions him contributing during camp.
Kansas City signed Bootle, a rookie free agent, following the conclusion of the 2021 NFL Draft.
The five-foot-10, 195-pound Bootle appeared in 44 games (33 starts) during his career in Lincoln, recording 110 tackles, two forced fumbles and an interception in that time. In fact, after starting just once as a redshirt freshman, Bootle went on to start the final 32 games of his career for the Cornhuskers. He finished his career with 26 pass-breakups, which rank ninth in Nebraska's storied history.
Patterson was a star at the University of Maine before suffering an ACL tear during his senior year, but prior to the injury, the 5-foot-10, 180-pound Patterson had tallied 54 pass-breakups, three interceptions and 113 total tackles across 44 games for the Black Bears.
A three-time all-conference selection, Patterson went undrafted in 2020 but still caught the attention of the NFL, earning a spot on both the Washington and Houston practice squads over the course of last season. After his successful tryout back in May, he'll now have a shot with Kansas City.
The duo of Sneed and Ward enter camp as a pair of familiar faces atop the depth chart, but modern offenses often force three or more cornerbacks on the field at one time for much of the game. That means, with Breeland's departure, Kansas City will be relying on several of the names mentioned above to provide effective snaps in 2021. The good news is that the Chiefs feature plenty of candidates rife with potential to fill that void, from players like Fenton – who has impressed in limited opportunities – to players such as Hughes and Baker, who were considered first-round talents not that long ago.
This year's camp represents an excellent opportunity for some of those younger players to emerge not only in 2021, but for seasons to come.