It's impossible to not root for Kansas City Chiefs inside linebacker Justin March-Lillard.
His is the kind of story people get caught up in and want to follow.
March-Lillard originally got to the NFL by signing with the Chiefs as an undrafted free agent in 2015 out of Akron. He was already an underdog, then turned heads with his play in his first training camp only to go down with a season-ending knee injury in the preseason.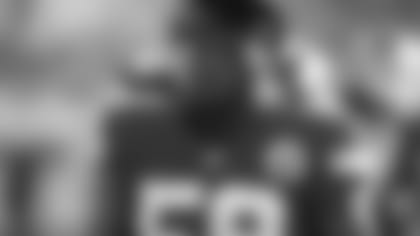 March-Lillard fought his way back to the field—earning a starting position in his second season, which was last year, only to go down with a broken hand five games into the season. He had finally felt comfortable and then was placed on injured reserve, again.
As if people can't connect with that kind of a story already, when you add in the fact that his dad was diagnosed with pancreatic cancer (his third bout with cancer) and passed away a month after he broke his hand, the story becomes deeper and clearer.
And then another layer—the day before his father passed away—March-Lillard was able to tell him that he and his wife are expecting their first child in July.
It's a story that was shared last Sunday on Father's Day, but the other side to this is March-Lillard is also a fantastic athlete and inside linebacker. Through OTAs and mandatory minicamp, March-Lillard found himself lined up to next Ramik Wilson and the other defensive starters.
When discussing the Chiefs' linebackers corps, there's the three obvious players who will generally be mentioned first—Derrick Johnson—the franchise's all-time leading tackler, Tamba Hali, who ranks second in franchise history with 89.5 career sacks, and Justin Houston, who is one of the league's most dangerous defensive players when healthy.
But there are a handful of other guys that have contributed and will once again be counted upon next season, and March-Lillard finds himself right in the middle of that mix.
Last year before his injury, March-Lillard started five games for the Chiefs' defense and had 22 tackles, including one for loss, and two passes defensed.
As of right now, March-Lillard is the only player who has proven to be able to handle both inside linebacker spots for the Chiefs' defense.
Johnson plays the "Will," or weak-side, as does D.J. Alexander, while Wilson plays the "Mike," or strong-side position.
At the start of last year, March-Lillard was playing the "Mike" position next to Johnson, while he has spent this offseason playing the "Will" position next to Wilson.
The requirements and skillsets to play these two positions are different, and March-Lillard is unique in that he can play either—much like former Chiefs linebacker Josh Mauga.
"Football is my life right now and it's about giving my all to that so that I never look back and wish I would have done more," March-Lillard said. "I also never want to find myself in a situation where I lose someone and wish I had said more. It's about not leaving things unsaid or leaving actions undone. I feel like I'm a different player than I was before. Making plays is one thing, but I'm seeing things from a different perspective.
"I'm ready to do everything I can to help this team win and be the player that Chiefs Kingdom wants me to be. It's about taking that next step. I feel more than ready. I appreciate every single play and I want to play hard for myself, for my dad, for my family and for all the fans."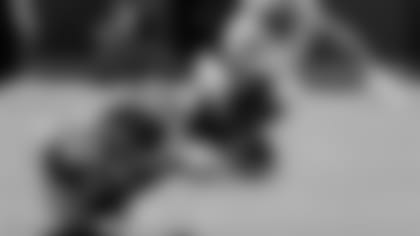 It doesn't take long when watching a Chiefs practice for March-Lillard's athleticism to stand out, and he even admitted to dropping a bit more weight coming into this season.
Through offseason workouts, March-Lillard has been everywhere around the ball for one of the league's top defenses.
It's a competitive position that includes Johnson, Wilson and Alexander, who was named a Pro Bowl special teams player last year, and also last year's undrafted free agent signee Terrance Smith, who got some run with the defense. 
At training camp, the inside linebacker position will be one to watch, and not just because of March-Lillard's story and past, but because of what we could see in the future.