It's an old saying that you want your most physically imposing player "walking off the bus first," as to intimidate your opponent like you're back in high school.
If there was an NFL equivalent to this kind of thing, there'd be few players who you'd take ahead of Kansas City Chiefs rookie defensive lineman Tanoh Kpassagnon, whom the Chiefs selected in the second round of this year's draft out of Villanova.
Kpassagnon, who finished his senior year with 45 total tackles, including 21.5 for loss and 11 sacks, is a physical specimen, standing at 6 feet 6 and 289 pounds and possessing less than 4 percent body fat.
Simply put, Kpassagnon is well versed in finding the weight room.
Through rookie minicamp, OTAs and mandatory minicamp, which finished up a couple of weeks ago, Kpassagnon has impressed his position coach.
"He's coming along," Chiefs defensive line coach Britt Reid explained. "He's really smart. He's extremely coachable, and he picks up things real fast."
Coming from an FCS school, there was going to be a learning curve for Kpassagnon.
While he dominated his level of play in college, it's obviously a different story coming to the NFL, where any guy he'd line up against is better than most anyone he ever played in college.
"There's just a lot more to learn," Kpassagnon explained. "We do a lot more reading of the offense. Right before the play, we're trying to see what they're going to run and try to predict it. We try to make an educated guess on how we can play it."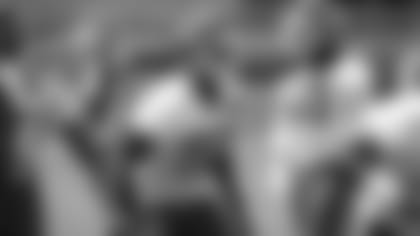 Kpassagnon said he's been getting advice from the guys in his defensive line room.
"Just to take it one day at a time," Kpassagnon said. "That's what Chris Jones was telling me. The whole D-line has been real helpful. They just said to take it one day at a time, don't try to look at the whole thing all at once because it might overwhelm you. That's what I've been doing."
From one behemoth to another, veteran Allen Bailey, who also has freakish size and athletic ability, spoke about what he's seen from Kpassagnon.
"He's a big fella," Bailey laughed. "Coming from college to now, there's always a learning curve for everybody. So, he's getting used to his body. I don't think he understands the potential of his body because he's so big and long.
"I think with time and learning things from the players around him and coaches, he'll pick it up pretty quick."
While he spent some time at Villanova coming off the edge, Kpassagnon has spent most of his time working as a defensive end, or 5-technique, so far for the Chiefs.
Chiefs area scout Matt Donahoe, who first evaluated Kpassagnon, broke down what stands out about him as a player.
"His ability to get off the football at his size, just because he's such a big guy—you don't see it a lot with those guys," Donahoe explained. "He'll make plays out on the edge; he'll make plays hustling backside. It's just nonstop effort, which you like in those big guys. As long as they have that motor and they're willing to learn, willing to do anything that's asked, they're most likely going to succeed.
"I also think there's versatility with him, which is nice. Especially now with these offenses in sub-packages so much of the time anyways, guys who can rush from the defensive line at 3-tech are valuable."
It's one of the things to watch at training camp, and Kpassagnon will be a hard one to miss.