On Tuesday, Chiefs players, along with some former U.S. Marines that recently returned home from deployment, gathered at Arrowhead Stadium. They were on hand to participate in the Chiefs third annual Pro vs. GI Joe gamming event. This program matches military personnel, "GI Joes," against professional football players, "Pros" and brings them together in a video game competition.
"We're at Arrowhead playing video games against some guys stationed overseas and some local former Marines that recently returned from deployment," WR Donnie Avery explained. "We're just out here having fun and showing our appreciation. The community does so much for the Chiefs and the military does so much for us so, we're just thankful to get a chance to show our appreciation to these guys serving and protecting our country."
Pro vs. GI Joe, in partnership with the USO, is a program designed to provide deployed troops a once-in-a-lifetime opportunity to go head-to-head in online video game competitions against their favorite professional athletes. The troops play either in USO centers all over the world or on location with the professional athletes back home.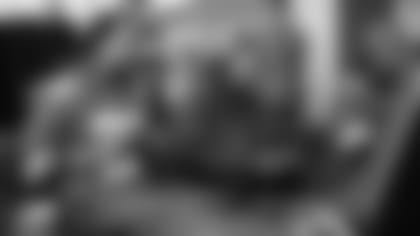 "We have some of the Chiefs players playing video games with some soldiers that are here and other service members that are in remote locations that are communicating via webcam," Sean Heidgerken, Chiefs US Army Liaison, noted. "When you're overseas, what you miss is home. The ability for them to reach back, not only to home but also to their favorite team, means a lot."
Heidgerken, who has spent time overseas, explained that even opportunities to watch your team play is important, so participating in an event such as this would be an unbelievable experience.
"Even though I'm sure it's early in the morning over there, it would not be a problem to get guys staying up for this," Heidgerken said. "Most of the time, we would stay up late to watch the games so, playing video games with these guys has to be pretty awesome. I would have loved to have this opportunity; it's seems like a really great event for both parties."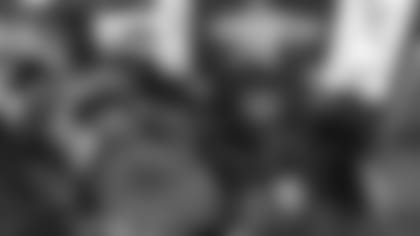 The Chiefs have long supported active-duty military members and veterans alike and events like Pro vs. GI Joe help reinforce this support.
"We always love and appreciate the support," Sergeant Melvin Jacobs, one of the "GI Joes" at the event, commented. "We appreciate the Chiefs and the Chiefs players' support and we also support them. I've always been a Chiefs fan, for a long time, so it was cool to play some video games, get my football signed and meet these guys."
In addition to this event, the Chiefs annually visit local military bases, such as Fort Leavenworth and Whiteman AFB, as well as, visiting the local V.A. Medical Center to interact and thank our veterans who are receiving medical treatment and assistance. The Chiefs will also continue to recognize those fighting for freedom at our annual Military Appreciation game on November 24th vs. San Diego and will host our 49th annual Toys for Tots drive at the game on December 1st.