Drafted in the sixth-round of the 2014 draft, Laurent Duvernay-Tardif, or as most call him, Larry, is 6-5, 315-pounds out of McGill University, located in Montreal, Quebec, Canada. Recently, I caught up with the Larry to discuss his move to the states, medical school and becoming a member of the Chiefs.
Rachel: How are you adjusting to living in the States?
Laurent: Pretty well. I've actually been training in Tennessee over the past winter so I've been getting used to it. It's a similar culture, so it's been great.
R: How has the transition been to American football?
L: Well, that's another story. It's going well, but the playbook is a lot different, it's different than what I'm used to, but I'm getting used to it. I feel I get a better grasp on it every day.
R: Did you always want to play in the NFL?
L: Yeah, definitely. But, when you play in Canada, it's more realistic to want to play in the CFL. Over the last two years, I had some people telling me that maybe I could have a shot in the NFL, so I started training for it and am very happy to be here.
R: You were in your third-year of medical school before you were drafted, do you plan on finishing med school?
L: Yes, the plan right now is to do two or three months every offseason. So, I will go back to Montreal to do two or three months of school a year, in order to complete the year that I have left. It will end up being two or three months a year, for the next three years. I don't want to have to restart, so it's really important that I finish this last year I have of medical school. I probably want to be a sports doctor but we'll see. The Friday, before the draft, I had just finished my pediatric rotation and here's a good story, I was almost done with my shift, it was about 5:00 and I was rushing to get home to watch the draft. Well, we had an emergency c-section so I ended up staying there until about 8:00, so I missed the entire first day of the draft. It was pretty intense. I took off five months to train for the Combine, then I went back for two months for the pediatric rotation.
R: How did you manage football and medical school during your time at McGill?
L: Well, during the season it was pretty rough, but I tried to have some rotations that were a bit more relaxed during the football season. For example, last year I spent the first part of last season doing a sports medicine rotation with the football team doctor. During the offseason, when you do surgery rotations, it's hard to find time to train at the same time, but you just have to keep pushing and go work if it's 10:00 at night or 5:00 in the morning.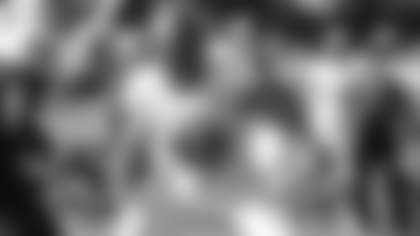 R: Do you have dreams of becoming a doctor? Or are you more passionate about football?
L: Right now it's football. It's football 100 percent. I love the idea, however, of having a good backup plan for after football. I want to do my two months a year and stay in the program, but my focus will be solely dedicated to football the rest of the time. This is a professional sport, it's a full-time job and I want to give it my all.
R: What is your biggest strength as an offensive tackle?
L: I would say I'm athletic, I'm smart, so even though my technique is maybe not super great compared to guys who have played at a four-year university in the NCAA, I think I'm going to be able to learn fast and contribute quickly. It may take me a bit more time, but I'm confident it will work out.
R: John Dorsey said you are very versatile, able to play left tackle, right tackle, guard, which would you say is your strong suit?
L: I've never played guard and right now, I'm practicing as a guard. I think after camp I will have a better idea of whether its guard or tackle, but I just want to play, so we'll see where I end up.