*This is another in a season-long series on the Kansas City Chiefs search for a franchise quarterback. It appears weekly on Thursdays throughout the 2015 season.
*
---
To spend endless column inches extolling the qualities and statistics that Joe Montana brought to the Chiefs history of quarterbacking would largely be a waste of time for the readers of this site.  Suffice to say, he was one of the franchise's best, perhaps the second best behind Len Dawson, in bringing Kansas City closer to its goal of a return to the Super Bowl.
Montana's arrival in Kansas City after a career that was already established as hall of fame-ready really had more to do with the offense the Chiefs were determined to run and the man whose responsibility it was to run it:  Paul Hackett.
Paul Hackett was from the Bill Walsh school of offense
Hackett was Marty Schottenheimer's choice for offensive coordinator after Joe Pendry was let go. The changes Schottenheimer made to his offensive staff were not easy, since almost all of those coaches he dismissed had come with him from Cleveland.  But he had asked for changes to open up the offense, he told the author, and they had not happened at a pace he expected, leaving him no choice, he said, but to leave the familiarity he had with these men and strike out in another direction.
Hackett's offense was a fundamental alteration to Bill Walsh's attack merged with new running back coach Jimmy Raye's principals of rushing the football. It featured a high-percentage passing attack where the quarterback got rid of the ball quickly and placed a premium on doing something with the ball once it was in a receiver or running back's hands.  The previous year sacks and the surprising lack of a running game had been reasons for the Chiefs finishing 25th among 1992 NFL offenses.
Both Peterson and Schottenheimer knew that it would give the Chiefs an edge if they had someone already versed in running the West Coast, and with events involving Joe Montana and Steve Young in San Francisco about to play out, the Chiefs might be able to get the former or another 49ers backup, Steve Bono.
Bono had been a high school star in suburban Philadelphia when Peterson was with the Eagles and had eventually ended up at UCLA, where the Chiefs GM had close ties.  He was one of the NFL's most efficient quarterbacks filling in during the second half of the 1991 season at San Francisco. Another option was Steve Beuerlein, who had helped guide the Cowboys to the playoffs in 1991.
In the meantime, Hackett studied tapes of Mark Vlasic, college and pre-season tapes of Matt Blundin, and finally David Krieg.
Krieg had advantages, Hackett observed, because he was successful throwing the deep ball and it was always easier to take a guy who can make that throw and work down in increments if he has the accuracy, too. 
Blundin remained a "guy of the future," to hear Hackett tell it, someone who had to "start at square one…go one step at a time…don't rush. Let's face it," he said, "three years from now, we want to be able to say, 'This guy is ready to take us to the next level.'"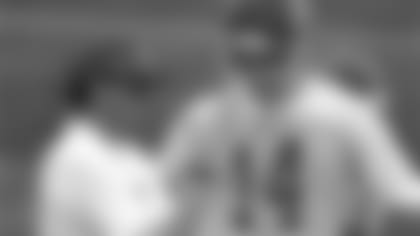 It was hoped Blundin could be the "QB of the future."
Blundin had the advantage of running a similar offense at the University of Virginia. He had completed 60.3 percent of his passes for 19 touchdowns and no interceptions his senior year.  Virginia had used plenty of quick outs and posts and throws to the tight end.
But it was Montana who both Peterson and Schottenheimer wanted and Montana knew his best interests merged with theirs:  with someone and something familiar in Paul Hackett, who had coached him in earlier days with the 49ers, and in Kansas City, with an offense he had played in for all his professional life. Moreover, the Chiefs were a widely respected franchise and annually it seemed on the cusp of a Super Bowl. A deal was struck and the four-time Super Bowl-winning QB was in Kansas City and the populous engaged like never before.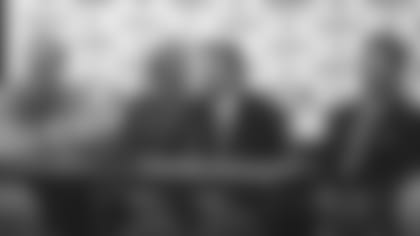 Montana, wife, and the Chiefs hierarchy at his signing in KC
Immediately upon his appearance at training camp, curiosity-seekers, oohing-and-ahhing, thronged around him like he was a carnival exhibit. It was sure to be a short engagement.  Montana was no spring chicken and he was not going to stick around long. He missed significant time due to injury in San Francisco but he wanted to go out on top, not as an aging veteran relegated to injured reserve.
Management and coaching were thinking much the same way and knew that their window was closing to make it to the Super Bowl.
---
Next time: Battered but not beaten