*This is another in a season-long series on the Kansas City Chiefs search for a franchise quarterback. It appears weekly on Thursdays throughout the 2015 season.
*
---
Elvis Grbac was the starting quarterback for the Chiefs from 1997 until his surprising departure in 2001, surprising, because the coach then, Dick Vermeil, was prepared to work with Grbac and expressed disappointment when he left.  That he up and left came with little warning.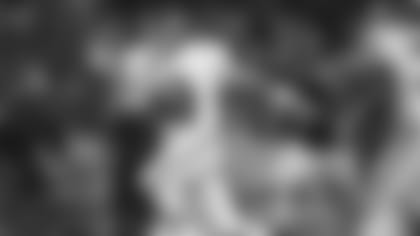 Grbac had more weapons at his disposal
Despite a propensity to lay blame on the quarterback, Grbac's reputation remained predominantly positive for a number of years even after the disappointment of the 1997 playoff loss. The following comments, from the press, comprise an unalloyed look into the thinking at the time:
"I'm not dissing [Rich] Gannon, but Grbac is still my quarterback of choice regardless how well Gannon plays."
"In my mind, Grbac is still the man."
"How can you blame Grbac? Grbac will not be a bust."
"Grbac is better than any quarterback currently on Kansas City's roster."
Grbac was at a prime age. Management and coaching had every reason to believe that the best was yet to come, but in leadership he was well ahead of his years.  Steve Bono appeared detached from his teammates and while Grbac was hardly a prankster or big talker in the locker room, he was not an outcast. He could be seen pumping his fist on the sideline, exhorting his teammates on defense. 
He invited nine of his teammates on a hunting trip after the 1999 season, paying all their expenses including first-class travel.  He said all the things expected of a team leader.  "Guys got to finally know who I am," he proclaimed. "That's where the relationship will grow between individuals."
It was tough being a leader when you were injured, he admitted.  He had missed six games in 1997 due to injury and eight in 1998, partly because of a shoulder injury and partly because he had been pulled by Schottenheimer and replaced by backup Rich Gannon. 
It was the demotion by Schottenheimer that had set tongues to wagging that "here we go again."  The 1998 season would be Schottenheimer's last as head coach, but that wasn't known yet. It would be a year filled with injury, problems off the field and an embarrassing loss on Monday Night Football played out before a national audience. 
The year opened well enough with a win over Oakland, but Grbac was injured again and missed four games.  Gannon came on to lead the team to a 4-1 record, but the club went on to lose six consecutive games, the longest of Schottenheimer's tenure. Grbac was back as the starter in the season-ending game in Oakland.
The performances of both players broke down this way from October 11 through the rest of the 1998 season:
Grbac vs. New England: 14-29-144 yards, 1 TD, 1 interception
Grbac vs. Pittsburgh: 15-36-234 yards, 1 TD, 2 interceptions
Grbac vs. NY Jets: 13-28-120 yards, 0 TD, 3 interceptions
Grbac vs. Seattle: 12-18-109 yards, 0 TD, 2 interceptions
Gannon vs. Denver: 26-39-224 yards, 1 TD, 1 interception
Gannon vs. San Diego: 7-10-134 yards, 1 TD, 0 interceptions
Gannon vs. Arizona: 21-28-231 yards, 3 TD, 1 interception
Gannon vs. Denver: 14-19-110 yards, 2 TD, 0 interception
Gannon vs. Dallas: 13-34-139 yards, 0 TD, 0 interception
Gannon vs. NY Giants: 6-12-64 yards, 0 TD, 1 interception
Grbac vs. Oakland: 20-32-254 yards, 1 TD, 2 interceptions
Even despite the benching, Grbac drew the head coach's praise in the 31-24 win over the Raiders. There was still time for Elvis Grbac to succeed and Schottenheimer had given indications that there would be no further quarterback controversy in his mind; Grbac would be the starter.    
After Marty Schottenheimer departed the next year and defensive coordinator Gunther Cunningham became head coach, Grbac's career improved, perhaps some of it because Gannon was gone.
Grbac was healthy and one of only eight NFL quarterbacks in 1999 to start every one of his team's games.  His numbers were good that year as he hit 294 of 499 passes for 3,389 yards and 22 touchdowns, and his 15 interceptions were among the lowest total of any passer in the AFC. 
Cunningham's mantra of "run it and play defense", however, represented a significant change from the "yardage in chunks" approach — the team ran the ball more times (521) than any other team in the league and ranked fourth in the NFL in rushing.
In 2000, Grbac continued to show improvement, passing for 4,169 yards and 28 touchdowns.  His 89.9 quarterback rating ranked fourth in the AFC and was the highest rating by a Chiefs passer since DeBerg's 96.3 in 1990  His TD passes ranked him second in the AFC, and was only two shy of Dawson's team-record of 30 set in 1964. He finally realized the now departed Schottenheimer wish for "yardage in chunks" when he completed 55 passes of 20 yards or more, which ranked third in the NFL.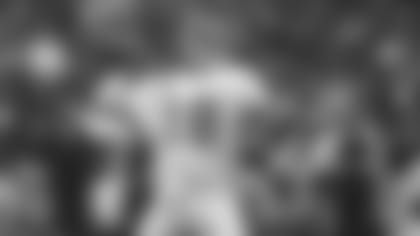 Grbac left the Chiefs with little warning
He led his team to wins over Denver twice and defending Super Bowl champion St. Louis in a massive blowout. 
If Grbac's teammates appeared to be solidly in his corner, many outside of the organization were not, even though the team employed an outside consultant to improve his presence before the media.  "His numbers were stunning," conceded one reporter at the close of the 2000 season, "which demonstrates why you can't judge a quarterback by statistics."
The team suffered a late season five-game losing streak and concluded another losing season with a dismal performance on Christmas Eve in Atlanta dropping the finale to a poor Falcons team. 
Grbac, then rather quickly and with doom-laden efficiency, made the transition from Chiefs Pro Bowl quarterback to new starting quarterback of the Baltimore Ravens.  He fled Kansas City without so much as a word just after Dick Vermeil was named head coach.
"I would have appreciated him being forthright and letting me know," replied Carl Peterson to the news.  Grbac's agent had told him:  "Elvis does not want to stay in Kansas City."
Why leave, particularly with Vermeil and offensive coordinator Al Saunders — two coaches with such lofty reputations for offensive ingenuity on board and anxious to work with him — set to take over?
"It was money," offered a club official familiar with the negotiations between Grbac and his agent.  Quarterback salaries around the NFL had begun to explode around this time and Grbac had just that year been named to the NFL Pro Bowl. 
In a moment of frankness, however, he was known to have said. "There are times when you wondered if anything was good enough in Kansas City."  Had it gotten to him, the pressure, the criticism?   
The Chiefs were still interested in re-signing him but reached a point, recalled a person in the team's front office at the time, "where enough was enough."  He eventually signed a large contract with the Baltimore Ravens. 
Years later as memory faded from that first year of his arrival in Kansas City, feelings about Grbac incorrectly were connected to the 1997 playoff loss because it better fit the narrative of Grbac vs. Gannon.  The success Gannon enjoyed in Oakland led some to believe that the debate had been in play all along while both men competed in Kansas City.
---
Next time - Rich Gannon: Present and Past