*This is another in a season-long series on the Kansas City Chiefs search for a franchise quarterback. It appears weekly on Thursdays throughout the 2015 season.
*
---
In Chan Gailey's long career as an assistant, offensive coordinator, and head coach he had found himself in many difficult situations, but perhaps none as difficult as the one he faced in just his first year in Kansas City.
In 2008, Gailey was hired as the team's offensive coordinator and charged with turning around an offense that had ranked near the bottom of every offensive category in the NFL. Making that more difficult, Kansas City would own the dubious distinction of becoming just the fourth team since the AFL-NFL merger to start three different quarterbacks in the first three weeks of a non-strike season.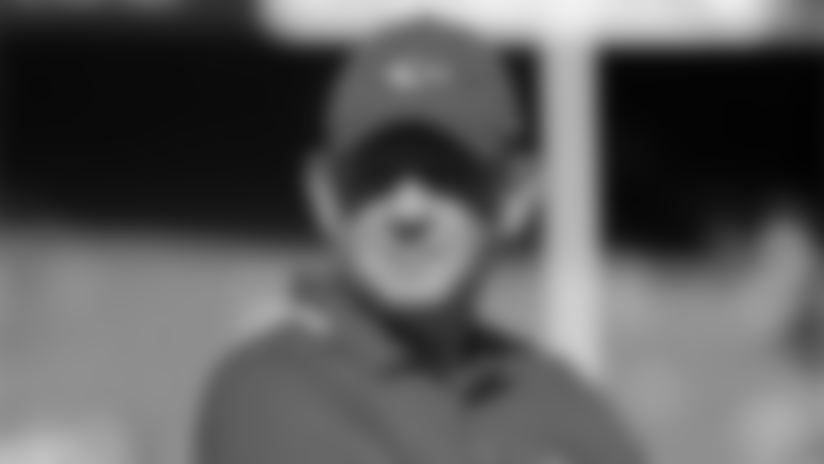 Gailey had a history of devising offenses that fit the makeup of his QB's
Quarterbacks Brodie Croyle and Damon Huard suffered season-ending injuries in the Chiefs game against the Tennessee Titans, and Gailey was forced to turn to little-known quarterback Tyler Thigpen for the remainder of the year.
Kansas City had acquired Thigpen in a manner similar to how it had lost Steve Stenstrom back in 1995. The Vikings had tried to slip Thigpen, a seventh-round pick in 2007, through on waivers on the final pre-season cutdown, likely planning to re-sign him to the regular roster or practice squad after he cleared. The Chiefs had tried the same stunt with Steve Stenstrom, who was promptly snapped up by the Chicago Bears, and later started for them. The Chiefs quickly grabbed Thigpen, who their scouts had seen and liked, and cast him as their third quarterback.
"I had seen him play in a pre-season game," a Chiefs scout remembered, "and he had played very well, and showed he was mobile, too."
The Vikings had seen what they liked, too, and immediately sat him for the rest of the pre-season in an effort to prevent other NFL teams from getting any tape on him. "Chan liked what he saw, his athletic skills and his competitiveness," the scout continued, "so it was an easy claim when he was released."
In his first game as a starter, his greenness showed up like grass stains. He was overwhelmed in a 38-14 loss to the Falcons and was intercepted three times. That's when Gailey went to an alternative plan to create some order for his young quarterback. Gailey's forte was to take a dauntingly complex problem and reduce it to its basic elements. He had a history of success devising offenses that fit the makeup of his quarterbacks - something he had done for Kordell Stewart in Pittsburgh in 1997.
Few coaches are rich in imagination, but Gailey was, responding with maturity to the hand he was given with his third quarterback of the year. Thigpen had played in a spread-offense at Coastal Carolina. More colleges were running the spread and it was believed that it would eventually find its way to the NFL. Gailey had been a head coach in the college ranks at Georgia Tech, and so had some idea how he wanted to approach it in the NFL.
The Chiefs unveiled the spread in a 28-24 loss to the Jets, utilizing no more than five pass plays and a few runs in the package. Thigpen completed his first 20 passes and set the tone operating out of the new scheme. He would sit back in the shotgun with multiple receivers all over the field. From there, he could see the field and recognize the blitz better and if a play broke down, he could use his mobility.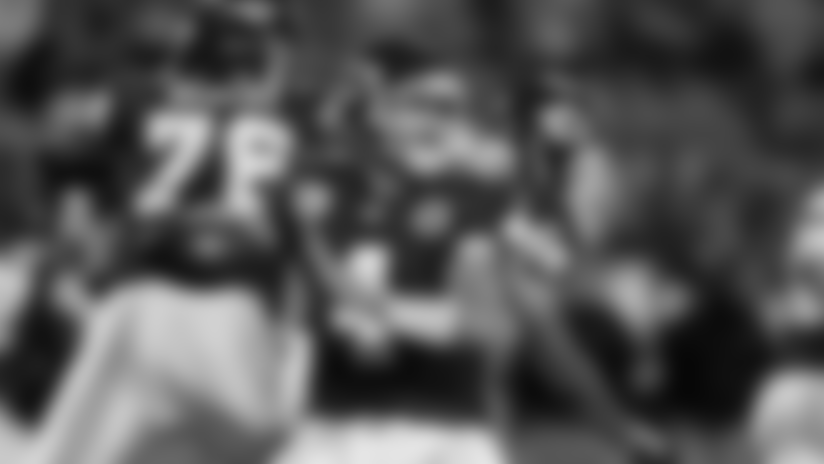 Thigpen's mobility gave him certain advantages
In what was just his second NFL start, he completed 25 of 36 passes for 280 yards and two touchdowns and no interceptions. The Jets starting quarterback that day was Brett Favre, who posted similar numbers, but was intercepted three times.
Now, the team's starting quarterback, this one-time insignificant figure became a vital force. Over three games he threw six touchdowns and no interceptions. An offense that had been averaging 12.5 points per game in the first six games began averaging 22.5 as the Chiefs almost pulled off upsets over the Buccaneers and Chargers.   
As the season progressed, Gailey would add a few more plays and the skill players would wear wristbands to keep order. Thigpen was suddenly accurate, moved well with the ball eventually setting a single-season franchise record for quarterbacks with 386 yards, and showed the leadership of a veteran, something that didn't go unnoticed by his teammates.
Someone as respected around the locker room and the league as Tony Gonzalez was quickly in his corner. "Tyler played outstanding," Gonzalez was heard to remark on more than one occasion.
Even Herm Edwards had become something of a believer and publicly noted that he would know by the end of the season if Thigpen would have a future as a starter in the league, or if he was just a backup he could count on in an emergency.
As the team looked to 2009, the matter of who would be the Chiefs starting quarterback was sure to be a topic of conversation once again. To Gonzalez, it was already defined. "You already got your quarterback," he replied enthusiastically to a question from the media. "We're close on offense. We're close."
So, could Tyler Thigpen have been a starter for the Chiefs going forward, or was 2008 just a brief flirtation with success that comes and goes with some regularity to players in the National Football League?
We would never find out because of the wholesale changes that were coming throughout the organization in 2009.
"We did him a great disservice having to play him so early," a member of the Chiefs personnel department later reflected. "But he was successful and we were in most games with him at quarterback.
"Based on his experience, he would have had a shot to be the starter next year, but after the trade for [Matt] Cassel there was no chance. I think he could have had a long career, especially with Chan being here."
But Gailey wasn't here for long, and Thigpen soon followed him to Buffalo and later Cleveland picked him up. At both places he was cast in a backup role given the money that the teams had recently put in their current starters.
As he entered his 30s, his prospects for a continuing career did not look promising. He had followed a path very much like that of Jake Delhomme, but with a different outcome, or so one NFL personnel director believed.
"What had happened to Thigpen," he said, "had happened to Delhomme in New Orleans. He never got much of a chance and then he moved to Carolina and people found out he could be the starter and he ended up leading his team to the Super Bowl. I think the same might have happened for Thigpen."
---
Final chapter: Reflections