*This is another in a season-long series on the Kansas City Chiefs search for a franchise quarterback. It appears weekly on Thursdays throughout the 2015 season.
*
---
Those who have followed the Chiefs these many years know the story well, yet so much of that story continues to reveal a contested collective memory. People actively shape what should be remembered – and omitted – from the historical record and the subject of Chiefs quarterback is no different.
Indeed, when the subject comes up, the discussion more often tends to operate almost exclusively in generalities, an ailment endemic to supporters and critics alike. It has become commonplace to believe, for example, that the team's management has never tried – or never tried hard enough – to draft or develop a quarterback. Such a notion should by now be dismissed by any reader who has taken the time to read this series in full.
Keep in mind that hindsight often tells us one thing but facts at the time often reveal something different. It is important to consider evidence from the time, rather than reading backward with all we know about outcomes, to fathom the complexities and circumstances when decisions are made or events take place.
Kansas City's struggles at finding a franchise quarterback are not extraordinary because they are unrepresentative of the experience of NFL teams but because they are representative of them.
Mike Livingston and Steve Fuller, successors to Len Dawson
Yet, generations of Chiefs fans more often view this search for a "franchise quarterback" through a prism that isolates the Chiefs from the rest of the league. The media have fed that skepticism which, of course, is their place to do, if not always accurately. But the misjudgments that we have traced in these columns are no more than one would find with other franchises.
Indeed, instant success, or even second-year success, is no guarantee of long-term success at the quarterback position. Nick Foles had the third-best passer rating in NFL history as a second-year player in 2013, but was traded a year later and eventually replaced as the starter for his new team, the St. Louis Rams. Meanwhile, the San Francisco 49ers benched their starting quarterback – a player they had recently committed as much as $126 million dollars.
Nevertheless, I am sympathetic to the argument that without a franchise quarterback no team has a chance to win a championship.
Last year the final four playoff teams were quarterbacked by three men who had led their teams to Super Bowl victories before. Still, that was only the second time in history, equaling the 1983 post-season where Joe Montana, Jim Plunkett, and Joe Theisman all had rings.
Montana, Plunkett and Theisman were Super Bowl winning QB's
It has been Green Bay that finds itself in the most promising of circumstances, insists *ESPN's *Kevin Seifert, pulling off "the most sweeping team-building accomplishment in NFL history," fielding what can be argued is a definitive franchise quarterback for 22 consecutive years beginning with Brett Favre in 1992 and Aaron Rodgers in 2008.
But know this: Green Bay is an exception. Finding the one who we can boldly assert to be a "franchise quarterback" remains as it always has been: a hazardous business with many factors at play and today far too much noise to decode any definitive signals. It reminds us especially that NFL teams can't predict who will be the "one" and even more rarely how it follows a predictable path.
When you select a quarterback in the draft is no more of a guarantee than who you pick.
In 1999, five quarterbacks went in the first round of the NFL draft. They were Tim Couch (1st pick), Donovan McNabb (2nd pick), Akili Smith (3rd pick), Dante Culpeper (11th pick), and Cade McNown (12th pick). Only one - McNabb — realized some consistent level of success.
McNabb helped take the Eagles to five NFC title games in eight years from 2001 to 2008. Since then, they have not won a single playoff game. As successors to McNabb, Philadelphia has had Kevin Kolb, Michael Vick, Nick Foles, Mark Sanchez, and Sam Bradford at quarterback.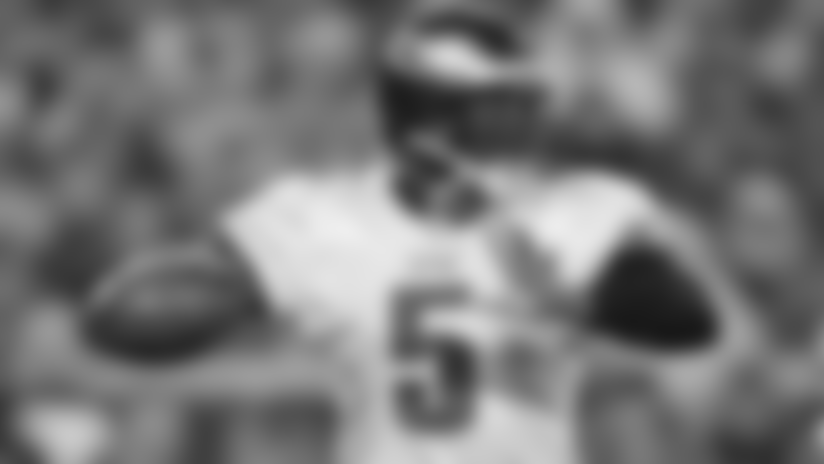 Donovan McNabb was the only standout QB in the 1st round of the 1999 NFL draft
Yet, there are many who would blanch at the thought that McNabb rates the status of a franchise quarterback - a title that remains something imagined — and more often than not — idealized, images of the great ones familiar, comfortable and unchallenging.
To proclaim oneself an optimist in this search given what we have seen may seem provocative. Pessimism has its advantages: to predict the worse pays off — and, in the event of the latest quarterback not working out, to boast of having seen it coming. Failure is never more penetrating than when it confirms pre-existing opinion.
Optimism is more perilous, since it requires looking at the horizon and discerning positive developments.
The optimist is always shadowed by the temptation to set aside unexpected events that don't corroborate his original thoughts. At every moment, he must ask if it is reasonable to be optimistic, so he must also be a skeptic. All lenses are imperfect and in this all management, coaches, fans, everyone is equal.
---
Author's Note: I hope this series has contributed to a better understanding of the Chiefs quarterback issue and that it may have resolved a few questions with due consideration to the competing claims. Special thanks to members of the Kansas City Chiefs PR staff, both full-time and interns, for their assistance. My sincere appreciation to Cydney Ricks, Georgia David, Morgan Tholen, Daniel Ricci, and Tessa Giammona for their efforts along the way, and to Nate Brunzie whose work in posting this column each week is most appreciated.