It's all about getting better when it comes to Organized Team Activities (OTAs), as the three-week period marks the first time the Kansas City Chiefs can really hit the field in preparation for the upcoming season.
And if second-year quarterback Patrick Mahomes' words were any indication, the Chiefs did just that as OTAs wrapped up this week.
"I think we're progressing really well," said Mahomes following practice on Thursday. "Just from the [first] OTA to now, I feel like guys are starting to get on the same page. We're able to almost adjust routes and I'm throwing the ball before because we're on that same page, so I'm excited for that. We're going to keep getting better every single day."
It's that day-to-day grind – and the communication that comes with it – that has led to growth throughout the offense.
"I think just with me, the receivers, the running backs, the offensive line – everybody - we are always talking," Mahomes explained. "We're always talking about what they're thinking and they want to know what I'm thinking."
The ability to communicate with the starters and command the huddle has been an area of emphasis for Mahomes as he enters his first campaign as the man under center.
"I'm just able to talk a little bit more - that comes with becoming the starting quarterback," Mahomes said. "You're able to talk to those guys. I'm talking to the guys after every single play and we're trying to make sure that we're understanding the play exactly how it's supposed to be ran."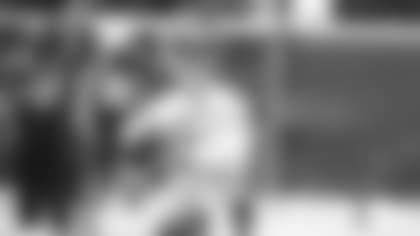 It's all about developing that rapport with the starting unit, and according Head Coach Andy Reid, Mahomes' capacity to do that is nothing new.
"He came in [last year] and he had a little bit of that, 'You better be doing the right thing or I'm going to let you know about it' [mentality]. It's just a different group of guys that he's doing it with [now]," Reid said. "Last year, he was working with the twos and the threes and this year he's working with the ones, but he doesn't pull back in that area. He's going to try to get things right, not only with himself but also with the guys around him, and the guys respond to that."
That includes wide receiver Sammy Watkins, who has been impressed with Mahomes during the duo's brief tenure as teammates.
"For me, I take his coaching – how he wants me to run routes and what he's looking for from me," Watkins said. "That's been the biggest thing, he's been helping me in certain situations and when I do mess up or have a mental error, he comes in and says, 'Hey man, we're going to get it together.' That's what you look for in a quarterback, a guy that's going to help you and encourage you."
And though Mahomes and the rest of the roster has a bit of a break following next week's mandatory minicamp before training camp gets started next month, Kansas City's young quarterback is just focused on keeping a good thing going.
"You have to make sure you go home and see the family and do all of those things, but for me, I'm ready," Mahomes said. "I'm ready to keep going, so I'll be working out and I'm sure I'll have a few throwing sessions with the receivers and all that. I'm just excited to keep rolling."