While the outcome of Sunday's game between the Kansas City Chiefs and Cleveland Browns will remain unknown, until roughly 3:30 PM CDT, we do know history will be made, thanks to a sibling rivalry involving Chiefs OL Geoff Schwartz.
When the Chiefs and Browns hit the field, Geoff and his brother Mitchell, who plays the same position for the Browns, will become the second pair of Jewish brothers to play in the NFL together, since the Ralph and Arnold Horween in 1923. The Week 8 matchup is also the first time both brothers will play against one another.
During locker room interviews this week, Schwartz was asked some sibling-specific questions, leading into Sunday's historic meeting.
Q: Are you and your brother competitive?
"We're super competitive; we just know better than to ask questions to each other (about the other's team). We're not going to say anything to each other about what's going on; we have film. What's he going to ask me? What is Justin Houston's favorite move? I'd just say go watch the film, it's there, it's not a surprise. We kind of just ignore the subject all week."
Q: How is your Mom going to handle the game on Sunday?
"My mom made a split-shirt. She came in town Wednesday, so I got to see it already. It has Chiefs on one side and Browns on the other side. They obviously don't root for anybody; they just hope we stay healthy. I know they enjoy that we get to go to dinner as a family on Saturday, which doesn't happen often. We're not all together as a whole family throughout the year; he's in Cleveland and I'm in Kansas City and I go home to Charlotte in the offseason. There are a lot of moving parts, so it will be fun to get everyone down to dinner, one time"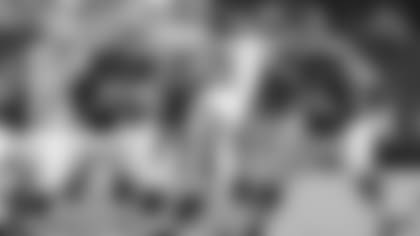 How do the Schwartz brothers compare?
# 72 - Mitchell Schwartz - Cleveland Browns
# 74 - Geoff Schwartz - Kansas City Chiefs
College: Oregon Experience: 4 years