For the second-consecutive year, the Chiefs Red Coater Apprentices partnered with Harvesters Community Food Network to help feed local families in need for the Thanksgiving holiday.
On Tuesday, the group collected donated items, arranged them in food baskets and distributed them to local families in Kansas City. Items such as a frozen turkey, dressing, potatoes, green beans and more were collected and then personally delivered to the family in need, this holiday season.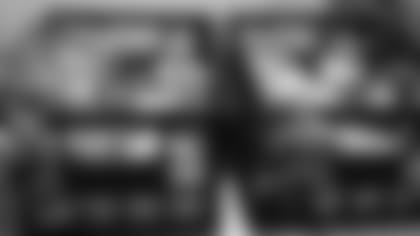 "We began this project last year and it was such a delightful and rewarding night for each of us," Patti DiPardo Livergood, Special Projects Coordinator noted. "To see these families so happy and excited to receive a Thanksgiving basket delivered to their home is overwhelming. Children are excited and their parents are so thankful."
The Red Coaters visited 14 families, many of which had eight to ten members. Each family that received food baskets was so ecstatic to have the Chiefs visit that, they were decked out in their Chiefs gear for the occasion.
"This opportunity was my most favorite thing to be a part of since I became an apprentice," Nancy Walker, Red Coater Apprentice explained. "Seeing these people that are less fortunate, who aren't able to feed their families, is so heart wrenching, but being able to lend a hand and help them out for the holidays is wonderful. Seeing these Chiefs fans with a huge smile on their face, when we showed up, was unbelievable."
In addition, this year the Red Coater Apprentices hosted a virtual food drive through Harvesters.
"We had a virtual food drive through Harvesters and each apprentice was able to have people donate on their behalf," Gary O'Bannon, Red Coater Apprentice said. "The eight Red Coater Apprentices raised nearly $5,000 for Harvesters through the virtual fundraising. All of the money will go to help Harvesters for them to then use for feeding other families as well."
Through the virtual food drive, the Red Coater Apprentices raise $4,175, which will provide 20,875 meals for hungry families in the greater Kansas City area.
The Red Coaters also work closely with Harvesters throughout the week, volunteering every Tuesday to help pack BackSnacks, which are backpacks full of food for low-income Kansas City children to combat weekend hunger.