The flag consists of three simple words on a field of red, symbolizing an achievement a half-century in the making. The Kansas City Chiefs are the reigning Super Bowl Champions, and in celebration of the annual Red Friday tradition this year, fans will be able to claim their very own part of history while once again supporting a local charitable cause.
The Chiefs unveiled the new flag design – which reads "Super Bowl LIV Champions" - on Monday and will make them available throughout town later this year, but as part of the surprise reveal, a limited pre-order went public to fans on social media.
And unsurprisingly, the flags were an absolute hit.
Less than seven hours and 25,000 flag purchases later, the pre-order was sold out as fans demonstrated their immense excitement for the reigning Super Bowl Champions. Red Friday flags are a great way to commemorate the season while also showing off one's love for the Chiefs, and this year is no different.
That excitement will only increase in the coming months, and the Chiefs are ready. When flags go on sale later this year, fans will be able to purchase their very own tribute to the Super Bowl Champions both online or at numerous locations throughout the metro, including 138 local McDonald's restaurants, 41 various corporate partners and the Pro Shop at Arrowhead Stadium.
It's all for a good cause, too, as net proceeds from flag sales will once again benefit Ronald McDonald House Charities of Kansas City (RMHC-KC), which is still open and operating amidst the COVID-19 crisis. RMHC-KC plays a critical role in our community by supporting the families of children in the hospital with a place to stay, providing meals and even placing new arrivals in hotels amidst these challenging times.
And all donations collected this year will mark just the latest iteration of how fans have united under the banner of Red Friday to serve worthy causes.
Just last season, Red Friday flag sales – in addition to funds raised through the Hunt Family Foundation 50/50 Raffle on Sept. 22 – combined for a record $550,890 donation to RMHC-KC and their on-going mission. Additionally, since the Chiefs began selling flags as part of Red Friday seven years ago, donations to RMHC-KC have topped more than $1.7 million.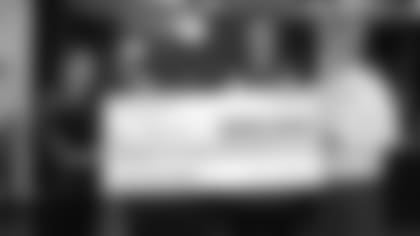 The Chiefs are hoping to set yet another record this year, and the funds raised through this week's pre-sale have already provided that goal with an ample head start.
It's all the continuation of a tradition started by Chiefs Founder Lamar Hunt 29 years ago, and as the Chiefs' victory in Super Bowl LIV ignited a half-century's worth of excitement in Chiefs Kingdom, this community is once again harnessing that positive energy to make a difference.