Excitement surrounds the home opener this week and the celebration of Red Friday on September 13th. Chiefs fans are primed to witness their team in action at Arrowhead Stadium for the first time in the regular season and the weekend begins with Red Friday.
Since 1992, the Friday prior to each regular season home opener is known as "Red Friday." This day, the saying, "paint the town red," is taken seriously throughout the Chiefs Kingdom. Chiefs fans dress in red, Kansas City's iconic fountains turn red, and this year, red will cover the sky.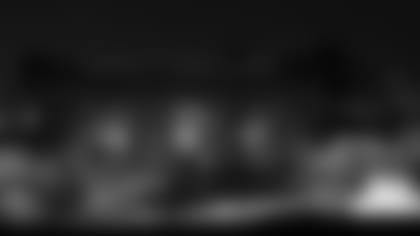 Preparations for Red Friday began months ago and now, it's only two days away. On September 13th be sure to wear your Chiefs gear, take $2 cash to buy a Red Friday Magazine, attend the Pep Rally Friday evening and use the hashtag #RedFriday.
Below is a breakdown of ways you can be involved on Red Friday. This day is a great opportunity for fans to celebrate the return of the regular season with the Chiefs in all parts of the Kingdom!
Keep your eyes on the sky as Red Friday kicks off at 7 a.m. when a team of six smoke-writer airplanes will release red smoke over downtown Kansas City, painting the sky red.
That same morning, Chiefs executives, Red Coaters, former players and more than 1,000 volunteers will sell Red Friday magazines at a number of local businesses and street corners in the greater Kansas City area. All Kansas City and St. Joseph-area McDonald's locations will also be selling the magazines to raise money for Ronald McDonald House Charities of Kansas City. A donation of $2 is suggested to receive a copy, so be sure to pick one up!
Later that morning, from 11 a.m. – 12 p.m., The Greatest Show on Earth™ will feature various performers and animals, including star Asian elephant, Kelly Ann, performing special tricks, such as punting and catching Chiefs footballs. Chiefs Cheerleaders and KC Wolf will also be on hand to interact with fans as well as Susie and Warpaint. The event is free of charge and will be held in front of Sprint Center, in downtown Kansas City.
Friday evening, from 6:30 p.m. – 8 p.m. is the Chiefs Red Friday Pep Rally. Join Chiefs players, 'Voice of the Chiefs' Mitch Holthus and Sports Radio 810 WHB's Steven St. John as they lead a pep rally downtown on the KC Live! stage at the Power and Light District. The Chiefs Cheerleaders, KC Wolf and the Chiefs Rumble will also appear at the pep rally. The event is free of charge and is located at KC Live! stage at Power and Light, 13th and Grand, Kansas City, MO 64106.