On February 8, 2000, Edith Morgan lost a son and the Kansas City Chiefs lost a legend, Derrick Thomas. However, more powerful than the sting of death, is Derrick's legacy, which continues to grow.
Here is a look at the impact of Derrick Thomas, both on and off the field, as depicted by his remarkable stats and the opinions from some of his former NFL teammates, competitors and friends.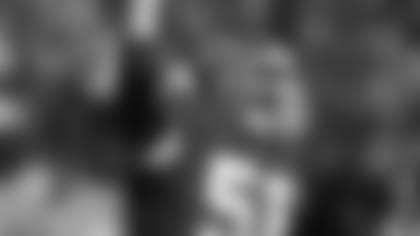 Derrick Thomas: By the Numbers
169 – games in a Chiefs uniform
126.5 – total sacks, Chiefs all-time record
110 – victories in a Chiefs uniform
43 – different NFL quarterbacks sacked
26 – sacks against Denver Broncos QB John Elway (his most-sacked QB)
9 – straight Pro Bowl berths (1989-97), the most of any player in Chiefs history
7 -  sacks earned against the Seattle Seahawks (single-game record) on Veterans Day in 1990. "I was on a mission today," said Thomas. "I read in the paper that Derrick Thomas was in a sack slump."
Thomas is the only player to make a regular season game appearance in three different decades (1980s, '90s and '00s) for the Chiefs.
Derrick Thomas: In Their Words (Hall of Famers comment on D.T.)
"Having had the pleasure, pain and honor in competing against Derrick, I give my total support to his election to the Pro Football Hall of Fame Class of 2005. His contribution to the game as a player and man are more than deserving to join the exclusive group of men in the Pro Football Hall of Fame."  – HOF QB John Elway
"Derrick Thomas changed the way the game is played and how other players at his position are now measured. To me, there is a rare group of players who possess both the will and the innate ability to change the course of a game on every defensive snap, their names are Deacon Jones, Lawrence Taylor, Reggie White and Derrick Thomas." –HOF RB Marcus Allen
"Throughout my professional career, I played against many Hall of Famers. Derrick Thomas definitely fits that mold. His quickness, and his intensity and love for the game was matched by only a few players. We actually game planned for #58. I needed to know where he was lined up at all times, as did my offensive line. Not many teams would actually game plan around one player, but the Buffalo Bills certainly did every time we faced him." – HOF QB Jim Kelly
"Derrick Thomas embodied all that is good in professional sports. He was one of the best at his position, he inspired his team and he gave back to his community with exuberance. We are often confronted with negative images of professional football players. Derrick Thomas was a positive light, who was passionate about everything he did on and off the field. " –HOF QB Warren Moon
Derrick Thomas: Off the Field
In the words of Chiefs Chairman and CEO Clark Hunt (during Derrick Thomas' 2009 Hall of Fame (HOF) announcement ceremony):
"His outstanding play on the field made him deserving of Pro Football's highest individual honor, but just as importantly, he was a Hall of Famer off the field as well," Hunt said.
"Derrick began the Chiefs tradition of an annual Thanksgiving food drive for the needy; this outreach program has grown over the years and now feeds an excess of 1,000 families annually. He was the first player to start his own charitable foundation, a practice which is now commonplace across the National Football League. His program, the Third and Long Foundation boasts an award-winning literacy program that continues to thrive in Kansas City."
• Named one of President (George H.W.) Bush's 832nd Point of Light in 1992
• NFL Man of the Year in 1993 for his many off-the-field contributions
The son of Air Force Captain Robert Thomas, Derrick was always a passionate supporter of the military. His father was a member of a B-52 crew that was shot down in North Vietnam in 1972. Ironically, that mission's code name was (Operation:) Linebacker Two.
Derrick Thomas was the "revitalization of the franchise," said Kansas City Chiefs historian Bob Moore.
"He was a first-round pick (1989-Alabama) and he was probably the face of the franchise for most people, through the era that would be referred to as the team's renassiance through the 90's and into 2000. He had an incredibly kind heart. Derrick Thomas was a full-time member of the Kansas City community."