Day two of the Kansas City Chiefs three-day minicamp has come and gone, with the final practice scheduled for Sunday at 11:25 am CDT.
While the end goal of making the team remains the same for each of the rookies, Chiefs head coach Andy Reid emphasized what each and every practice offers the guys.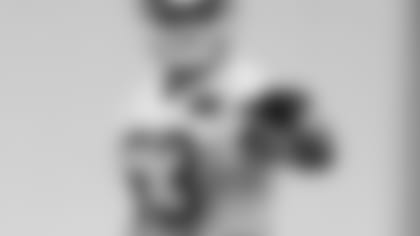 "They'll all getting reps," coach Reid said. "The thing with that is, they have an opportunity to catch the coaches' eye and to get themselves on tape, where we can go back and review it. You're always going to see two or three guys that really step out to you and end up being pretty good players for you, so that's what we're doing."
One of the first challenges the rookies face is learning the playbook and doing so as quickly as possible.
"That's part of it, yes," coach Reid said. "We're asking them to do different techniques that they did at the college level. That's two-fold."
I asked some of the Chiefs rookies to describe their thoughts when they first cracked the playbook open.
"It's like a whirlwind," Chiefs RB Knile Davis said. "Everything, protections, run schemes, everything is thrown at us in a book about this big. We have to get in it, get through it and try to get it as fast as we can…. Just taking it in slow, at night and in the morning, just trying to keep going over it (with) repetition. It's a lot similar to what I did in college, the terminology is just a little different but I'm getting it, it's coming along."
For Chiefs rookie LB Mike Catapano, he has the extra challenge of learning a new position.
"The adjustment from defensive line to outside linebacker is going to be the task for me," Catapano said. "So, really just learning the coverages....it's another element to the game that's behind you that you don't see when you're a defensive lineman."
Fellow Chiefs rookie OL Eric Kush told me what has surprised him most during the last two days.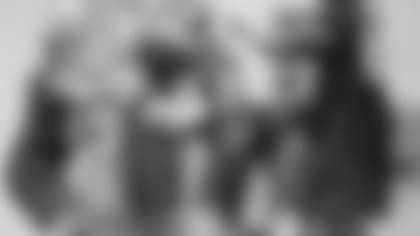 "How similar it was to everything we ran at Cal (Penn)," Kush said, "but I have to get used to new terminology and a higher level of play."
According to Chiefs rookie FB Braden Wilson, the depth and detail of the Chiefs playbook may be surprising to most people.
"I don't know if people understand how much study goes into it," Wilson said. "It's a thinking-man's game. I talked to a lot of former players, who were teammates, who were in the NFL and they kind of prepared me for what was coming, so I wouldn't say I'm really overly-surprised or anything; it's just every bit as rigorous as they said it was."
Following Saturday's practice, Chiefs rookie Sanders Commings continued to share how he's living a dream.
"Coming in, it's my first time in an NFL environment, an NFL practice, around a whole bunch of NFL guys," Commings said. "It's a dream come true and I'm enjoying every second of it."
When talking to Chiefs top pick Eric Fisher after practice, he said he continues to get more and more refamiliarized with the right tacke spot, having played their during his sophomore season for the CMU Chippewas.
"It's been very productive," Fisher said of the last two days of camp. "I thought today felt a lot more natural on the right side. I'm very happy with the progression."
Like Fisher, the rest of the rookies will look to continue to make progress, with the playbook and on the field, Sunday, before the veterans arrive on Tuesday for the start of the team's phase three of the offseason conditioning program.