If you were making a list of Kansas City Chiefs who have been turning heads with their playmaking ability during offseason workouts, it would have to include fifth-round pick Tyreek Hill.
Hill's reported 4.2-ish 40-yard dash speed has translated to the field, where he's made a number of spectacular plays—one of which even had cornerbacks coach Al Harris shaking his head as he talked with one of his defensive backs during OTAs.
On that particular play, the ball actually looked to be overthrown, but Hill clicked into another gear, catching up to the ball and beating his defender, who originally had been right at his hip. By the time the ball reached them, Hill was three yards ahead of the defender with his arms stretched out, and it landed in his fingertips for a 40-plus-yard touchdown.
There's nothing Harris could have told his guy to do differently. Hill simply ran past him as the ball descended.
"It doesn't mean anything because it's not pads," Hill said of the plays he's been making at offseason workouts. "Any fast guy can do it. Everybody reads articles on fast guys making plays. You just have to wait to camp and see what's up."
Hill isn't satisfied with making plays in shorts, even if it's the only opportunity he has been given to show his teammates what he can do on the field so far.
He knows the next step is at training camp, where the pads come on and they get to real football.
"It's going to be physical," Hill said of training camp. "That's the only thing I've heard. I can't wait."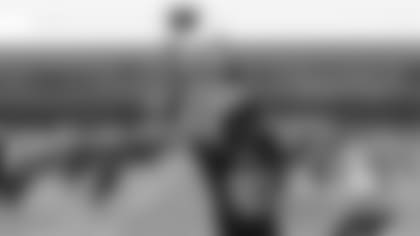 One of the teammates Hill has impressed this offseason is 11-year NFL veteran quarterback Alex Smith, who noticed what the rookie has been doing over the past few weeks.
"I don't want to compare him, but he's certainly one of the fastest guys I've seen," Smith explained of Hill. "I think more than that – just pure speed – I think more than that I've been impressed with how he's handled the playbook. [He's a] kid coming in and has really done well.
"(We've) done some different things with him and he seems to have handled it pretty well so far."
Hill mentioned veteran receiver Jeremy Maclin, as well as third-year player Albert Wilson and second-year player Chris Conley as guys in his room who have been there to help him with any questions he's had.
"I'm learning a lot from the veterans," Hill noted. "Those guys are showing me the right way to do things and how to be a pro. I've come a long way since rookie camp, but I'm still learning.
"Every day is a learning process for me."
Working with Maclin is something Hill doesn't take for granted, considering Maclin and his former teammate with the Philadelphia Eagles, DeSean Jackson, are two of the players Hill said he looked up to when he was younger.
"I grew up watching those guys, so it's a real honor to be on the same field as Maclin," he explained. "Then I get to line up beside him every day? It's crazy—mind blowing."
One of the other players Hill mentioned he's looked up to in his football life is a guy Chiefs Kingdom is extremely familiar with—the "X-Factor," Dante Hall, the former playmaking standout receiver and return-man extraordinaire for the Chiefs.
"He just made a name for all little guys," Hill said of Hall. "He gave us a name and made us little guys believe. So I'm just real thankful for him."
Most Chiefs fans are familiar with the playmaking ability Hall brought to the Chiefs during his seven-year career with the franchise, which included 12 return touchdowns, many of which are still used in highlight reels to this day.
While he has undeniable speed and has looked good in shorts, Hill won't give himself a pat on the back for what he has done just yet.
"I'll probably say a C," Hill said would be the grade he'd give himself right now. "I still have to get better. Whether its route running, blocking or catching, I still have to get better at those things."
With just one day of practice left before the team breaks for six weeks until they report to training camp in St. Joseph, Missouri, at the end of July, Hill said he's planning on sticking around Kansas City during the off time and preparing for camp.
"I'm just going to stay up here and train at the facility," Hill said. "I don't plan on going home."
While Hill has made Kansas City a new home of sorts, he's appreciative of the support he's gotten from the community over the past few weeks.
"When I go in town, the fans are great," he said. "People just showing all love out here. It makes me feel good inside. I'm just really thankful they want me and are accepting me."