There's only so much that can be taken from the Kansas City Chiefs rookie minicamp that took place last weekend at the University of Kansas Hospital Training Complex, considering the 67 players in attendance were in shorts and there was no contact allowed.
That said, one of the standout performers throughout the three-day event was fourth-round pick (No. 126 overall) and former Florida Gators receiver Demarcus Robinson.
Even in shorts, Robinson displayed the kind of playmaking ability and athleticism that should provide fans plenty of optimism as we get closer to training camp.
During his three years with the Gators, Robinson had 106 receptions for 1,355 yards with 9 touchdowns.
These numbers don't necessarily jump off the charts, but the inconsistent play under center in Gainesville does play a role in how things look in a box score.
It's all part of the equation that area scout Ryne Nutt, who initially evaluated Robinson, had to try and put together.
"He's an excellent athlete, very loose-hipped with quick feet," Nutt said of Robinson. "He's a little quicker than fast, but he can climb on defensive backs and his teammates loved him. This is a kid that's going to come in, he's going to do anything you ask and he's going to work his butt off. He's not a diva, he doesn't demand the football and he's going to play on special teams or block on the edge if you want him to.
"I thought he was a top three round talent to be honest."
More than a third of the players that general manager John Dorsey has drafted in his four years leading the Chiefs have come from the SEC, including Robinson this year.
In addition to playing in the pound-for-pound most talented conference in the country, Robinson went up against a pretty good player at practice every day in cornerback Vernon Hargreaves, who was the 11th overall pick by the Tampa Bay Buccaneers.
Hargreaves' father is currently the defensive coordinator at the University of Arkansas and was a college teammate of Dorsey at the University of Connecticut.
When asked who got the better of who at practice between him and Hargreaves, Robinson smiled and said he did.
"If you talk to [Hargreaves], he'll probably say the same thing," Robinson laughed. "We definitely went at it a couple of times in practice, so we definitely made each other better."
The two could soon face off again as the Chiefs host the Buccaneers in Week 11 on November 20 at Arrowhead Stadium.
One of the obvious questions Robinson had to answer during the pre-draft process and after being selected was the multiple suspensions he had as a freshman at Florida, and it's something he said he's grown from.
"I realized how many people I hurt and how many people I let down," he explained. "I knew it was a selfish move for me. I just knew I had to prove to everybody that football was my first love and what I was put on this earth to do."
Robinson's uncle, Marcus, spent 10 years in the NFL with the Chicago Bears (1997-2002), Baltimore Ravens (2003) and Minnesota Vikings (2004-06), and he has helped mentor his nephew.
"It has meant everything to me," Robinson said of learning from his uncle. "I've been spending these last few months with him and his family. Just to see how a family man and a pro lived and for me to go up and get that experience from him and see how he handles his business, I just feel like it was a great for me."
Now, Robinson will have a chance to learn from his veteran teammates and coaches, whom he already got a great feeling from during his pre-draft visit with the Chiefs.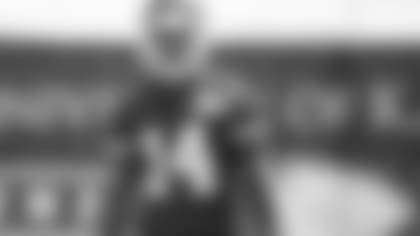 "I thought (receivers coach) [David Culley] was great from the moment I met him," Robinson recalled. "I just knew it would be a great opportunity and great fit for me if I got to play here."
During his visit with the Chiefs, Robinson also had an opportunity to sit down with co-offensive coordinator Matt Nagy and show off his football IQ.
"He sat in with [Nagy] and talked coverage," Nutt explained. "[Nagy] said for a receiver, he was impressed by what this kid knew."
That's not to say Robinson won't have a period of development as he learns a new offense.
"It's going to be an adjustment for anybody coming into this system because the playbook is thick and there's a lot of verbiage," Nutt added, "but with those coaches and this kid's willingness, he'll be fine."
For Robinson, he liked what he saw from the playbook.
"I looked at it and was like, 'Man, I definitely can see myself fitting in and making some plays.'"
If minicamp was any indication, Robinson is going to be a fun player to watch moving forward.