One of the bigger defensive storylines through the first week of Kansas City Chiefs training camp has been the development of second-year edge rusher Tanoh Kpassagnon, who has shown a little bit of everything over the past two days since the pads came on.
At this time last year, Kpassgnon, who was selected in the second round of the 2017 NFL Draft out of Villanova, was beginning the transition from a defensive end, where he played in college, to an outside linebacker.
It's a transition that many players in his situation have to make, but that doesn't necessarily make it any easier, particularly for a guy who stands at an impressive 6-feet-7 and 289 pounds and is now being asked to play in space a little bit.
"It's crazy," Kpassagnon laughed of how much more comfortable he feels right now than he did this time a year ago. "Like 100 times more comfortable just because I've got a year under my belt. (Outside linebackers coach) Mike Smith has really sat down with us and the rookies and taught us the basics of dropping and the basics of playing linebacker.
"A lot of us were defensive ends in college and he's done a good job of getting us comfortable with all of the stuff we have to do at this position."
"I think he's made huge strides," Chiefs' defensive coordinator Bob Sutton explained. "There's no question that he's more comfortable. Besides being a rookie and learning what the NFL is all about last year, he was also learning a new position. We always thought he had some pass rush ability, so I think he's showing that and I think he's made a lot of improvement in all areas."
Kpassagnon credits having an entire offseason dedicated to his craft, and not having to worry about his workouts and everything leading up to the draft, and then the off-the-field things like where he's going to live.
"There was a lot less going on," Kpassagnon explained of his offseason. "I had only a couple of things to focus on, and knowing that, I had more confidence training because I knew exactly what I needed to train for and get ready for."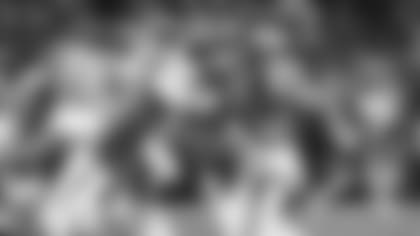 The hard work seems to be paying off for a player who has all the physical tools to succeed.
And when combined with guys like Justin Houston, who said he's feeling as good as he has in almost two years coming back from a knee injury, plus the return of Dee Ford and the addition of rookie Breeland Speaks, the outside linebacker group is one to watch, and Kpassagnon is right there in the mix.
"Any time you have that kind of length, both in height and arm length, it presents some problems for the offense," Sutton added. "He can affect the quarterback in a lot of different ways just by his mere height and getting his hands up, and those long arms are advantageous in pass rush sometimes because you can grab (the quarterback) and not have to get all the way in there."
The plays he's made over the first few days of training camp have only added to the confidence that's building in the young player.
"It just boosts it," he explained. "What I've learned is that you got to be confident in yourself, even if you're having bad play— you've got to maintain that confidence because if you don't, that's when things start spiraling."
"We've just got to keep working with him and see how far we can bring him along," Sutton concluded.
If you're coming up to training camp and looking for a player to watch, there's no doubt that Kpassagnon's physical abilities make him an intriguing prospect to keep an eye on, and he'll be a tough one to miss.
Over the last two days, Kpassagnon has took the edge on a pass-rush rep by effectively using his hands against an offensive tackle, then he covered an option to his side of the field—covering the pitch and getting out to push the running back out of bounds, and he also dropped into coverage and intercepted a pass.
Those are three of the things routinely asked of edge rushers, and not that there still isn't development needed for the young player, but it's a positive sign for a guy who last took the field against the Denver Broncos in Week 17 and flashed some ability with seven tackles and a couple of sacks.