The spirit of the giving was alive and well with the Kansas City Chiefs this week, as several players helped bring a Thanksgiving dinner to hundreds of families that many not have had one otherwise.
The 26th annual Chiefs Thanksgiving Food Distribution was at the forefront of that effort, providing meals to 1,500 families throughout the Kansas City area on Tuesday.
A collection of volunteers from the Third and Long Foundation, the Red Coaters and eleven of the Chiefs' rookies spent the afternoon packing and loading meals onto trucks bound for 36 local food relief centers dedicated to helping those in need.
Running back Kareem Hunt, quarterback Patrick Mahomes , wide receivers Jehu Chesson, Marcus Kemp and Gehrig Dieter, linebackers Ukeme Eligwe and Tanoh Kpassagnon, defensive tackles Damien Mama and Rickey Hatley, safety Leon McQuay and kicker Harrison Butker all assisted with the initiative.  
"It's always important to help out families around the Kansas City area that are so supportive of us," Mahomes said. "It's awesome to get out here, especially with some of the guys, to help out other people."
The event was held in partnership with the Third and Long Foundation, which was created by a pair of Chiefs legends in late Derrick Thomas and Neil Smith with the goal of helping the less fortunate in Kansas City.
"Derrick wanted to make sure that he took care of our community," said Betty Brown, President of the Third and Long Foundation. "I know we're not the only individuals that are out here doing this, but I think it's a great cause helping folks."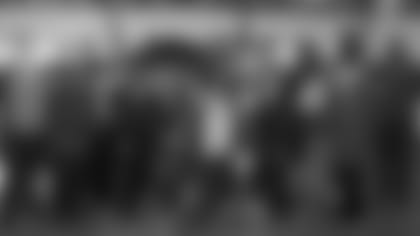 Since its beginnings in 1992, the event has provided more than 22,000 local families with a Thanksgiving meal.
"This means a lot," Hunt said. "It's just something that I always like doing - being able to help out in the community. It's pretty cool to be in a situation where I can help families in Kansas City."
Significant as it was, Tuesday's initiative was just one example of the Chiefs' commitment to helping those in need this holiday season.
Cornerback Marcus Peters hosted the week's first event, distributing turkeys at the Gregg/Klice Community Center with the help of the varsity football team from nearby Lincoln College Preparatory Academy.
"Marcus is just giving back," said Peters' mother, Doreen. "He's giving back to the Kansas City community, which is his community now."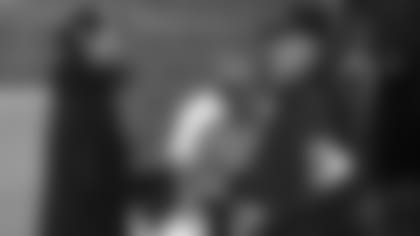 Coined the "It Takes a Village Turkey Distribution," the effort was held in conjunction with the Fam First Family Foundation, which Peters started along with fellow football players Marshawn Lynch and Joshua Johnson.
"They're trying to give back to kids that are just like them," Doreen said. "They want to show them that if you work hard, you can get out of the city and you can do big things."
While over 250 people claimed a turkey from the event, it was just as impactful for the kids from Lincoln Prep to see a prominent figure spending his time making a difference.
"I told Marcus that any time our kids get to see somebody who's been in their shoes that's made it and who's now able to give back, it's a big positive for our kids," said William Lowe, Lincoln's Head Coach. "They love any time they get to meet somebody in his position."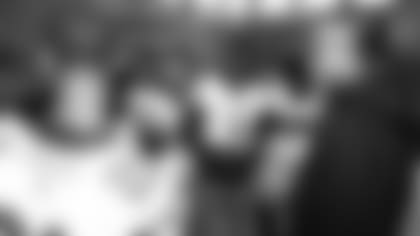 Three other Chiefs were working on a similar initiative just a few miles away, as defensive tackle Allen Bailey and wide receivers Tyreek Hill and Albert Wilson helped pass out food and other supplies at the Redemptorist Social Services Center.
"It's big just to be able to give back to these families," Hill said. "We really do care about this community and we care about the people in it just as if they were our own family. It's big for all of us - Allen, Albert and me. It's big."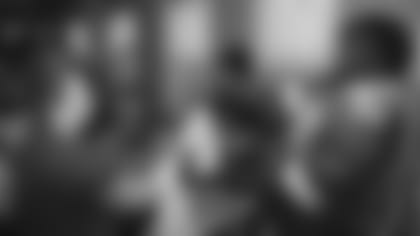 The players distributed turkeys, stuffing and other traditional favorites to over 200 families that may not have been able to afford a Thanksgiving dinner otherwise.
"I've been blessed to be in a place where I can give back," Wilson said. "It's a great holiday to focus on being thankful for the things you have, and being in a positon to give back is something for which I'm very grateful. Every opportunity I have to give back like this, I'm definitely going to go for it."
The trio's collaboration brought a joyful attitude to the event.
"It makes it fun when you do this with teammates," Bailey said. "We're joking around, smiling, taking photos and meeting people. It's a lot of fun."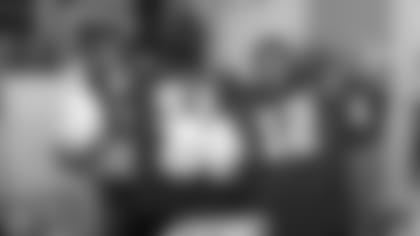 Linebacker Reggie Ragland also took part in the holiday spirit, though his actions involved a personal touch as he surprised a family with a turkey and other items at their doorstep.
"To go to somebody's home and to see what they go through, it's a humbling feeling," Ragland said. "My parents did what they could for us growing up, and I'm happy just to see other families smiling – especially the kids. The kids make it worthwhile for me, because when I was growing up, I wish somebody in my current position had spoken to me. It gives people hope."It was a special moment for the family receiving Ragland's hospitality.
"I was really excited, I had this big grin on my face the whole time," said Gail Kelley. "It just means a lot. It was really nice of him to come by and sit here and talk to us for a little bit."
Another Chief was hard at work outside of Kansas City.
"It's giving back to where I went to school and where I was from," Harris said. "I'm happy that I'm doing it. It's just a great feeling."
All unique in their own way, each action brought joy to hundreds of families that were looking for something to smile about this holiday season, and there's even more to come.
The Chiefs will hold the annual Chiefs Kingdom Food Drive this Sunday as the Chiefs take on the Buffalo Bills, providing several ways for fans to get involved in the fight against hunger.
As guests arrive at Arrowhead, they'll be greeted by volunteers with instructional cards about the campaign. Volunteers from Hy-Vee, Farmland, the Kansas City Steak Company and Harvesters will manage collection bins for non-perishable food items around the stadium. Fans can also purchase tickets for the Hunt Family Foundation 50/50 Raffle during the game, with proceeds benefitting Harvesters.
Local Hy-Vee stores will also accept non-perishable food donations until Nov. 29, and fans can make a monetary donation online at www.chiefs.harvestersvfd.org.
It's all part of the largest food drive of its kind in the NFL, which provided 285,000 meals for local families in need last season.
From each individual event to the food drive on Sunday, it all adds up to yet another example of how the Chiefs are far more than just a football team to Kansas City – it's a family.