It's often true that some of the bravest souls among us come in the smallest packages.
That's certainly the case for 13-year-old Braden Hofen, who beat cancer three times before his 10th birthday and now, along with his family, is championing hope for other kids facing the unthinkable.
For the fifth year in a row, the Kansas City Chiefs joined Braden in that fight with the annual "Braden's Hope" calendar shoot at Arrowhead Stadium. The calendar, which will be available for purchase in September with proceeds benefitting cancer research, paired each of the 12 players in attendance with a kid who is either currently battling or has beaten childhood cancer.
It's a cause that each of the players – from the veterans to the guys still learning their way around town – had a reason to be passionate about.
"It always hits home. I'll never forget my experience with it, but every time I come in contact with somebody who is dealing with cancer, the whole feeling comes back," said safety Eric Berry, a cancer survivor himself. "Just hearing their story and what they're going through, I had some of those same feelings and emotions. It's also a special bond because it's something I can relate to on some type of level and I understand the struggle to some point."
Berry exists as perhaps the best example of a person attacking a cancer diagnosis with the tenacious spirit to live. The veteran safety was told he had Hodgkin's lymphoma in November of 2014 and went on to not only beat it, but to log two All-Pro seasons since.
It's a story that transcends sports and – most importantly – could make the difference for a kid fighting for their life. Berry captured that message on Tuesday with a personal note written on a one-of-a-kind football.
It's a gesture that epitomizes the man that Berry is.
"You don't want to go throughout life missing those small moments that are really important and overlook them, like even the fact that today is such a beautiful day" Berry said. "It's important that you take a second and just appreciate what's going on and I think these types of encounters always do that for me."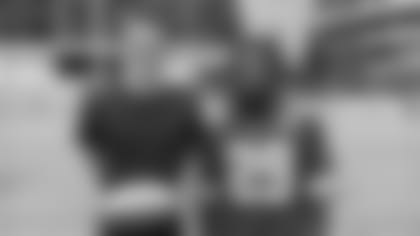 Another player familiar with those types of encounters is punter Dustin Colquitt, who has been a part of the calendar shoot for each of the past four years.
"When you see people in the community who have this kind of adversity, you just want to spend time with them, love on them, pray for them and just be there for them," Colquitt said. "Just anything you can do to lift their spirits and let them know there's a light at the end of the tunnel. This is just a dark spot, but you can really find hope in this. You're going to have a better life after you beat this because you are going to beat this."
Colquitt's batterymate on the field, long snapper James Winchester, had his own personal reasons for participating in Tuesday's calendar shoot.
"Back in college, I had the pleasure of getting to know some kids in the children's hospital there in Oklahoma City, including a girl named Stevy Cellum," Winchester explained. "She ended up losing her battle to cancer and I still stay in touch with her family. She was just a huge blessing to me along the way and I think, honestly, I gained more out of it than she did, just the teachings and things like that through that experience and getting to know Stevie. It's just something that's been close to my heart."
It hit home for Winchester once again when the child he met as part of last year's calendar shoot lost her life to the disease, inspiring the three-year veteran to represent Braden's Hope with customized footwear as part of the "My Cleats, My Cause" initiative during Week 13 of last season.
Winchester was back this year, allotting him an opportunity to meet a teenager who had recently been declared cancer-free.
"It's just something that's always been close to me," Winchester said. "I don't think there's ever an explanation of why we have perfect health or things like that, we just don't know and it can happen to any of us. Just to spend some time with them and, in this case, celebrate her victory over cancer…that's an awesome thing to be part of. I'm thankful to be in a position where I can enjoy that with them."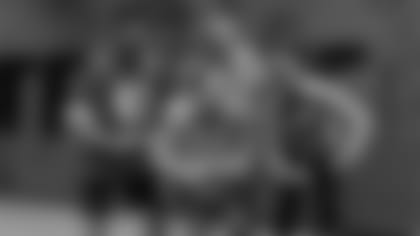 That personal connection is something that linebacker Reggie Ragland sought throughout the calendar shoot.
"I just like being a person…making somebody laugh or having a good time, just taking their mind off things here," Ragland said. "My mom is going through things because she's a diabetic and my dad ended up having a couple strokes, so when they were going through those things I just wanted to make them laugh because I knew they were going through a tough time. It's cool to be around the (kids today) and to just get their mind off it for just a few minutes or however long it takes."
The man joining Braden on the calendar's cover, wide receiver Sammy Watkins, mirrored a similar sentiment.
"I actually know the experience of having someone with cancer and them not making it," Watkins said. "It's good to cherish these moments because you don't know if things can reoccur and come back, so with these moments you have to really have fun and enjoy yourself because these kids didn't ask for this disease. Just to give back and brighten their day means a lot."
Braden, a regular around Arrowhead Stadium these days, had a chance to walk the newly-signed Watkins down the 50-yard line tunnel for the first time.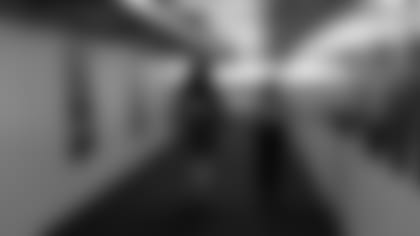 It was a moment Watkins won't soon forget.
"That was a special moment for me," Watkins said. "He had already walked down it before me, so just getting that experience, the chills and the realization that this is where I'm going to be coming out from was special."
It was one of several moments that echoed throughout the stadium on Tuesday, as running back Kareem Hunt, wide receiver De'Anthony Thomas, linebacker Anthony Hitchens, cornerback Kendall Fuller, offensive tackle Mitchell Schwartz, defensive tackle Xavier Williams and offensive tackle Cam Erving made additional memories for a handful of kids simply looking to have fun.
"It's just about being able to bring that joy into someone's life," Fuller said. "Even if it's just for a couple minutes or a couple seconds, to just help them forget about it…I think that's special."