It's often true that some of the bravest souls among us come in the smallest packages.
That's certainly the case for 14-year-old Braden Hofen, who beat cancer three times before his 10th birthday and now, along with his family, is championing hope for other kids facing the unthinkable.
For the sixth year in a row, the Kansas City Chiefs joined Braden in that fight with the annual "Braden's Hope" calendar shoot at Arrowhead Stadium. The calendar, which will be available for purchase on Sept. 1 with proceeds benefiting cancer research, paired each player in attendance with a kid who is either currently battling or has beaten childhood cancer.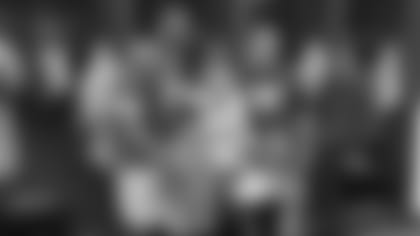 It's a cause that each of the players participating last week had a reason to be passionate about.
"My grandmother and one of my best friends were each affected by cancer – one lost the battle and one didn't. We play a kids' game for a king's ransom, so it's our job to come out here and pay it forward," said offensive guard Cam Erving. "It's all about just spending time with them. That's the most valuable thing we have, and that's why this is important to me."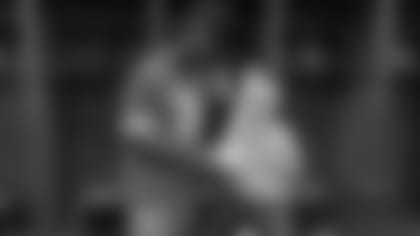 That sentiment resonated throughout the entirety of the event, which invited the kids to explore different parts of the stadium – from the locker room to the Sports Lab – alongside a player.
"This is such a neat thing to be a part of. These kids and their families have been through so much - it's inspiring," said long snapper James Winchester. "Everybody has somebody that they know who has been affected by childhood cancer, and it's just such a humbling and tough thing. We just had our first child, he's a little eighteen-month-old boy, and it's hard to imagine what some of these kids and parents are going through. To get to know them, show them around the stadium and let them explore, it's really cool."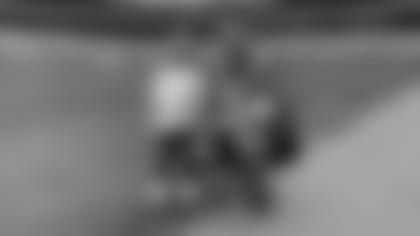 It's an experience that's left an impact on the players over the years, prompting a desire for those that have participated in the past to come back again and again.
"After doing this last year and learning what it was about, I decided that I was going to do this every year," said linebacker Anthony Hitchens. "I signed a ball for [my child] and I'm going to get the rest of the team to sign it, too. Just little things like that can make their days, months and years. They've been through so much - and I'm blessed to be playing football for a job - so being able to change peoples' lives is just amazing."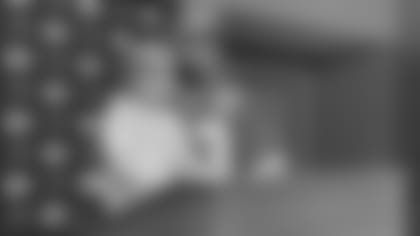 And this was no quick event. Each of the players spent time getting to know the kids and their families before and after the actual calendar shoot took place. It was a simple gesture, but one that seemed to go a long way.
"Kids look up to us and we can empower them, even when they're down," wide receiver Sammy Watkins said. "At first, [my child's] reaction was for me to leave her alone, but once she loosened up, she started to play with me, smile and laugh. That just shows you how giving the kids your love and time can definitely help them."
Deliece Hofen, Braden's mom and the founder of Braden's Hope, has certainly noticed that impact over the last six years.
"Truly, this is my favorite day of the year," Hofen said. "You get to see this little bit of magic that happens when the kids just light up and the players do, too. It's definitely a day that, not matter what happens down the road for these kids, it's a memory for everybody, and that's a pretty special thing."
And that feeling is mutual amongst those in the locker room.
"I love doing it, and as long as they'll have me, I'll keep doing it," Winchester said. "Just to see these kids smile, I think at the end of the day, we end up getting more out of it than they do."