The Kansas City Chiefs took the field in front of yet another strong crowd on Tuesday morning for their thirteenth practice up at training camp with just a few more days left on the campus of Missouri Western State University.
Highlights from practice included some nice catches by wide receiver Marcus Kemp, a pass-breakup by rookie cornerback Herb Miller and an interception by defensive lineman Breeland Speaks, who turned upfield only for wide receiver Tyreek Hill to jar the ball free a few seconds later.
For more on that play and additional analysis from practice, check out BJ Kissel's Five Observations video below.
In terms of injuries, defensive end Frank Clark (sick), wide receiver Gehrig Dieter (back), wide receiver Devon Grayson (knee), tight end John Lovett (shoulder) and cornerback D'Montre Wade (knee contusion) didn't take the field on Tuesday.
Following practice, Assistant Head Coach/Special Teams Coordinator Dave Toub, Running Backs Coach Deland McCullough, Wide Receivers Coach Greg Lewis, Quarterbacks Coach Mike Kafka, Linebackers Coach Matt House and Defensive Backs/Cornerbacks Coach Sam Madison each met with the media.
Here are six things that stood out from their pressers.
1. Toub kicked things off by evaluating how the Chiefs performed on special teams during Saturday's victory over Cincinnati.
"First of all, I thought the effort was outstanding. I thought the guys flew around," Toub said. "Evidence of that was when the ball was on the ground, we came up with it. The guys were flying around. I was really encouraged. I liked what I saw overall."
The Chiefs recovered two muffed punts in the contest, as tight ends Nick Keizer and Deon Yelder each managed to fall on the football after it slipped through the hands of Bengals' return man Davontae Harris on two separate occasions.
Toub was asked to speak about Yelder, who seemed to make the most of his opportunity during the game.
"He's coming around. There's a lot of competition over there for that position and they're all working hard," Toub said. "I thought Yelder, he had the most reps on special teams in that game. He had 15. I think the average was like seven per guy. He had 15 and he did a good job. He rose to the challenge and he got better in that game."
The Chiefs also busted two kick returns of at least 40 yards during the game, as wide receivers Byron Pringle (50 yards) and Mecole Hardman (44 yards) each found some open field in what amounted to a strong night by Kansas City's special teamers.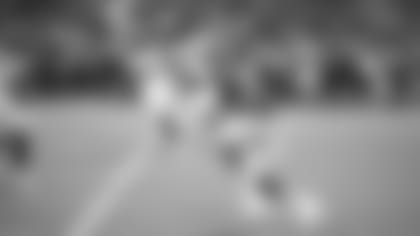 2. Madison, who is entering his first year on the Chiefs' staff, spoke about his impressions of second-year cornerback Charvarius Ward.
"He's long. He's a very long corner. Just have to work on the smaller details, because he really hasn't been in this system before. Last year, it was a lot of man-to-man. Now, you have to transition from man-to-man and play zone," Madison said. "[Our offense] gives you a lot of different things - a lot of different personnel [groups] and a lot of different movements. Really, just training his eyes. He's learning very well. Hopefully, it will be able to click in sooner or later. This is really still his rookie year, he has a couple more games before he's a veteran, but he's learning. He's picking it up. Hopefully, he'll be able to use that length and his ability to make plays down the field - that's one of the things that we are really going to try and harp on with him because he has that long length. When you have bigger, taller wide receivers down the field, he is able to fight for the ball."
Madison shard some similar comments on rookie cornerback Mark Fields, who the Chiefs signed as an undrafted free agent back in April. Fields tallied a pair of tackles and a pass defensed on Saturday.
"Mark Fields is doing very well. He ran one of the fastest times at the Combine, and it's showing," Madison said. "He's had an opportunity to cover Mecole [Hardman] and [Tyreek Hill], and he's running stride-for-stride with these guys. The little, smaller details – [such as] being able to transition from man, he's really good in his man coverages – now, we just have to hone him up and tighten him up on his zone coverages and being able to transition from one thing to the next."
3. On the other side of the ball, Lewis discussed the progress made by Hardman as the second-round pick works his way into Kansas City's offense.
"He's done a great job. He's an extremely smart player, he dives into the playbook, he asks great questions and he picks it up," Lewis said. "The older guys help him along the way, along with myself. That's my job - to get him caught up to speed - but he's done a tremendous job of understanding all the positions we have and then going out and executing."
In addition to his big kick return, Hardman hauled in two catches for 31 yards last weekend.
4. Speaking of rookies, McCullough was asked to speak about Darwin Thompson's performance in Saturday's game and identify what about it impressed him the most.
"Just the focus and intensity. In the beginning of camp, he had some things he was working on as far as detailing his work and effort and different things like that," McCullough said. "He went back to the lab, we worked on it, talked about it and he came out and executed at a high level."
Thompson tallied 51 yards of total offense in the game - rushing for 22 yards on five carries in addition to a 29-yard touchdown grab – but the box score doesn't tell the entire story, as Thompson has also earned praise in pass-protection.
"His pass protection is strong - the guy is strong. He has a great base. He has some stature issues, but once he gets up inside, that's where his strength is," McCullough said. "Once he gets his hands on you, he will squat down on you and anchor down to stop a guy from getting to the quarterback."
5. Kafka explained why the coaches have confidence that quarterback Patrick Mahomes can handle the Chiefs' ever-growing playbook.
"We tried to build on the things that we did well last year and build compliments off of those things. We are constantly doing that on a weekly basis," Kafka said. "Like, what are we showing the defense the week before and where are we susceptible now based off of the coverages they've shown? That is a constant process for us as a staff and for the quarterback to be on the same page as us."
Kafka also discussed the performance of young quarterbacks Kyle Shurmur and Chase Litton during the contest. Shurmur completed 6-of-15 passes for 77 yards and a touchdown while Litton connected on 11-of-15 passes for 122 yards, two touchdowns and an interception.
"I was very pleased with how they went out and performed," Kafka said. "[Shurmur] came out and stayed aggressive. There were a few long balls when he came out, but I loved his mentality when he came out on the sideline. Chase, I think he came back [from] an early interception [with] a touchdown drive. I love their approach and the way that they competed, and I am looking forward to them continuing to do that."
6. Finally, House laid out his expectations for the linebackers headed into this Saturday's preseason matchup with the Pittsburgh Steelers.
"Just continuous improvement," House said. "I mean the obvious things - tackling, getting off blocks, pre-snap and post-snap communication, getting off the field on third downs, being great in the red zone and great in creating turnovers."
The Chiefs return to practice on Wednesday before wrapping up camp on Thursday.