Before Gridiron Glory's opening reception at Union Station on Thursday night and it's opening to the public on Saturday, a special delivery containing two pivotal team artifacts had to be made in the morning to complete the Kansas City Chiefs portion of the exhibit.  
Along with Chiefs founder Lamar Hunt's Hall of Fame Bust, the Super Bowl IV Lombardi Trophy needed to be placed in its case.
Team historian Bob Moore explained why the Lombardi Trophy was such a critical piece of the puzzle.
"It's probably the most indicative of success in the National Football League or maybe of all sports right now because of its distinctive look," he said. "What makes it even more distinctive is the fact that Lamar Hunt came up with the name. It's the 'Lombardi' Trophy, and that was another thing that Lamar added."
Saleem Choudhry, the Pro Football Hall of Fame's exhibit and museum services manager, felt the addition was paramount.
"It means everything to have a trophy from Super Bowl IV, before the two leagues merged, which essentially, evened the score between the NFL and the AFL," he explained. "Green Bay won the first two, then the New York Jets. People at the time said that it might be a fluke and then the Chiefs, they beat the Minnesota Vikings.
"It evened the score and leveled the playing field for the merger in 1970. The history that's represented in that trophy itself means everything from a museum standpoint to me. It accents and accentuates our exhibit."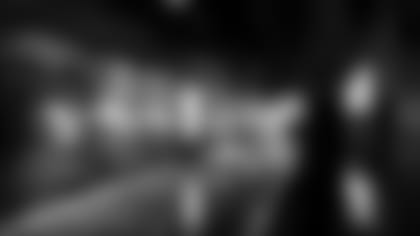 According to the release, Gridiron Glory is the largest and most comprehensive traveling exhibition ever created on America's favorite sport and will include more than 10,000 square feet of the most iconic pro football artifacts of all time.
In total, more than 200 football artifacts, photos and rare documents from the Pro Football Hall of Fame collection will be on display. 
Other items that can be viewed in the Chiefs portion of the exhibit are team founder Lamar Hunt's original hand-written plans for the AFL and a jersey worn by Chiefs legend Len Dawson in the Chiefs' Super Bowl victory.
Gridiron Glory opens to the public this Saturday, May 23 at 10 a.m.
The Superbowl IV trophy was unveiled at the Gridiron Glory Exhibit at the Kansas City Union Station.