After 11 seasons in the NFL and currently ranking second in Kansas City Chiefs franchise history with 86 career sacks, Tamba Hali has earned his place as one of the best defensive players to ever step foot on the field at Arrowhead Stadium.
We've come to know it as "Tamba Time."
Beginning with the dreads and visor back in the day, Hali's relentless pursuit of opposing quarterbacks over the years has defined the man who steps between the lines every Sunday in the fall, but it's the man who has spent the last two weeks at OTAs dedicating his time to the younger players that defines the character of a truly special individual.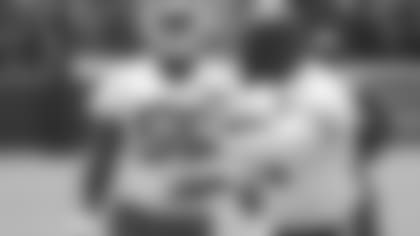 "He's all about the team," Chiefs coach Andy Reid explained of Hali. "He has been that way since I've been here and I'm sure he
was that way before I got here. I love his attitude. He's all about the Chiefs and we're glad to have him here for everything that he does besides being a great football player."
After undergoing offseason knee surgery, Hali hasn't participated in OTAs, but that hasn't kept him away from the field. He's out there every day working off to the side with his younger teammates, passing his extensive knowledge to help the next generation of "Sack City" be ready to take over when the time comes.
Hali doesn't have to be out there. He's doing this on his own time, which could be spent doing literally anything else.
**With his pedigree and prominent place in franchise history, Hali has every reason to take time off and only focus on rehabbing his knee and relaxing. Nobody would bat an eye if that's what he decided to do, but the deep intrinsic leadership qualities he possesses won't keep him away from the field.
"If there's ever a definition of all in, he's all in," defensive coordinator Bob Sutton explained of Hali. "Every day, every way, and that's a great thing for us on defense. It's a great thing for our team because one of your premier players has that kind of attitude and he's doing whatever he can do, which is limited right now, but he's doing it and that's all you can ask anybody."
Hali said earlier this offseason that his rehab has been going well and that he's progressing on schedule.
Whether he's producing on the field or working with guys off to the side, Hali continues to show special leadership traits.