The rain didn't stop nearly 3,500 Kansas City Chiefs fans from attending training camp practice Saturday morning on the campus of Missouri Western State University, and it sure didn't slow down the growing connection between quarterback Alex Smith and receiver Tyreek Hill either.
They hooked up again multiple times on Saturday, and at this point, it's time to DTR—define the relationship.
It's been long enough now through offseason workouts, minicamp, and now two weeks of training camp to figure out what's real, and this Smith-to-Hill thing has all the makings of a good relationship.
On multiple occasions of quite-literally every practice since May, there have been at least a play or two that has you shaking your head and pondering, "Is this really happening?"
At this point, it's fair to say, "Yes."
Although that doesn't mean there isn't still plenty they can do to improve, the early returns from camp have been phenomenal.
Within a few minutes of practice on Saturday, Hill made two deep plays on passes from Smith. He's not just showing speed, but an ability to track the ball in the air, manipulate and use his body to shield defenders, and the hands to catch anything near him.
Nearly every time you hear the crowd cheer during a practice, there's a good chance No. 10 is racing towards the end zone with the ball in his hands after a deep throw from Smith.
"I'm having a blast," Hill explained after Saturday's practice. "It's good to get that connection between (Alex) and myself. We just hope it carries over to the preseason games and beyond."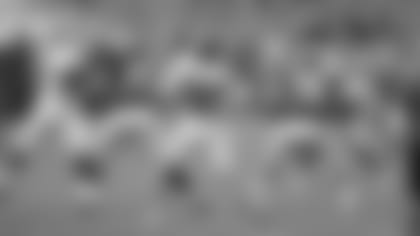 Considering most of the buzz surrounding their connection, which began during OTAs, was in shorts, there's a little more taken from what they're doing now that pads are on and a handful of these plays are in live situations and periods.
"They have worked out pretty well together and they are trying to get used to all the different looks," Chiefs coach Andy Reid said of the relationship between Hill and Smith. "And just making sure it is on come game time. So, it is one thing when [Hill] goes out and does it, but it is another thing for the quarterback to anticipate and throw it to him on time so the defense can't react to it."
One of the guys tasked with trying to defend Hill during these camp practices—Chiefs' defensive coordinator Bob Sutton—spoke about the challenge Hill presents and how he's helping make their defense better as well.
"Well, he can run right by you," Sutton laughed. "There's not too much he can't do. He's a dynamic football player, but it's a great opportunity for us when you're dealing with that speed. That's something is hard to just get all the time.
"So, as difficult as it is and as big of a challenge as it is, I think it will help us defensively."
Specifically, Sutton mentioned having to practice swarming to the ball. Hill presents a challenge with his straight-line speed but also taking shallow crossers and screens to the outside.
"You better not get out there when you're doing much tackling by yourself," Sutton said of bringing down Hill in space. "You need a lot of people there. When you go against him, you need as many people as you can get."
For those doubting the relationship and connection between Smith and Hill, which always happens with something new and exciting, the practices are open to the public. Come and see for yourself (training camp schedule).
The comments from All-Pro cornerback Marcus Peters earlier in the week might mean a little something as well.
"They think he's just fast, but he's a really technically-sound receiver," Peters explained of Hill. "He's just a little dude, but he's in a big man body. "
Peters enjoys the challenge of going up against Hill.
"You've got to compete with the best if you want to be the best," he added. "He's one of the best receivers in our league right now, so you have to get work."
The connection between Hill and Smith developed over time and began last year simply with Hill's ability to digest all the things being thrown his way.
"It started right away with Tyreek just coming in and knowing what he is doing," Chiefs' offensive coordinator Matt Nagy explained. "I think the biggest part for the quarterbacks is understanding how fast he really is. Once you get that tempo down, especially on a lot of the go balls and the deep routes, knowing there is some air time there and you can put that ball up and he is going to go get it.
"It has been impressive and Alex has done a great job with it."
The nuances of precise route-running, which means how you manipulate defenders and coverage with your hips, feet, eyes and shoulders, is something Hill was dedicated to this offseason as he stayed in town to workout with former receiver Jeremy Maclin and others.
"They are taking what they learned from [Maclin] and trying to help each other out," Nagy explained of the whole receivers group. "We have a young group of guys, and what they have done is rely on each other. There are so many parts to this offense, especially at this position, that can be tricky, but they've handled it with great success so far."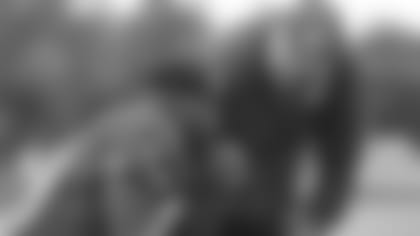 After one period Saturday in which the first-team offense was working on being backed-up near their own end zone, Smith simply uncorked one down the left sideline to Hill, who had a step on the defender on a go-route and made a fantastic catch before racing to the end zone—high-stepping like Deion Sanders did back in the day as he approached the goal line.
The play resulted in a 99-yard touchdown.
After practice, Hill explained the showmanship at the end of the play, which the crowd was eating up.
"I've been watching [Travis] Kelce a lot," Hill smiled. "He's been adding a little sauce to his game, and so I'm trying to add a little sauce to mine."