After watching him from the time he first started returning kicks in high school, Kansas City Chiefs rookie fifth-round pick Tyreek Hill finally got a chance to meet the guy who kept showing up on his YouTube searches for "best return man in the NFL."
That player was Dante Hall, who spent seven years (2000-06) electrifying crowds at Arrowhead Stadium in the same way Hill has already done through just a few NFL games.
**Hall, who may be better known by his nicknames "X Factor" or "The Human Joystick," was doing some work with CBS radio for the Week 2 game the Chiefs had against the Houston Texans.
After the game, Hall wanted to come down to the locker room to speak with Hill, who had showed him in that game the same kind of speed that Hall used to return 11 kicks for touchdowns in his seven years with the Chiefs.
The six kickoff and five punts Hall returned for touchdowns during his time with the Chiefs are still both franchise records.
"It was shocking, for real," Hill explained of meeting one of his idols. "Everybody knows Dante Hall where I'm from, so I know what he looks like and knew who it was right away. I'm definitely a big fan of his."
"You could see the excitement in his eyes and you could tell that he knew who I was right away," Hall explained of that meeting. "It makes sense that he'd look up to me. We're the same size and have the same game."
Through six NFL games, Hill ranks second in the NFL in punt return average at 15.2 yards per return and seventh in kick return average at 23.5 yards per return.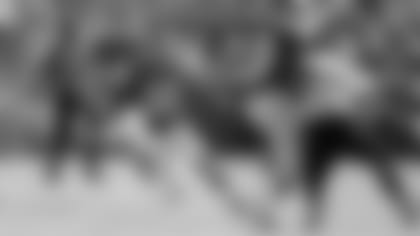 It's an area that Hall obviously has some expertise, as he was ranked by NFL Network as one of the best 10 kick returners in NFL history.
"[Hill] obviously has this out-of-the-world speed, but it's controlled speed," Hall explained. "What I mean by that is a lot of people don't realize sometimes as a rookie, you can come in and try to just go 100 miles per hour all the time.
"You need to be fast, but not in a hurry—the great Charlie Joiner gave me that."
Joiner is a Pro Football Hall of Fame receiver who played 18 years in the NFL before moving on to the coaching side of things, where he was Hall's receivers coach in Kansas City for all but his rookie year.
The ability to know how to manipulate blocks and defenders with changing speeds is something that Hall believes is required to be special, and he sees it in Hill.
"I saw that [Hill] had that right away in the sense of when he'd return kicks, he would set it 1,2,3 to the left, and then break back right—being able to set up blocks, be in third gear and then take it to fifth, throttle back down to fourth—that's one of the biggest things I like about his game," Hall said.
Hall was in Kansas City last Sunday for the 27-21 victory over the New Orleans Saints doing some work with State Farm in an appearance at a tailgate they had set up, but in that game he got to see Hill's ability to go up and make a contested catch down the field—utilizing his speed in another way rather than just returning kicks.
"The defensive back was actually off, and he just ate up that soft coverage and still went by the guy," Hall explained of Hill's 38-yard touchdown reception. "When the ball was thrown, the DB was actually in great position, and by the time the ball came down, Hill had made up the soft cushion, which is so difficult to do."
Hall explained how difficult it is to get into that position down the field in creating space with off coverage, and quarterback Alex Smith just trusted him enough to make a play as he just threw it up there.
"The thing that jumps out is just how well he plays balls down the field," Smith explained of Hill's ability. "He's not out of control, and for as fast as he's going, he's got great body control. It's innate. He has great vision, and I think those are things that can go away when guys try to play too fast.
"He's a guy that has great spatial awareness and tracks the ball very well."
So far this season, Hill has 14 receptions for 125 yards and three touchdowns, which lead the Chiefs.
The franchise record for best punt return average in a season is 16.28, which was set by Hall back during his magical 2003 season, where he went four straight games with a touchdown return and made the Pro Bowl.
With Hill's punt return average right now being 15.2, there's the possibility of the record being flirted with as we go through the year, but it's not something Hall pays much attention to or cares much about—considering he didn't even realize he owned the record.
But if it happens to be broken, that's not something he's fretting.
"When you have a relationship with a guy, even if you don't know him all that well, you want to see him do well," Hall explained. "I wish [Hill] all the success in the world. I'm just glad he's got his life on track—the records and all that—that's just icing on the cake. I want to see this guy succeed in life and want to see him succeed on the field because if he does that, that means my Chiefs succeed.
"I'm all about the Chiefs winning and if he's the guy that's bringing that winning, then that brings back all the good times we had as a return unit back in my time with Kansas City. I wish him nothing but the best, so if he's able to break those records, I'll be one of the happiest people for him. Real talk."
Hall wasn't paying lip service to a complement either. When the two spoke in Houston, Hall made sure to give Hill some advice that he wishes he had gotten a little earlier in his career.
"My first year in the league I was just trying to get my feet wet, kind of feel around and get used to all of the nuances that come with playing in the National Football League," Hall explained. "I never really set out a goal of achieving high success, so I wanted to make sure I planted that seed and tell him, 'It's OK to have high goals. Think Pro Bowl your rookie year, why not? Think best returner in the league as a rookie. Why not?'
"I wanted to kind of help him believe in himself and set high goals because it took me a few years to get to that point."
The advice resonated with Hill.
"It means a lot coming from a guy like that," Hill explained. "He's played the game and he's seen it all, so he knows what it takes to be great at this game. I'm going to do everything I can to just listen to those words and just try to use them when I'm on the field."
For Hall, the fact that the next player in the line of succession at the position that made him a household name on the team that he says he "still bleeds red for" means a lot, and adding the fact that the player has looked up to him since he first started making plays as a teenager means even more.
"That's all you want as a player— is just the respect—that when you're done, people appreciate your career."
It's fair to say that people appreciate what the "X Factor" did during his career, and if there's any former player who fans would want giving advice to Hill, it would probably be the guy who was the best to ever do it.