It's been a popular phrase around the league the past several years, and it holds weight, as players spend nearly every waking moment together over the course of the season.
Though while the phrase rings true metaphorically, it takes on a literal meaning this Sunday when the Kansas City Chiefs take on the Philadelphia Eagles at Arrowhead Stadium.
The game marks the first time that Chiefs' tight end Travis Kelce will play against his brother, Jason, the Eagles' starting center.
"It's going to be a little different," Travis said. "The good thing is I don't have to go up against him directly. While I'm sitting on the bench, I'll get to see him go to work, and when he's sitting on the bench, he'll get to see me go to work."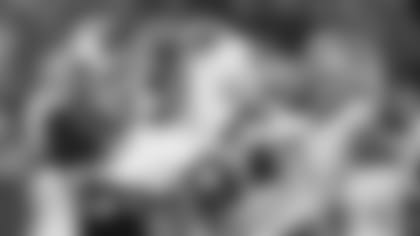 Separated by just two years, the Kelce brothers grew up playing football together, from playing catch in the backyard all the way to the University of Cincinnati. In fact, it was with the Bearcats that the two last played in the same game.
"That was back when I was a quarterback and he was a right guard," Travis joked. "Things have changed just a little bit."
Though regardless of where they lined up on the field, the trust between the two only grew over the years.
"I've always had a maximum amount of trust in his ability," Travis said. "I don't know what it is, maybe it's just me being biased, but any block that there is, I know that he can make it - and it goes both ways. I know that he feels that if there's a play to be made, I can make it. I guess that confidence just grew as we went against each other in the house and in the backyard for so many years. I understood the game completely differently just by getting in his mind and how he thinks schematically. It's definitely helped me grow."
That bond only strengthened as time went on.
After graduating from Cincinnati, Jason was drafted by the Eagles – and current Chiefs' Head Coach Andy Reid – in the sixth round of the 2011 Draft. His experience in the league proved helpful for Travis, who broke into the league a few years later.
"I feel like he's made me better by just doing his thing," Travis said. "I followed him to Cincinnati and I followed him to the NFL, so I'm kind of tracing his footsteps. By him just being a professional, it's built my confidence to say, 'Hey, if he can do it, I can do it.' We're cut from the same cloth."
Travis recalled some of Jason's most pertinent advice after the Chiefs drafted him in 2013.
"He said not to mess around with Big Red," Travis said, referring to Reid. "He said if there's one guy not to screw around with, it's Coach Reid. He's going to hold you accountable in all facets of the game, so just make sure that you're coming to work and doing your job."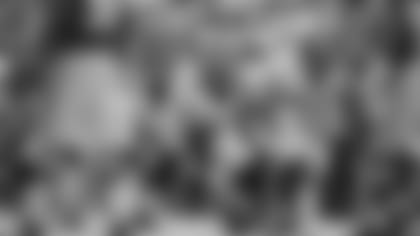 All pleasantries aside, the brothers – always competing – both want to come out on top on Sunday.
"It's definitely a friendly back and forth, that's for sure," Jason said. "He's a very humble, very reserved guy. He doesn't talk any trash whatsoever, as you've seen."
Jason was only being a little sarcastic.
"I want to beat my brother, so I can't give him any intel," Travis said. "If he calls and asks how I'm doing, I'm going to say I'm feeling under the weather and probably won't play."
On hand to witness the duo's first matchup will be their parents, along with a number of other family members, who all suddenly find themselves in a difficult position.
"It's in Kansas City, so I imagine he's going to win out in colors this year," Jason said. "I think my mom might have a special-made jersey that has both of us on it. We have so many other family members coming to the game, and I'm guessing since this one is in KC, he's going to get the benefit of the doubt on apparel."
Allegiances aside, the game will be special for the Kelce's parents.
"I appreciate the fact of seeing my parents and how happy they are telling everyone about us," Travis said. "That's where it really matters. We can say that our mother and father have two guys in the NFL."