The Kansas City Chiefs, Time Warner Cable and the NFL Network delivered a youth health and wellness grant of $7,500 to the Grandview Parks and Recreation program on Wednesday as part of the NFL Play 60 After-School Kick Off.
To help facilitate the announcement, Chiefs tight end Travis Kelce stopped by to speak to the more than 200 children in attendance.
"It's absolutely awesome," he said. "Play 60 does a great job as well as Time Warner. The whole city of Grandview parks and all the kids came out and showed a whole lot of energy."
Kelce began the event by first describing to the children how important it is to get active and then took question from a few of the students.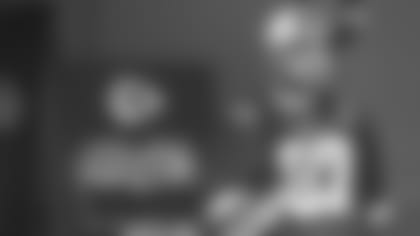 One of the children boldly asked Kelce what he eats on game days.
"This is going to be embarrassing," he lightheartedly responded. "Gummy bears."
Kelce joked that his Gatorade-and-gummy bear snack has been his game day tradition since he was very young.
"They hit me with some on-the-spot questions and it was pretty funny," he said. "Some of them were typical questions you would hear from an average fan, but some of them got a little creative."
When Kelce was done, Dave Borchardt, a community investment manager with Time Warner Cable, also spoke to the children.
"I think it's going to be great for the city of Grandview," Borchardt said. "Kids in America need to get out and be more active. I think everybody knows that, so this will be great for the city of Grandview, just an extra motivator to get the kids out there and enjoy this great weather."
As Borchardt noted, Grandview was chosen as one of the best submissions in the entire country.
"This was a contest," he explained. "Different communities around the country had a chance to put in their submissions and Grandview had a great submission, so the kids here at the parks and rec get to have this great event and get to have great programs now and throughout the year."
Even Grandview mayor Leonard Jones was in attendance for the check presentation.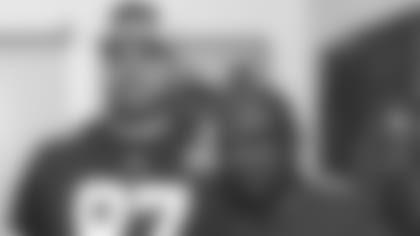 "We're looking forward to utilizing that grant in such a way that the kids can come back here," he said. "They can come and exercise and do those important things that Play 60 is all about, so that's pretty exciting."
Following the gifting of the check, the children joined Kelce on the Grandview gym floor for 60 minutes of athletic activity.
"It was fun to come out here and get a little sweaty with the kids and play around with them," Kelce said. "I just love influencing the youth and just being around and giving them hope.
"Not only that, but giving them an idea of coming out and being the best person that they can be and as real to themselves as they can be."
The Kansas City Chiefs in conjunction with the National Recreation and Parks Association, Time Warner Cable and the NFL Network will provide a youth health and wellness grant of $7,500 to the Grandview Parks & Rec Program.