As the Mexican National Team prepared for its Tuesday night game against Paraguay Monday morning at Arrowhead Stadium, Chiefs linebacker Tamba Hali and wide receiver Jeremy Maclin joined the Mexican players on the field to meet some of them and even swap jerseys.
"It's an honor," Hali said of meeting the players. "These guys are professional in their realm. Great players. Being able to talk to them and get to know them for a brief time and see what they do on a national level, it's gratifying."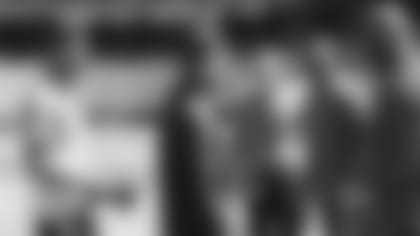 Maclin found the whole experience rather interesting.
"I think [the Mexican National Team], just like we're kind of curious about how they do their things, I think they're curious about how we go about our business," he explained. "It's a good opportunity to meet these guys and I'm excited to be tuned into the game [Tuesday]."
Hali and Maclin brought an American football out on the field and tossed it back and forth with several of the Mexican players and after practice took photos with the team.
Hali, who admitted that he uses a soccer ball to train every day, said that he would be in attendance at the game.
"I love this sport; I love soccer," he explained. "I'll be in the stands tomorrow watching them and I think it's a good thing for our community."
Chiefs Tamba Hali and Jeremy Maclin visit the Mexico National Soccer Team after their practice at Arrowhead Stadium. Hali and Maclin exchanged jerseys with members of the soccer team.