(Pictured: Rahman Anjorin, Kirsten Krug and B.J. Stabler) Last season, the Kansas City Chiefs had 21 players enrolled in continuing education programs for either their bachelor or master's degrees, which ranked No. 1 in the NFL.
That success is in large part due to the restructuring of the player engagement department following the 2012 season.
In order to have better access to the resources needed, the department moved under the guidance of vice president of administration, Kirsten Krug, who now oversees both B.J. Stabler, the manager of player engagement, as well as Rahman Anjorin, the player engagement assistant.
"We believe this integrated approach will provide the best resources to our players and staff," Chiefs President Mark Donovan said at the time. "We worked with the NFL's Player Engagement and Human Resource departments to utilize the best practices from around the league in our new model."
Under their watch, the Chiefs have proudly developed a department that can be used as an example to other NFL teams on how to best serve their players.
Player engagement isn't just about continuing education either. It's about making sure the players are comfortable with their surroundings in Kansas City and aware of all the resources available to them.
"We help players in their transitioning, whether it's a free agent transitioning to this team or a draft pick transitioning from college," Stabler explained. "We also make players more aware of the situation they're in right now."
When players come to visit Kansas City, either as draft prospects or as free agents, the player engagement staff is the one that greets them, shows them around and answers any questions they might have.
The staff is there from day one to help the players in many different ways.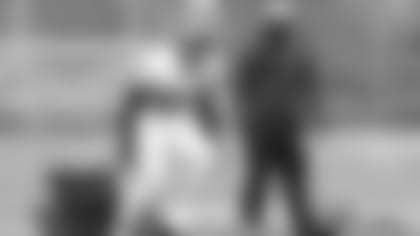 (Picture: Anjorin assisting the linebackers at practice)
Earlier this offseason, third-year linebacker Josh Martin attended the Business Management and Entrepreneurial Program in San Francisco, California.
This program was put on by the faculty of the Wharton School of Business, one of the most prestigious business school's in the country.
"The program had a tech emphasis and I have been really interested in that industry," Martin said. "The Chiefs provided me an opportunity to see what that was all about."
Martin spent four days in Silicon Valley learning from industry professionals on everything from financing and operations to business plan development.
Martin, who graduated from Columbia last year, said it's important for players to take advantage of these kinds of programs.
"It's great," he explained. "It's really invaluable to be able to have these opportunities off the field. You know how football is; you never know when it's going to be over.
"Even if you do play for a long time, you don't play forever, and this helps prepare you for that."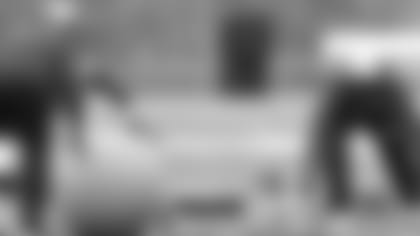 (Picture: Stabler and Anjorin assisting at practice)
For some, that help starts with finishing their college degrees.
Veteran defensive lineman Mike DeVito earned his bachelor's degree last season thanks to the help of the player engagement staff.
"They set up the entire process," DeVito explained, "which was great because especially going into my eighth, ninth year—you start to get further and further disconnected from the school process.
"Those guys had me in the right classes to get my degree, spoke with my teachers, spoke with my advisors, they did it all."
Occasionally, players don't have the time or resources during the season to follow up on everything needed to make sure they're in the right classes at the right times to graduate. This is Anjorin's focus in the department.
"We find out that a lot of the guys, they start that enrollment process but get frustrated," Stabler explained. "They just say 'Forget it, I don't need to go through this anymore. I have football right now.'
"Led by Rahman, we're able to eliminate that frustration."
The NFL will reimburse players for the classes that they take in an effort to further their education and prepare them for life after football.
DeVito said the process couldn't have been made easier for him.
"It was really 'Here's your schedule, here's your books, go get it done.' They made it really easy. But those guys do that with everything they do.
"It's not just school. There's plenty of other stuff that comes along with all of these 90 guys around—asking for rides, houses, I mean we go to them for everything and they get it done the same way they do the school stuff. It's a great resource."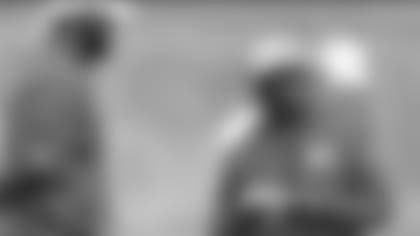 (Picture: Stabler and Anjorin assisting at practice)
Whether it's continuing their education, attending business seminars, boot camps, financial education classes or going on job shadows, Stabler says their job is to find out what the player is interested in and go from there.
"We're here to serve," Stabler said. "We're not here just to hand a player a paper across a desk. We'll meet them in the locker room, their house, whatever they need. If they need help moving in, we'll do that. If they need help moving out, we'll do that.
"A lot of people will go to them asking 'What can I get from them?' We're here with 'What can we do for you? That's our mindset."
One player interested in the job shadow program was running back Jamaal Charles, who spent a day with the Shawnee Fire Department last spring.
"As a kid, I knew I could play football but I always wanted to be a firefighter," Charles said. "I wanted to save lives. I wanted to rescue people and be like a super hero. That's what I think about firefighters and that's what made me to want to do that program.
"It was pretty cool to get that experience and see how much hard work it is."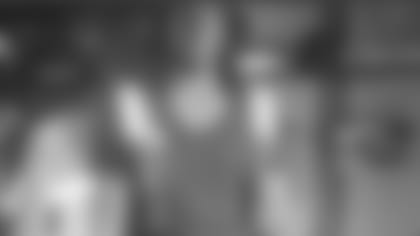 (Picture: Jamaal Charles working with the Shawnee Fire Department as part of the job shadow program)
Charles echoed the same sentiment as Martin and DeVito on the importance of using the resources of the player engagement staff.
"Those guys are great people and they can give you the right purpose for what you want to do in life after football. They take care of us and prepare us because we can't do this forever."
But in order for Stabler, Anjorin and company to provide the players with everything they need to not only be comfortable with their situation now, but also to be successful in life after football, they need support from the top of the Chiefs organization.
That's an area Stabler points to as to why they're able to find success serving these players.
"Honestly, number one, it's because of management," Stabler explained. "Clark (Hunt), Mark Donovan and John Dorsey have been great to our guys in supporting everything we need. Kirsten (Krug), our vice president of administration, she shares that same exact passion of wanting to see our guys get better.
"She opens a lot of doors for us and makes a lot of the things we do possible."
But it doesn't stop there.
"[Coach Reid] cares about these guys so much more than a lot them know," Stabler explained. "Each NFL player engagement department is different, so with that, understanding the amount of success that we've had, it's only due to the fact that Reid cares so much about these guys and wants them to get involved."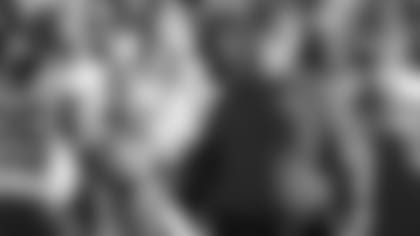 In trying to relate to the players and helping them prepare for life after football, Stabler doesn't have to pretend to understand the dynamic—he gets it.
According to SuperPrep magazine, Stabler was the No. 32-ranked offensive lineman in the country coming out of Grove Hill High School (Ala.) in 2003.
After signing with Alabama, Stabler was named a freshman All-American at right guard for the Crimson Tide.
In his mind, football was in his future.
But five knee surgeries later, Stabler realized he needed to find a different path after not being able to play his senior season.
"They told me if I played I'd have to have a knee replacement by the time I was 35," Stabler explained. "It was the toughest thing I'd ever gone through in my life. I remember that transition."
After taking a sales job right out of college, plus a couple of stops at Alabama and Georgia State in recruiting, Stabler was given an opportunity with the Chiefs back in 2011.
The ability to relate as a former athlete, but also as someone who is truly there to serve has allowed Stabler to help players like former Chiefs defensive back Travis Daniels.
"Every day after practice Brandon Flowers and I would go down to his office and just hang out," Daniels recalled. "That was different than other [player engagement staffs]. Some weren't always as receptive to us being around and hanging out like that.
"Just being able to do that made it a lot easier to go and talk to him about things."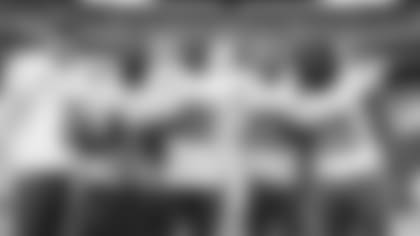 (Picture: Daniels along with Dustin Colquitt, Tamba Hali, Eric Berry and Jamaal Charles at the Pro Bowl)
Daniels had a passion for photography and with the help of Stabler, Daniels became the first active NFL player to be a credentialed photographer for the Pro Bowl, and he has now been to two.
In addition to getting him credentialed for the Pro Bowl, Stabler helped Daniels get set up with the Chiefs team photographer, Steve Sanders, who not only showed Daniels the basics but went above and beyond in teaching him the ropes.
"We started going out on Monday's during the season after team meetings to the Plaza and downtown Kansas City to take photos just so I could work with a professional on his level," Daniels said. "Steve really helped me get to where I am today."
(Picture: Steve Sanders and Travis Daniels at the Pro Bowl)
Last year, Daniels worked the Chiefs' game against the Miami Dolphins down in Florida as a credentialed photographer.
"This is the one person who is on you all the time about making your life better after football," Daniels said of Stabler. "A lot of guys aren't thinking about that type of stuff—they're thinking about right now. Yeah, you're making great money, but it's only going to last so long.
"He definitely made you think about how you're going to live life after you finished playing."
For Stabler and Anjorin, that's exactly why they do it.
While much of the focus is surrounding what these players can do on the field, there's a certain level respect for Stabler and Anjorin because of what they can provide away from it.
Their focus is on the bigger picture.
"There's a love for what we do and we don't ever want to take it for granted."