A longstanding tradition for the Kansas City Chiefs organization is the annual rookie dinner, which, this year, took place on Friday night.
The event is designed for new members of the team to be introduced to the rich tradition of the Chiefs, along with what it means to represent Kansas City.
Joining both the drafted and undrafted rookies at the event were coaching staff members, Chiefs Ambassadors and Chiefs chairman and CEO, Clark Hunt.
"It's always exciting to have the new players here in the building—the rookies and some tryout players. It's a great chance for them to get introduced to the Kansas City Chiefs," he said. "This dinner is one of the most important events of the weekend because it gives the rookies a chance to learn a little bit about Kansas City Chiefs and what it means to be a Chief."
B.J. Stabler, the Chiefs manager of player engagement, detailed what took place at the dinner.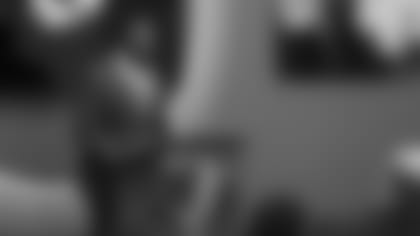 "The coaches and the Ambassadors educate the players on the tradition of the NFL and what the Kansas City Chiefs are about," he explained. "Very much so like any other employee that goes to another corporation or whatever you may have it, they are learning a lot about that business that they're working for.
"It allows them to have much more invested into it. It shows them that it is just as much a part of theirs than it has been everybody else's."
Former Chiefs scheduled for the Rookie Dinner
The guests arrived to the University of Kansas Hospital Training Complex at approximately 4:00 p.m. and there was first a mingling period in order for the new and former players to familiarize themselves with each other.
After everyone gathered in the cafeteria, Hunt spoke first, followed by head coach Andy Reid and general manager John Dorsey.
"It's 'Welcome to Kansas City,'" Dorsey explained. "This is who we are as an organization. We've preached family. You're in the family, so part of that is these players, they're in the National Football League now. Not only do they have a responsibility to themselves, to their teammates, to the National Football League, they have a responsibility to the Kansas City Chiefs organization.
"To me, that has great meaning to it. That's what it is."
When Dorsey finished his speech, the new players, strategically seated with Ambassadors of similar position and background, then watched a six-minute video demonstrating what it means to be a member of the Kansas City Chiefs.
Finally, dinner was served.
"It's a lot of breaking bread," Stabler said. "It allows a lot of our guys to sit with the former players and learn from their experiences. Our Ambassadors get to share what they've learned through the process."
"We're continuously preaching to our guys that we want to help make them better men, so with the leadership of Clark spearheading this dinner, he wanted to make sure he kept it going to help our guys become better man all around from a standpoint of our rookie meetings and to this rookie dinner.
"It allows them to get as much information as possible and learn as much from Ambassadors—what their faults were and what their success was."
Following dinner, the rookies departed, bracing themselves for their first workout as a Chief on Saturday.
The Kansas City Chiefs rookie class of 2015 sits down to dinner with Chiefs alumni, coaches and staff.