They were scattered amongst five different rooms - from a gym to a crafting station – as part of an annual tradition that the dozens of kids at the Children's Center Campus had been looking forward to for months.
More than 12 of the Kansas City Chiefs' rookies were here on Tuesday afternoon for their yearly holiday visit, which meant a day off from practice spent decorating cookies, creating paper-plate snowmen and running a Play60 clinic.
"We're just out here having some fun," said rookie offensive guard Kahlil McKenzie. "We have some drills set up – some hurdles and ladders – things like that. We're just running around, having fun and being kids."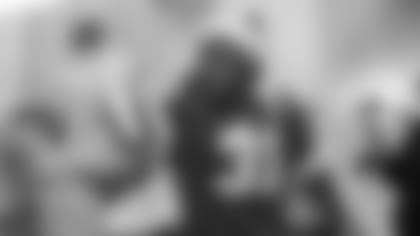 The Children's Center Campus houses Ability KC, which provides therapeutic and educational services for children with disabilities, the Children's Center for the Visually Impaired (CCVI), an organization that strives to prepare children with visual impairments to reach their highest potential, and the YMCA Day Camp, a service that delivers on-site daycare for kids without disabilities.
Each of the kids participating in Tuesday's activities were part of one of the three organizations, presenting a wide array of interests and capabilities for the players to embrace.
"This has been incredible," said Molly Turner, Executive Director at CCVI. "These kids face discouraging news from doctors on a daily basis, but this is a day of light. Our kids are encouraged to meet their highest potential, and this is just another example of that."
The Chiefs were busy spreading that light throughout the visit, though many of them seemed to be having just as much fun as the kids themselves.
"It's always fun doing stuff like this, just bringing out that inner-kid," said rookie defensive back Tremon Smith. "I have a little brother and a little sister, so it's like going back in time."
"I like to call these my people – little kids who you can let loose and just be yourself around," McKenzie added. "I've always just been one big kid."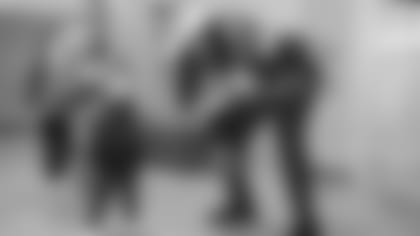 It was fitting, as well, that many of the children at the center were clad in their favorite players' jerseys – just in a bit smaller sizes.
"To see kids out there representing what you're representing is awesome," McKenzie said. "They're happy to see you in your jersey and they want to be out there wearing theirs to support you. Seeing somebody that young that looks up to you and wants you to do well – they're your biggest fan – it just makes you smile."
It all made for a special afternoon, allotting several kids who all too often have to face difficult circumstances with the opportunity to simply be a kid.
"If I can create a memory for them that'll last forever, I'll do whatever I can," Smith said. "If that means showing up to events like this, I'm always going to do it."
The Chiefs Rookie Club visited the Children's Center Campus for its annual holiday visit. Rookies spent time with groups from Ability KC, YMCA Day Camp and the Children's Center for the Visually Impaired (CCVI). The rookies also assisted the kids in activities including crafts, cookie decorating and Play 60 activities. KC Wolf and Chiefs Cheerleaders were also on hand to visit classrooms and distribute plush toys, donated by the Chiefs.