The Kansas City Chiefs opened the preseason with the 33rd annual Charity Game on Friday night and, for the third year in a row, The Children's Place was the beneficiary.
The Children's Place aims to meet the developmental and mental health needs of young children that have survived abuse, neglect and other forms of trauma.
"The Chiefs have elevated community awareness of who we are as an agency," said Ann Thomas, the President and CEO of The Children's Place. "It's given us an additional platform to tell our story and to make people aware that we're serving children in Kansas City right here, under our noses, that are experiencing traumatic events before they're eight years old."
The Charity Game has raised more than $12.5 million for local initiatives since its inception in 1985 and has seen unprecedented success since partnering with The Children's Place, raising a record number of funds in each of the past two years. The game raised $736,000 in 2015, $740,000 in 2016 and $845,000 this season – a total of over $2.3 million.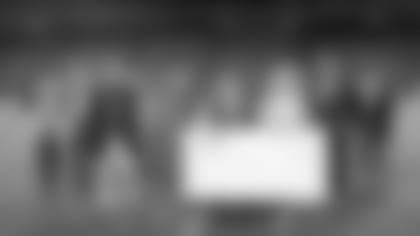 "I think it's exceeded all of our hopes and expectations," Thomas said. "We were excited in the first year when we hit $730,000, and we knew we had set the bar high for us to continue to break our own record, but that just got people excited. It's kind of mirrored the competitive spirit you see in sports. This is our opportunity, so we want to make sure we seize the moment."
It's been an impressive run for an organization that's still relatively small in size.
"We have a lot of pride in our success," Thomas said. "The Chiefs have said, and we know, that they took a bit of a risk on us because we're a small organization – we have under 50 employees. We're really proud that our little agency could break all of these records. It also speaks to people believing in our mission and people wanting to see our kids have success in life."
The event's success has redefined what The Children's Place is capable of doing in the Kansas City area.
"We've grossed 2.3 million dollars in this process. There are expenses and things that go along with that, but a large portion of that money is for our building," Thomas said. "We're looking into what the right thing to do is, and that's what this money is for us. It'll allow us to deliver more services and to deliver our services differently. We can't expand our programs the way we want to right now because of our walls, so we'll get to dream big again."
The game has more than just a financial impact, too.
"One of the things that we're seeing is we're having more and more interest from people wanting to serve on our board," Thomas said. "Because people are aware of what we do, the philanthropies of individual businesses are starting to reach out and us and ask how they can help. That's not always monetary – it's a lot of physical capital, which is what we also need."
It's been a successful partnership between the Chiefs and The Children's Place as the organizations work together to serve the Kansas City community.
"This platform has really elevated us to a different level which sets us up for a nice trajectory moving forward," Thomas said. "I like to think that The Children's Place is here to help kids and elevate them to the next level, and the Chiefs have sort of done that for The Children's Place."