"He's the greatest defensive player that ever played for the Chiefs," according to Chiefs Pro Bowl LB Derrick Johnson.
And tonight, the life of Pro Football Hall of Fame linebacker Derrick Thomas will be remembered as part of the NFL Films and NFL Network's A Football Life series, "Derrick Thomas: A Football Life", produced by Rob Gill and Digger O'Brien, of NFL Films.
Both Gill and O'Brien learned of their assignment to cover the impactful life of "D.T." last February, which instantly began exhaustive research and interviews about the Chiefs all-time sacks leader (126.5).
Gill shared his hopes of tonight's documentary, which airs at 8:00 PM CDT on NFL Network.
"I would hope that we pulled an honest, fair and relatively-complete story about Derrick Thomas, both on the field, but also away from the field," Gill said. "In a one-hour documentary, we can't flesh out every single detail, but within the time constraints, I would hope people think that this was a story well told about a life, albeit short, very short, well-lived. This guy packed a lot into 33 years and made a huge impact on a lot of lives and made a huge impact on the football field and I hope that people watching it feel similarly, that we packed a lot about that life into this documentary."
After all the hours of research, interviews and more, about Derrick Thomas, Gill spoke to what surprised him.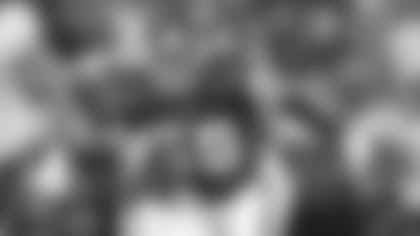 "I don't think we had anybody talk to us negatively about Derrick Thomas, in any way," Gill said.
"And that would not necessarily be the case for every subject that we would choose for one of these documentaries. We did over 41 hours of interviews for this documentary, before having to whittle it down to a little more than 44 minutes of content. We talked to former teammates, former coaches, family members, friends and writers; certainly, people acknowledged different parts of Derrick's life, where he maybe didn't go down the straight and narrow, but this guy was universally loved and he really had an effect on people. I was unaware of his dedication to the military, which is no doubt spurred by his father's death in the Vietnam War. Also, his dedication to the children in Kansas City and pretty much any other children he encountered in his life. His dedication to seeing them improving their reading skills, learning to read and having access to libraries and books and even things beyond that, which they likely would never have been able to do without his help. I knew nothing about Derrick Thomas, away from the football field, before this started and it really opened my eyes to how much of an impact he had on a lot of people."
The life-changing impact of Derrick Thomas continues today, including right inside the Chiefs locker room.
"Being in this league and since I've been a part of this organization, I've heard so many great things about Derrick Thomas," Chiefs Pro Bowl RB Jamaal Charles said. "He brought a lot here to this team, when he was playing for the Chiefs. He's a Hall of Famer and I'm looking forward to seeing (tonight's) documentary."
The "D.T." influence still impacts the Chiefs linebackers, including Pro Bowl LB Justin Houston, who needed one word to describe what comes to his mind when he hears the name Derrick Thomas.
"Sacks," Houston said. "That's the first thing I think about, with his on-field performance. He was a great athlete, a great player. I still watch film of him and use it as motivation to try to get close to where he was."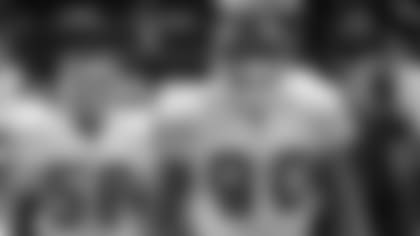 Fellow Chiefs Pro Bowl LB Tamba Hali echoed similar praise for the former sack master.
"Derrick Thomas, probably the best pass rusher I've ever watched on film," Hali said. "He was just relentless and sometimes, before games, I've put on his film, just to watch him and emulate some of what he did, while he was here."
Following tonight's documentary, NFL Network produces the A Football Life: Backstory show, which airs at 9:00 PM CT, featuring Thomas' former Chiefs teammate and close friend, Neil Smith (#90).
Gill previewed a clip from tonight's documentary, where Neil Smith describes how he altered his game, because of the amazing snap-count instinct of Thomas.
"He had a sixth sense about it," Gill said of Thomas' amazing first step. "It's in the film that Smith switched his stance from putting his right hand down to putting his left hand down, so he could have an easy way of turning his head down the line of scrimmage, so he could watch Derrick Thomas, instead of watching the ball; he would go when Derrick went, instead of when the ball was snapped. It makes no sense, but that's what he said he did, because he knew Derrick was going at that time. As he put it, "Derrick would always be a step ahead of me". It was incredible, how fast he got off the ball and got to the quarterback."
Tonight's documentary provides fans with a very insightful, emotional and unique look into the life of Derrick Thomas, a hero to so many, both on the football field and away from the game that he dominated like no other.