Just like that, the Combine has come and gone, but the talent evaluation by the Kansas City Chiefs never stops. Leaving Indianapolis, I felt just like last year, the first Andy Reid-John Dorsey-led Chiefs campaign, when the team made moves in free agency, followed by the draft, each playing a role in the team's record-breaking turnaround in 2013.
So, as year two moves on and the Chiefs brass continues to take the next steps in preparing to form the 2014 roster, the overwhelming factor in the team's success will continue to be one thing: trust.
"When you have trust in the upper management and the ownership has trust in your abilities, it allows you to do your job," Dorsey said. "I know that the players that I get for the Kansas City Chiefs, they're going to have some of the finest coaches in the National Football League. I respect that and I applaud that and I think we in the personnel department have achieved the trust of the coaching staff, because they know we're going to get them the best possible players we can to win."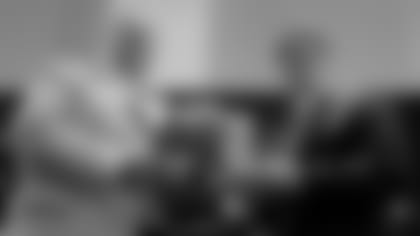 The trust factor between coach Reid and Dorsey doesn't date back to just last season.
"I've got a lot of trust in John (Dorsey)," coach Reid said. "We have a history back from Green Bay and I think he's got a great staff. When I was able to meet with Clark Hunt, that's really the format Clark wanted, was a general manager doing the personnel and the head coach being the head coach. I was all for that and that was good at that particular time in my career. Most of all, I have trust in John and he does a great job. He's aggressive and he knows good football players."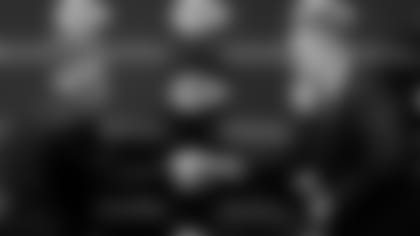 Dorsey echoed coach Reid's appreciation of the way the Chiefs brass conducts its business at One Arrowhead Drive.
"When I first got to Kansas City, last year in January, I said that the greatest thing about this relationship is when the head coach and the general manager philosophically are on the same page and they go to work every day and they want to work to get better," Dorsey said. "That's very meaningful, because that's what successful organizations do. With Andy (Reid), Andy is one of those guys that lets you do that, and he trusts me enough to do that. I have great respect for Andy, and that's kind of the way that Clark (Hunt) laid that whole system out. So far, it has worked pretty well."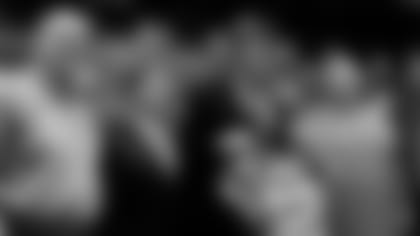 The Chiefs had 30 new players on their 53-man roster, including their top pick in the 2013 draft, Eric Fisher. Kansas City also returned six Pro Bowlers from 2012 and had eight veteran players named to the 2014 Pro Bowl. Last year's team included two rookie free agents from the 2013 class and Kansas City currently has the second-longest active streak of having at least one college free agent on its roster.
"Well, we have always said that this is a collective effort by everybody within the organization," Dorsey said. "At the end of the day, we're going to make a pick for the Kansas City Chiefs. What we are doing right now and what I'm trying to do is to get Andy (Reid) to understand exactly who these players are and it's for me to get him up to speed on that so he can have a good, comfortable feel for them."
It's not just the work by Dorsey and his staff that coach Reid appreciates, but also the GM's passion that fuels tireless work efforts.
"I enjoy it," coach Reid said. "I probably feed off John's (Dorsey) energy with it. You see him light up, when he talks about certain guys and the opportunity to talk to certain guys and watch them work out; it's exciting. I kind of enjoy this first step in the process."
While the work never stops for the Chiefs, the next official step in the process is March 11, the start of the new league year, including free agency. Chiefs fans are hoping 2014 is even more memorable than the record-setting season their favorite team just completed.