She has been called "The First Lady of the NFL."
It's a title that fits Norma Hunt well, considering she has had a front row seat to not only the development of the Super Bowl as we know it today, but also even to the NFL as we know it today.
She is the wife of the late Lamar Hunt, the founder of the Kansas City Chiefs and also the American Football League. She's also the mother of current Chairman and CEO, Clark Hunt.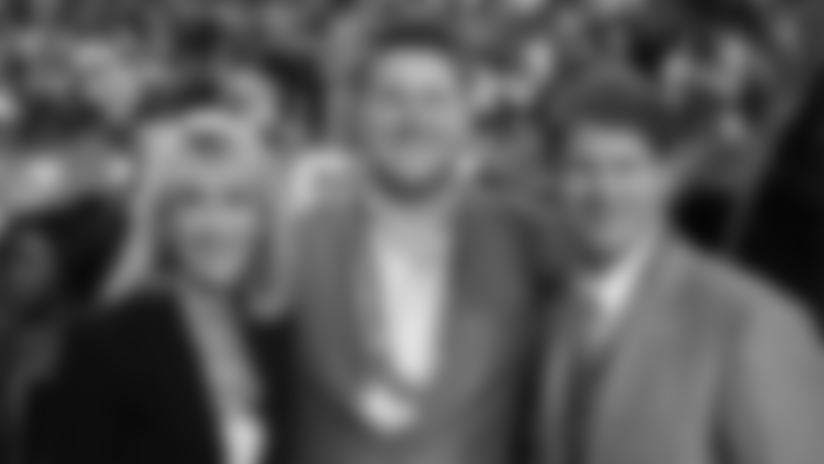 Norma Hunt, Ryan Petkoff and Clark Hunt
She has been there from the beginning, and as she gets ready to attend her 50th Super Bowl this weekend, a feat that no other woman can say, she reflected on how the "Super Bowl" came to even have that name.
"It actually started in a toy store in Dallas," she explained. "I was just buying a bunch of gifts for the kids and when I was checking out, they had this display on the counter showing kids bouncing these 'Super Balls.' The picture made you believe they could bounce these balls over a small house.
"I thought 'Our kids will love these.' So I bought three of them. Our youngest son (Dan) had not been born yet, and so I got one for Clark, Sharon and Lamar Jr., and they really did enjoy them.
"I think Clark was so small that he actually just chewed on his."
She remembers how Lamar, who had been the instrumental figure in merging the AFL and NFL together back in 1966, recalled these "Super Balls" in a league meeting.
"[Lamar] absolutely despised the name 'AFL-NFL World Championship game,'" Norma explained. "He literally thought it was the most boring thing he ever heard in his life. Then in a league meeting, this just popped into his head—the Super Bowl. He's a guy that went to like 60 consecutive Cotton Bowl games, and so he was big into the Bowl game thing. Then 'Super Bowl' just popped into his head, and he said 'That's what it should be.'
"If you follow history now, that's turned out pretty well."
History has shown us that the NFL would not be what it is today if not for the Hunt family, starting with Lamar's vision of what football could be for the country.
"Super Bowl 50 has been a great platform for us to celebrate our traditions and our history," NFL Commissioner Roger Goodell said on Friday. "This includes Norma Hunt, someone who has meant a great deal to our league and to me personally, including the late, great Lamar Hunt.
"Norma, we're always glad to have you. Let's keep the streak going."
This family legacy also continues now with Clark's leadership among NFL owners.
But on Sunday, the light shines back on Norma, the "First Lady of the NFL," who will continue her streak of having never missed a Super Bowl game.
"We're all very excited about it," Clark Hunt said of the streak. "She's understandably excited as well. She'd be the first to tell you that she doesn't consider it an accomplishment, but she has a tremendous passion for it and I know she's looking forward to seeing the big game on Sunday. I'm not sure at what point my dad started keeping track of the streak, but it became something they really enjoyed doing together.
"He made it a point to always get a photo of the two of them in front of the stadium at each of the Super Bowls they attended, and they attended 40 of them together. Since he passed away a little over nine years ago, it's something we've continued as a family tradition."
That tradition is a just reminder of the legacy of a family that has shaped everything we know about what football is today.