If the life of Kansas City Chiefs safety Eric Berry one day becomes a feature film (and don't be too surprised when it does), Monday, December 8, 2014, might serve as its beginning.
That was the day Berry's doctors diagnosed him, a 25-year-old with already three Pro Bowls to his name, with Hodgkin's lymphoma. A life-threatening illness—cancer—had struck this budding NFL star, and no one could be sure if this film was to become a tragedy.
But it's that fact that will make this inevitably forthcoming feature so good—hindsight is such a beautiful thing when out of the darkness comes light.
As is now Kansas City folklore, Berry recovered at an almost inconceivable pace, returning to the Chiefs cancer free by the start of 2015 training camp, only a little more than seven months after his diagnosis.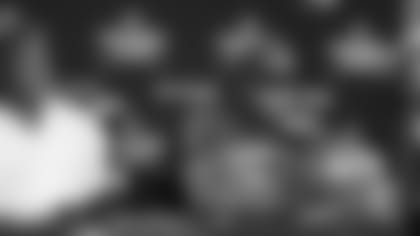 Then, sitting in St. Joseph between his father, James, and his mother, Carol, he spoke to a room full of media members, thanking God, his parents, his friends, his teammates, his followers from Tennessee and his supporters from Kansas City.
And this is what those in Hollywood will say, "we call foreshadowing."
A little less than 20 months later, Berry sat between his parents again Tuesday afternoon, this time in the Hank Stram Theater at the University of Kansas Health System Training Complex after signing a contract extension that ought to make him a lifelong Kansas City Chief.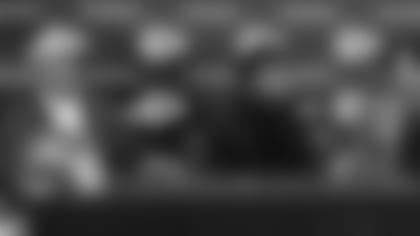 "You could try and put a price tag on different things, but you can't account for chemistry," Berry explained of the extension in his initial address. "A lot of people don't account for that. They don't take that into consideration. That was a big part of my thinking in the whole process, and having my family and this organization behind me meant a lot. You don't get that everywhere."
Berry expanded on that point throughout the press conference, citing his comfort with literally each and every aspect of the Chiefs organization, starting with the respect he holds for his secondary coaches in Emmitt Thomas and Al Harris to the familiarity he's created with members of the team's cafeteria staff.
"I'm comfortable here and I have a good feel for it—I didn't want to rebuild all of that, even though I felt like I could have," he explained. "I know everybody in the building from the cafeteria. I know what desserts are going to be in the building from chef Erin, I know we're going to have wings every Thursday, and if there's something that we don't like in the cafeteria, we can talk about it and get it done.
"That's just a part of it. I hear other things around the league and it's not always like that, so why risk that and go somewhere else when you have to rebuild that chemistry and you already have it with the people you work with?"
Truth be told, Berry's contract status, for the second year in a row, came down to the franchise-tag wire.
Last year, the team tagged Berry, but this year, a 10-hour discussion last Monday allowed for the Chiefs and his representatives to strike a deal that worked for both sides.
Asked about the process at the NFL Scouting Combine, Chiefs general manager John Dorsey credited the ownership of Clark Hunt in getting it done.
"A deal of this magnitude does not unfold unless you have the blessing of ownership—that's first and foremost," Dorsey said. "At the end of the day, we came down to an agreement that Eric Berry will be a Kansas City Chief."
That blessing and the ensuing agreement could have only come about with the résumé Berry has put together through his now seven-year career.
Since returning from cancer, Berry has been to two more Pro Bowls to bring his total to five. He's a three-time first-team AP All-Pro and was named the NFL's Comeback Player of the Year for 2015.
Aside from all those on-the-field honors, Andy Reid, who is well known as an offensive-minded head coach, may actually appreciate the deal more for what it does for the other 52 members of his team than anything else.
"It's great for your locker room," Reid said at the Combine. "I'm stating the obvious because he's one of our team leaders and really the heartbeat of that defense. We've got some great leaders on our team, but Eric is a special guy that way. Again, he makes people around him better."
And now that Berry will be in Kansas City into his early 30s, that leadership role even further magnifies in his own mind.
"I think now, it's a matter of not just taking my game to the next level, but taking everyone's game to the next level," he explained. "Physically, I feel like I can do whatever [the coaching staff] needs me to do—it's about bringing others too. I think it's OK to come in early and watch film. It's OK to stay late and get extra work done, but if we don't get on the same page as far as what we're working towards, I don't think we'll make the strides we need to make."
The necessary strides for Berry's team moving forward are simple. After back-to-back divisional round exits, he believes he needs to somehow become an even bigger inspiration, wanting his teammates to understand how critical it is to take advantage of their playoff berths.
It's all because, in his own words, "you don't get so many opportunities like that."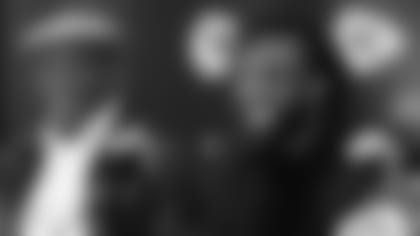 James (Berry's father) said that growing up, Berry had always talked about the honor of playing in one place for his entire career.
With that now probably a reality, if he's to win a Super Bowl championship, one of the few accolades that has averted him to this point, it will have to come in Kansas City.
And if you're a Chiefs fan, that may be the greatest gift of all.
Because based upon all the evidence there is to date, would you bet on him not *winning *a championship in his career?
His parents, who have been by his side since this story began, certainly wouldn't.
"It was a great journey to see him come back from a place that was sort of dark and dingy, but there was a lot of hope," James said. "There was light at the end of the tunnel, and to see him fight his way back to where he is today, words really can't say it. When you have a guy like him who is a true warrior and dedicated to the game and has a winning spirit, it was a great journey."
"I can't even put into words how he has inspired me," Carol added as she fought back tears. "I can sum it up and say – when we were leaving the other week and [Eric] called and said the deal was done, I cried and I told James that it's funny the last time that we came home from a non-football visit was to take him back to Atlanta to get treatment, so the emotions were pretty much the same, but it was happier.
"I can't even put it into words how proud I am and thankful that it happened with a team and an organization and city like Kansas City, because I don't think we would have gotten through it. We had a lot of support and emotional support so I appreciate that."
With a happy ending, this film is over.
Berry would agree more than anyone—onward to the sequel.