The Pro Bowl brings together the league's best players for a week in the sun as a reward for their efforts on the field – but it's not just for the guys in pads.
There's a group of individuals tasked with putting those players in a position to succeed every time they trot out onto the field, and it just so happens that Allen Wright, the Kansas City Chiefs' Equipment Manager, is handling those duties in Orlando along with his staff.
"We're basically here to take care of both the AFC and NFC players," Wright explained. "The Pittsburgh Steelers' and the New Orleans' Saints equipment managers take care of their coaches while we take care of all the players."
Wright is working his fourth Pro Bowl in a row – a rarity in today's NFL.
He was the runner-up for the NFL's Equipment Manager of the Year award in 2014, earning an invitation to the event when the award's winner couldn't make it, and joined Andy Reid and the Chiefs' coaching staff when they made the trip in each of the past two seasons.
Wright returned to Orlando this season after earning that Equipment Manager of the Year award that he nearly won three years ago.
"It's a nice award. It's a small fraternity of guys and to be a part of it for so long is truly a blessing," Wright said. "I'm enjoying the heck out of it."
Wright has indeed been on the job a while – 35 years, as a matter of fact.
"To work this long and see what this event has evolved into today is unbelievable," Wright said. "We went back in 1993 and it was just a football game. For it to be the experience that it is in today's NFL is unbelievable…it really is."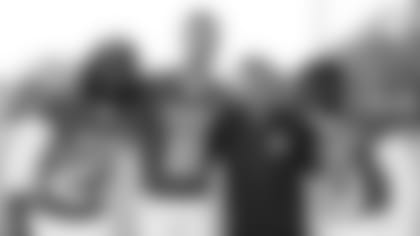 Wright brought along three members of his staff - Chris Shropshire, Kyle Crumbaugh and Cale Kirby – in what serves as a reward for a job well done.
"Coming down here is truly a reward. We don't put in near the hours that we would if we were at home and it's fun," Wright said. "You're dealing with players that you look up to and watch from the other sideline every week and doing it four years in a row, we've actually gotten to know a lot of these guys.
"When (Steelers' wide receiver) Antonio Brown or (Raiders' quarterback) Derek Carr or (Broncos' linebacker) Von Miller calls you by your first name and remembers you, it's pretty fun."
Miller in particular – although a nemesis on the field – has developed a rapport with Wright over a shared passion for Chiefs' legend Derrick Thomas.
"I had a good conversation with Von yesterday - he's a huge Derrick Thomas fan," Wright explained. "It started back in 2014 when we had a lengthy conversation one night and now every time I see him, he's pressing me for more on DT and that's fun for me to have a guy like that of his stature think so much of our history.
"It makes it hard to dislike him, except on game day when he hits my quarterback."
Of course, Wright's quarterback – Alex Smith – is also in Orlando representing the Chiefs along with tailback Kareem Hunt and wide receiver Tyreek Hill.
"It's just fun to see them interact with all the other players and all the great comments you hear from others about your guys," Wright said. "That gives you a sense of pride. So many people respect Alex, Tyreek and now Kareem, and it's fun to see that side of it."
And for a fourth year in a row, Wright is front and center.