While the Kansas City Chiefs hit the practice field in preparation for the upcoming season on Saturday, the next generation of football players was hard at work right next door at Gatorade Junior Training Camp.
Over 100 kids made their way out onto the field at Spratt Memorial Stadium - just footsteps away from the Chiefs' practice fields at Missouri Western State University - for the camp, which offered a variety of football-related drills under the direction of Missouri Western coaches and players.
"Several of our full-time coaches, our graduate assistants and about 15 of our players – including our starting quarterback – are out here," said Missouri Western Athletic Director Josh Looney. "To put them through a free clinic with high-caliber football people around them is special. They're going to go through it and then walk over to the Chiefs' practice and see the same drills that they just went through."
The camp was free of charge and welcomed kids of varying ages, from those just learning the rules of the game to experienced youth athletes.
"This is a great opportunity to give back. I'm a small community guy, so we tried to attract the local schools in the surrounding area and give these guys an opportunity that they wouldn't usually have," said Director of Community Engagement and Chiefs Hall of Famer Gary Spani. "They're Chiefs' fans and part of our community, so this is a chance to give back up here in St. Joe."
The kids in attendance went through stretching and cardio warm-ups before rotating through a handful of drills on both sides of the ball with plenty of Gatorade breaks in-between. From proper techniques to the importance of teamwork, the camp represented the unique chance to receive high-level coaching at a young age.
"Hopefully, they received some of the stuff we were saying – I know it's hard when kids just want to play – but just being on this field, I don't take it for granted, so hopefully they got that as well," said Dom Marino, Missouri Western's starting quarterback. "I just love working with kids, so my goal was for them to get something out of it and to have some fun."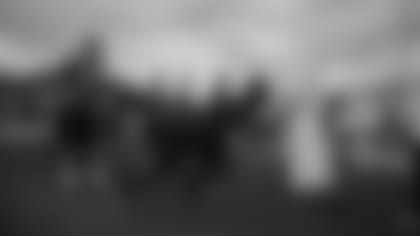 Following the camp, the kids were then invited to watch the professionals go through similar drills on the nearby practice fields.
"We shut this down a little early so that they could watch about an hour of the Chiefs' practice," Spani said. "Especially for those that don't get out here very often, they got to have the camp and then experience watching the Chiefs. Gatorade sponsored all of this, so it's great that we have a sponsor that takes an interest in kids."
With that interest in mind, the kids left the camp on Saturday with much more than just a few new skills on the field.
"They don't realize it now, but there's so many tools that football can teach them," Marino said. "I'm just starting to see it for myself, so to see this many kids out here – it's inspiring. It warms my heart."
The Gatorade Junior Training Camp was held at the Spratt Memorial Stadium Complex on the campus of Missouri Western State University during the Chiefs Training Camp practice on Saturday July 28, 2018.