They broke it down just as they always did.
"Chiefs on three…1-2-3…Chiefs!"
It was like all the other Saturday walkthroughs they had before—important for the impending game the following day, which in this case, was on the road against the Houston Texans, but in the grand scheme of things, not something that'd be remembered, or recalled, weeks, months, or even years later.
But for one particular player, this day would be different; it would be remembered more than a year later.
As a handful of the guys were walking off the field that Saturday morning, just an hour or so before boarding the busses for the airport to fly to Houston, the usual laughter and jokes carried across the field and reverberated throughout the indoor practice complex, which is housed by a metal roof that does as much to enhance the noise as it does shield the sun and elements.
As they approached the door to the hallway that goes to the locker room, standing off to the left side of the practice field, was John Dorsey, then the general manager.
"Once I saw him waving my way, I instantly I was like, 'Bro, you got to be playing.'"
Before that moment, Rakeem Nunez-Roches—the Kansas City Chiefs' sixth-round pick out of Southern Miss in 2015, hadn't spoken much with Dorsey. It was his second year in the league and thought he was progressing well.
But on this day, Dorsey did need to speak with him. Rakeem was being released.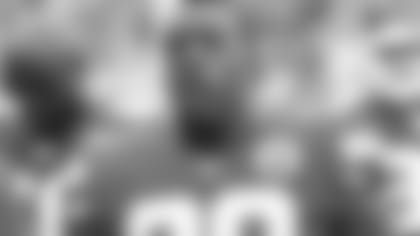 In that moment, which was only possible because of the thousands upon thousands of hours of sweat equity he had put into the game throughout his life, which had its myriad of challenges along the way, the dream was thought to be over for Rakeem in a conversation that lasted less than a minute.
After he got the news, Rakeem called the one person who has been with him from the beginning.
"If you need me to come out there, I will," said the calming voice on the other end of the phone. "It's 16 hours, but I'll get on the road, or I'll catch a plane or whatever, but if you need me there—I'm on my way."
Rakeem's mother, Nancy, who was then and still is living in Alabama, has been looking out for her son since she first moved with him to the United States from Belize when he was just eight years old.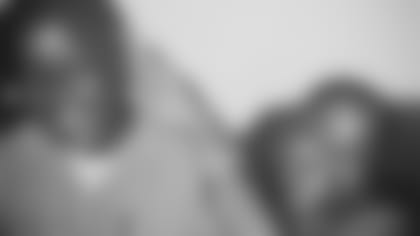 (Rakeem and his mother, Nancy)
At that time, she moved him to a new world with nothing but what she could fit in a single backpack. They hadn't ever seen running water, much less the other amenities that they would ultimately find in this country. In fact, they would use buckets to catch rainwater back in Belize to have something to drink.
Nancy moved herself and Rakeem around with her sister and her sister's husband, who was in the military, for most of Rakeem's childhood. Rakeem's father was not in the picture.
She relied on "Afuyeni," which is Garifuna—the cultural language they spoke back in Belize—for *faith. *She raised Rakeem of the Catholic faith and made sure he was always aware of how fortunate they are for what they had because, after all, they had known far worse conditions.
They spent time living near military bases in California, Colorado, Kentucky, Alabama, and Georgia. There were times they were living in her car, without much food or water.
But on this Saturday morning, despite all the hardships they had gone through together and what Nancy had done and sacrificed for her son, she couldn't remove his pain.
"There's not much you have to say because you just feel their heart," Nancy explained of the conversation that day. "My son is my breath. He's my first thought in the morning, my joy.
"And all he said was, 'Mom, it's not good,' and we just cried together."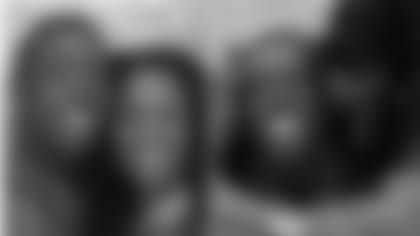 As a rookie the year before, Rakeem had appeared in seven games and played just 22 defensive snaps—gathering a total of four tackles.
In the Week 1 game against the Chargers the week before his conversation with Dorsey, Rakeem was listed as inactive.
"That was the first time it really resonated—like this stuff is real," he recalled. "This is a business."
After some self-reflection, Rakeem saw it was an opportunity to grow, and he didn't have to look far to find the motivation of how to overcome the adversity he faced.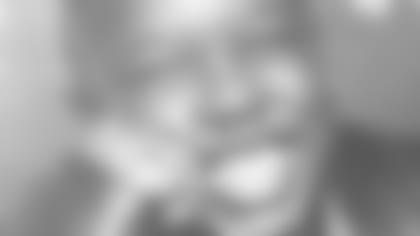 Nancy, who barely spoke English when they first moved to the United States, wound up catching a break after they moved from California to Colorado Springs. She got a job as a cashier at a Phillips 66 gas station, and it wasn't long before she worked her way up to general manager.
"If you set your mind to something, it can be accomplished," she noted. "I came out here with a purpose, and that was to be the best parent and best provider I could be for him."
As Rakeem got older, there was always a focus on academics—that was never an issue, but he didn't always make the best decisions.
Nancy was steadfast in keeping Rakeem from using his absent father as an excuse for him getting into trouble.
"I don't want you to fall into that category because it's not true," she recalled telling him. "I'm right there every morning when you wake up and every night when you go to bed. I'm here giving you everything you need, so you have no excuse to do wrong."
After one particular incident that could have had long-lasting implications, Rakeem got the wakeup call he needed. He was given a second chance.
"I took it, and I never looked back," he said.
After attending five different high schools, Rakeem eventually got on track and earned a scholarship to play football at Southern Miss, where he'd excel as an undersized, but an athletic interior defensive lineman.
During his junior season, which would be his last in college as he chose to forego his senior year, Rakeem finished with 63 tackles, including 15 for loss with four sacks.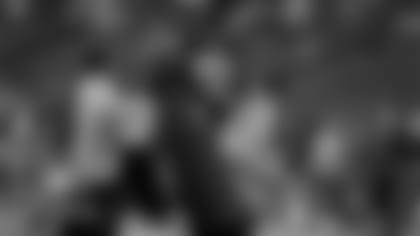 (Rakeem at the NFL Scouting Combine in 2015)
And as proud as Nancy was for what Rakeem was doing on the football field, the things he was doing away from the field meant even more.
When Rakeem was in junior high school, he and his mother began "Bookbags for the Homeless," which was a program that raised money to put everything they could fit inside those bags—things like canned goods, blankets, cash and clothes, and then they passed them out to the homeless in their community.
"I wanted him to know regardless of where we are in life, there's always someone that is doing worse," she would preach to him. "It doesn't matter our income; you should always give something back."
And without his mother's knowledge, Rakeem carried that tradition after he went away to college.
"It was one of my happiest moments of my life," Nancy explained when she found out that her son had continued on that tradition.
In addition to his charitable side, it's hard to share Rakeem's story and not talk about his gregarious personality.
He's never met a stranger, and he's rarely not smiling—the absolute definition of an "energy-giver," which has been his story since he was a kid.
"You're your best company," he laughed, trying to explain where his personality came from. "I always loved to laugh, always loved to make other people laugh. My bad days now are nowhere near what my bad days were when I was younger.
"So, I'll be down for about 15 minutes, but I be right back up because I realize something better is coming—brighter days are coming."
One of the days in which that message needed to hit home for Rakeem was a few days before the game against the Bengals his rookie year when he got the call that Jeffrey Johnson—his uncle, who had been the only father-figure in his life, had passed away. He was the one who had taught Rakeem how to fish, which is now one of his favorite hobbies.
Rakeem honored his uncle with a large tattoo on his left thigh. It serves as a reminder of where he's been and who he's indebted to for having a life in this country, let alone one as a professional athlete.
And Rakeem often reminds himself of how quickly this can all be taken away, which stems back to that conversation with Dorsey that morning walking off the field, which led to him joining the practice squad just a few days later. He was signed back to the active roster about a month later.
"Once I heard a smile in his voice, I wasn't as worried anymore," Nancy recalled of the latter part of their phone conversation that Saturday morning. "I knew he was going to fight."
Rakeem has started 10 games for the Chiefs this year and is a regular in the defensive line's rotation—playing roughly 35 percent of the snaps and bringing a wealth of passion and energy to the field with each opportunity.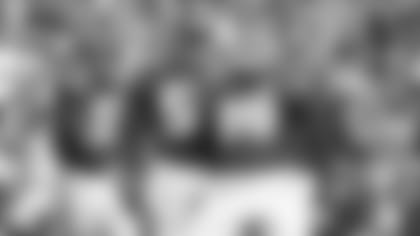 "He's one of those guys that come to work every day, and he has one speed," Chiefs' coach Andy Reid explained of Rakeem. "He does it in practice; he does it in the games. He's a great example, I think, to everybody on our team. For somebody who was cut from our team, not because of bad play but just because we had to make a roster move. He was on the street; nobody picked him up. 31 teams had an opportunity to pick him up, and nobody did, and now you could argue he's one of our most consistent players on the defensive side. It's because of hard work and his attitude.
"He's maximizing his potential. Through that, he's an easy guy to coach. You tell him to do something he's going to do it. He's not just going to do it against a bag. He's going to do it live, and he's going to do it 100 miles an hour. My hats off to that kid. He does it with a smile on his face. He brings it. He has fun doing it. I can't say enough about him."
Rakeem has poured everything into proving he belongs at this level, and any time there may be a slip, he's quick to remind himself that everyone is expendable.
Last spring, he had planned on taking a trip back to Belize to where he grew up. But days before he was to leave, the Chiefs released veteran receiver, Jeremy Maclin.
Rakeem saw that as another wake-up call. He canceled his trip.
"It just woke me up to show me this isn't a promise; this isn't guaranteed—contract or no contract. Every day is an interview," he explained.
"I had to raise the level, take it up a notch."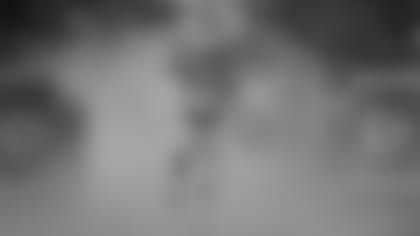 Rakeem, who always had natural athleticism—grading out in the 73rd percentile in his draft class on his SPARQ score, which is a combination analysis of Speed, Power, Agility, Reaction, and Quickness—began to focus on the details.
"Today I'm going to work on eyes, tomorrow I'm going to work on hands, this day I'm going to work on pass rush. I just kept stacking days together," he explained. "I needed to not just know my position, but what everyone on the defense is supposed to do. I studied offensive tendencies, anything I could to learn the game and enhance my football IQ."
"He has become an outstanding technique player—from striking the blocker to being able to shed and get off," Chiefs' defensive coordinator Bob Sutton explained, "and his footwork has improved tremendously. He's just done a great job of demanding that of himself every day in practice."
But maybe what's most obvious about Rakeem's place on this team is how everyone feeds off him and his passion for the game—something he wasn't sure about when he was still finding his way. He didn't know if was his place to act, basically, as himself. That's not an issue anymore.
"We feed off his energy," cornerback Terrance Mitchell said.
"Genuine—that's what I can say about [Rakeem]," cornerback Kenneth Acker added. "He's the same guy every day."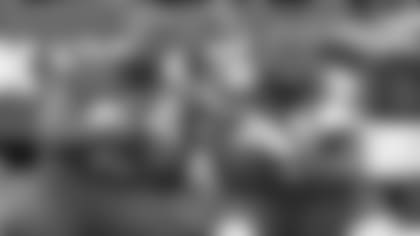 "You see he brings the fire and desire," fellow defensive lineman Chris Jones explained of Rakeem, who was given the nickname of 'Nacho' by Reid one day early in his career. "Nacho is Nacho. You're going to see the fist pump on anything and everything. He doesn't even have to make the play, you can make the play, but he's just got that fire for you—that emotion, that desire. He keeps everyone around him going."
It's an energy he learned from watching his mother—his best friend, work, and sacrifice to give him a life that we are all now witnessing together as he continues to make his mark on this Chiefs' defense.
"When he's on that field, and they blow the whistle, a tear comes down," Nancy shared, unsuccessfully holding back additional tears. "He just never turned back. I pray for his health, I pray that he gets up, and I pray he gets another snap because he enjoys it so much. I just love my son."