Chronicling the Early Years
One of the most storied players in Kansas City Chiefs history was born a little more than two hours West of Arrowhead Stadium in Fort Riley, Kansas.
That player was 12-time Pro Bowler and seven-time All-Pro offensive guard Will Shields, who played his entire 14-year career (1993-2006) with the Chiefs.
Despite the close proximity to Arrowhead early in his life, Shields spent less than two years at Fort Riley, a military base just outside of Manhattan, before his family moved to Lawton, Oklahoma, just South of Fort Sill.
"It's a pretty small town," Shields explained of Lawton. "In history as we go through it, it's known as the drug capital of Oklahoma. I guess known in a sense by (former Oklahoma coach) Barry Switzer."
The Story Behind His Recruitment to Nebraska
Shields, a junior that year, was looking towards his future in football despite the feeling of being overshadowed by his teammates.
"I was sort of the background guy, the big kid that really people couldn't feel where we were going to go," Shields said. "I ended up getting recruited by OSU, OU, Nebraska, Tulsa and Arkansas."
Arkansas, who was then coached by the defensive-minded Ken Hatfield, had gone 38-11 between 1985-88. Upon Shields' arrival, Hatfield wanted him to play on the defensive side of the ball.
"They wanted me to be a defensive lineman," Shields recalled. "So I would have been a D-end or a D-tackle. The other schools, they all wanted me to be an offensive lineman, so I sort of geared towards the offensive side since that's where I'd spent most of my time."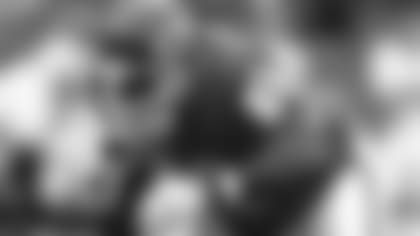 Historic Career in Kansas City
In the Chiefs' first game of the 1993 season against the Tampa Bay Buccaneers, starting left guard Dave Szott suffered an injury and Shields had to step in and play right away.
The rest as they say—is history. Shields took the job and never looked back.
The following week against the Houston Oilers, the Chiefs made some changes along the offensive line, which included Shields as the starter at right guard.
That began a streak of 223 consecutive games that Shields started along the offensive line for the Chiefs, which ranks as the best in franchise history and fifth-best in NFL history.
-- To read more about his historic career in Kansas City, click this link. --
Origins of Will Shields' Charitable Ways
For Shields, the platform given to him at Nebraska to help others reminded him of where he came from and opened his eyes to what was possible.
"It all goes back to where you grew up," Shields said. "Seeing all of the different people who struggled and needed help, and now being able to be in that position, that was something that was unique to me."
Shields was drafted by the Kansas City Chiefs in 1993, which was the same year he started his "Will to Succeed" Foundation.
"What was really unique is that my wife and I started it by ourselves with just our lawyer," Shields recalled. "At that time there were 17 different athletes doing things in the [Kansas City] community. So we had to do as much as we could to do our part to be a part of the community.
"It ended up getting to the point where we ended up with a board of like 20 people who were working on different events," he explained. "We saw it grow and grow and grow."
-- To read more on the origins of Shields' charitable ways, click this link. --
Photos of Will Shields as a Kansas City Chief.