Madison Marie approached the sofa chair and handed a small pouch to her unsuspecting grandfather, who asked what this was all about.
"You'll see," said the grinning four-year-old.
Paul Watson opened the pouch to reveal a pair of dog tags – a common sight in this military family.
He sat there suspended in thought, inspecting what appeared to be embossed on the metal surface of each tag.
"I'll tell you what it says," she insists.
"It says," the girl explains, "'Madison Marie…Watson.'"
You see, Paul is not Madison's biological grandfather – he's much more than that.
He's been a loving father to his stepson and Madison's dad, Marcus, since the boy was just a year old, and on this October afternoon in Pennsylvania, both Marcus and his daughter decided to change their surnames to match that of the man they owe so much.
They had always been a family, but now it was official.
Paul's confusion transforms into a smile.
"Are you serious?" he yells. "Oh man, that just made my…life!"
The moment was captured on video, as Marcus' girlfriend documented the entire thing. What followed brought the Watson's story into millions of homes, on The Ellen DeGeneres Show in Hollywood and, finally, onto the grass at Arrowhead Stadium.
But Paul didn't raise Marcus as his own for the attention.
From the very beginning, all he ever wanted to do was to be a good father.
The youngest of nine children, Paul grew up with two loving parents that worked hard to give him every chance in life, and he dreamt of doing the same for a kid of his own one day.
That opportunity presented itself – albeit in unconventional fashion - when Paul began dating his eventual wife, who already had a one-year-old son.
The boy wasn't his blood, but Paul didn't hesitate.
"I was raised with a mom and a dad - I woke up every morning and they were there," Paul explained. "I just wanted to give him the opportunity to have a normal life…a good life. He wasn't mine biologically, but he was in my life now and I was going to be a father to him.
Years passed as Paul raised Marcus as his own.
He enrolled Marcus in a good school, took him on fishing trips and, of course, passed along his love for the Kansas City Chiefs.
"My dad said I had a choice growing up, I didn't have to be a Chiefs fan," Marcus said. "But I remember watching Derrick Thomas on Sunday nights, peeking down from the top of the stairs even when Dad said I had to go to bed. I was all about them…it's always been the Chiefs."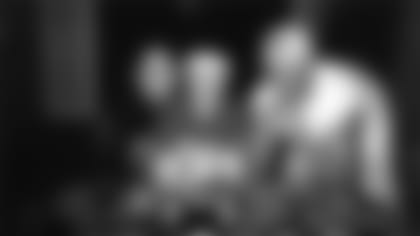 That passion only grew over time, as the shared affinity for a football team over 1,000 miles away brought the two even closer together.
"You know, the Chiefs were a glue in a way for a good period of our lives," Marcus said. "If Dad and I weren't seeing eye to eye or if one of us had made the other upset, we could always go back to one question:
"You see the game on Sunday?"
That bond was apparent throughout Marcus' childhood, sometimes in ways that others couldn't quite understand.
"I did something once that made his grandmother flip out," Paul said. "I was responsible for getting him a haircut, so one time I took him to the barber shop and got him a nice little fade with the Chiefs logo in it. Marcus and I were excited…my wife and his grandmother were not."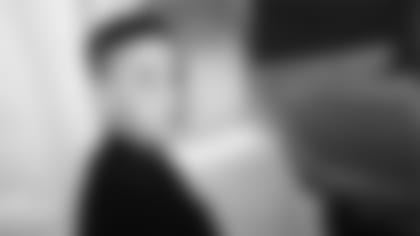 That next level excitement surrounding the Chiefs was something that had been a part of Paul's life since he was a child – and by total coincidence.
"My mom bought my brother and I this electric football game when we were kids…I loved that game," Paul explained. "We used to always play each other and fight over who got to be the Steelers – they were the team where we grew up. My older brother won the fight one day and told me to pick another team, and I said, 'Alright, I'm going to be the Kansas City Chiefs.'
"I beat him that day and I've been a Chiefs fan ever since."
From that moment on, it became Paul's mission to make it to Kansas City for a game.
"When I was 19, I went to my father and said, 'Pop, I'm going to Kansas City,'" Paul said. "He just starts laughing and singing to me, 'Kansas City…Kansas City here I come.'"
While Marcus didn't realize it at the time, his actions on that October afternoon – and the video that chronicled it – was going to finally make that trip a reality.
"We posted the video on YouTube just so we could send the link to family members," Marcus recalled. "Then it just started to blow up."
Hundreds of views turned into thousands, and thousands turned into millions.
"Friends starting telling me that they saw the video on Facebook, and mine was deactivated at the time, so I couldn't see it," Marcus said. "I went online and it's at 10, 11, 12 million views. I couldn't believe what was happening."
The whirlwind roared on, eventually catching the eye of one of the most influential names in Hollywood.
"I got a call from some reps from the Ellen Show and one thing just led to another," Marcus said. "It all happened so fast. It was amazing for us, being in California for the first time with all the bright lights. We're just a small family from a small town."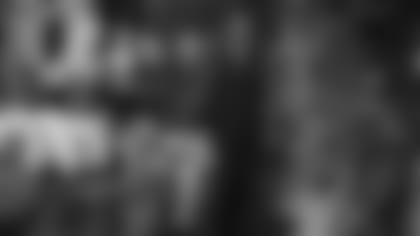 Paul, Marcus and Madison told their story on the show, explaining the origins of the video and the meaning behind it, but what happened next took everything to another level.
Ellen instructed the family to look at the screen, where a special guest had recorded a message for them.
"Hey Watson family, this is Alex Smith," Kansas City's quarterback said with a smile. "We heard you're huge Chiefs fans, and we want to invite you all out to a game. Marcus, thank you for your service to our country, and Paul, thank you for being an amazing dad. See you guys soon."
For the Watsons, time stood still.
"I stopped breathing," Paul recalled. "I looked at Marcus and he looked at me and I'm just like, 'That's our quarterback, man! He's talking to us.'"
"I kind of felt like I had just been punched in the stomach," Marcus recalled. "I couldn't comprehend that we were sitting here next to Ellen and watching our quarterback say our names. This is the same quarterback that we've been watching for years, pulling for every Sunday…it was just unreal."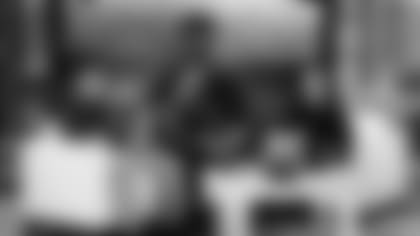 It was a simple gesture, but one that brought on a wave of emotions.
"I was just honored to know that the quarterback of the Kansas City Chiefs, the team that I'd been playing electric football with since I was seven years old, was talking about me," Paul said.
"I thought about my father at that time…I'm sitting here with my son and I was thinking about how I told my dad that I was going to Kansas City.
"I was just like, 'Wow…I'm doing it. I'm going to Kansas City.'"
The Watsons walked out onto the Arrowhead grass a few weeks later, on hand for a crucial showdown between the Chiefs and Oakland Raiders with the division on the line.
They walked along the sideline, captivated by the reality of their situation.
"We toured the stadium and ran into guys like Mitch Holthus, Kevin Harlan, BJ Kissel, Rich Gannon and some of the players…it was crazy," Marcus said. "Then Dante Hall came up and said that he wanted to take a picture with us.
"I just kept wondering, 'What the heck is happening right now?'"
The story struck a chord with the former All-Pro return man, who saw parallels between the Watson's story and his own life.
"I had seen their story on Ellen and was moved by it because I was Marcus Watson," Hall explained. "I had someone like a Paul Watson come into my life in high school as well as in the pros, so I just related to it big time."
Hall wanted to make sure that the Watsons knew that.
"I saw them on the sideline and I just wanted to embrace them and let them know that their story was inspiring to me," Hall said. "Maybe one day I can go and change a kid's life, so I just professed my admiration to Mr. Watson for doing such a tremendous job in these kids' lives. I related to that.
"They wanted a picture with me and I was like, 'No, no, no. I want a picture with you guys.'"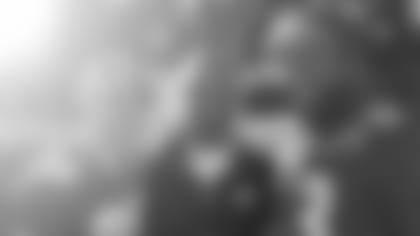 The Chiefs went on to win that afternoon, defeating the Raiders by a pair of touchdowns.
It had been a wild couple of months, with the win serving as an exclamation point to everything that had transpired.
And amazingly, it was about to get even better.
"We were originally supposed to meet Alex during pregame warmups, but everything was already ramping up so we couldn't, and we understood that," Marcus said. "But I ran into his wife during the game while I was getting Maddie some popcorn and I asked if she could tell Alex that we said hello and we appreciated his message.
"She looks at me and asks, 'Why don't we just go see him?'"
The two families – the Watsons and the Smiths – went on to spend an hour on the field following the game.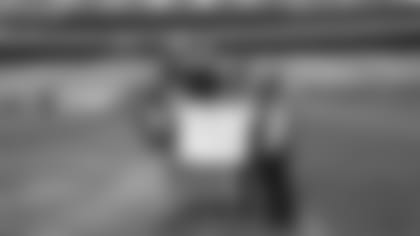 "He walked Maddie onto the field with him…it was a dream, really," Marcus said. "She played catch with his boys while my dad and I talked to Alex. He introduced us to Travis Kelce and we all took some pictures. It was all just truly special."
That sentiment was mutual.
"Just to hang out on the field after a win with a lot of the players out there with their families and friends in a relaxed environment with no cameras or anything like that…it was real and genuine," Smith said. "That's the kind of people they are, so it was nice to have that environment and to spend some time with them."
Marcus stood on the field, thinking about everything that had transpired.
"A month ago, I was dreaming of when I would get to this stadium one day," Marcus recalled. "For my dad and I to both be here and to have these memories with my daughter…it's just so special."
It was all made possible simply because Paul decided to be a father to a boy in need of one so many years ago.
Paul stared at the dog tags on that faithful October afternoon, still in disbelief.
"Are you serious?" he asks.
"Yeah," Marcus says. "It's official…finally."