The lengthy trip the Kansas City Chiefs will take across the Atlantic Ocean to play in Wembley Stadium in early November seems like nothing in comparison to the journey four British and two American wounded veterans are currently in the midst of right now in England.
By the time the Chiefs arrive, the six walkers will have trekked 1,000 miles across the entire country, all for a good cause.
It's called the "Walk of Britain," and in association with "Walking With the Wounded," the six walkers hope to raise £250,000 ($389,611).
According to its website, "Walking With The Wounded" was established in 2010 to raise funds for the re-education and re-training of our wounded servicemen and women.
For most, leaving the Armed Forces was not something they were planning before their injuries, and so most are not prepared for the move from one career to another. Further to this they are now facing a future with physical and mental disabilities.
As of Monday, September 21, the "Walk of Britain" has reached Day 31, with 41 days to go.
The walk will culminate on the morning of November 1, when the walkers head straight to Wembley Stadium for pre-game ceremonies at the NFL International Series game between the Detroit Lions and the Kansas City Chiefs.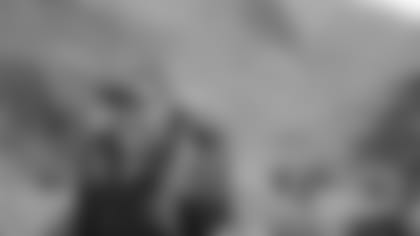 Alec Robotham (seen pictured above), a former member of the British Royal Marines, can be seen wearing a Chiefs hat in pictures of the journey.
Robotham was badly injured four months into his Afghanistan tour by a suicide bomber while on a routine foot patrol, leaving him with wounds to his legs, a severed main artery in his right leg, wounds to his left foot and right arm and hearing damage.
Robotham needed 10 weeks of surgery and rehab in order to learn to walk again. Robotham then went on to obtain his Private Pilots (helicopter) License.
So far, the walkers have reached 8 percent of their goal. To help the cause, you can click here.