The excitement continues to build, leading up to the pinnacle of pandemonium, the 2013 home opener at Arrowhead Stadium, where the Kansas City Chiefs host the Dallas Cowboys on Sunday.
Both teams are looking for 2-0 starts to the 2013 season, but today Chiefs offensive, defensive and special teams coordinators addressed the media, speaking to their preparations for Sunday's must-see venue.
Chiefs special teams coordinator Dave Toub spoke first on Thursday, describing the consistent game plan for Chiefs kicker Ryan Succop.
"We had a meeting today and said 'Hey, we're never going to be mad at you for kicking a touchback,'" Toub said of his meeting with Succop. "(Chiefs special teams assistant) Kevin O'Dea has done a good job with his technique and we feel like right now, he's able to dial up those touchbacks. That's a plus. There might be a situation where we have a dead wind right in our face and we have to cover it. But, right now, everything being equal, when there's no wind out there, we feel good with him being able to kick a touchback for us."
Regardless if coach Toub's guys are asked to kick off or return the opening kick, at some point, the Chiefs offense will take the field on Sunday and likely to a thunderous roar. Helping with the play calls for Chiefs QB Alex Smith will be his offensive coordinator Doug Pederson, who spoke to the benefit of having a familiarity with the Cowboys system, stemming from their NFC East battles, while he was with Andy Reid, coaching in Philadelphia.
"It helps in the sense that we just know their personnel," Pederson said. "It's a different coordinator, a little different structure than what we've seen in years past, but understanding their personnel and how they play and how they defend certain situations is very valuable to us as an offensive staff. And yet, we're new to them as well, a little bit, with another set of challenges for them. They're studying us just like we are studying them and we just need to make sure we can match them in our favor."
On the defensive side of the ball, Chiefs fans are wondering how their team's defensive coordinator, Bob Sutton, and his defense plan to top their epic Week 1 performance, allowing only 178 total net yards by the Jacksonville Jaguars offense in the contest.
Coach Sutton said on Thursday that the chemistry of the Chiefs defense will only help their efforts to achieve jaw-dropping stats.
"I think what's really exciting is that these guys generally enjoy playing with each other," Sutton said. "They enjoy each other as teammates. They have fun with each other. That's one of those things and it seems strange, but we always tell them that this is a hard game, but we can have fun. We can enjoy what we're doing and since the first meeting, we said we don't want you to come in this building or come in these meetings and be thinking drudgery. That's not what we want. It's hard work and when you lose it, isn't fun, but you still come in and we're all blessed to have a great thing going here. From us coaching to them playing in the National Football League is, I think for all of us, a dream come true; so, we can't forget that. I think the closer they get, the more they depend on each other and the more that they count on each other, the better off we can be."
If Chiefs fans are concerned about the team dwelling on its 28-2 victory over Jacksonville, Pro Bowl LB Tamba Hali shared a very clear message.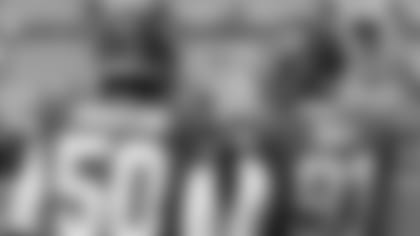 "We put that behind us; it's over," Hali said. "That's one game. We don't want to get caught up in just one game. We want to build on that and going forward, it's all about Dallas, executing our plan and getting our job done."
Fellow Chiefs LB Justin Houston credited Tamba's knowledge of the game in helping him become a Pro Bowl player.
"He has helped me a lot," Houston said of Hali. "I think there are a lot of things I'm doing because of him. He's taught me a lot about the pass-rush game; he's a great teacher."
The better the Chiefs play on Sunday, the louder fans will cheer, revitalizing the intimidating factor of Arrowhead Stadium.
Before the game on Sunday, don't miss your chance to see some of the Chiefs players during Friday night's pep rally to celebrate Red Friday, downtown on the KC Live! stage at the Power and Light District. RSVP here.