While the less-than-favorable weather continued outside Thursday morning, the Kansas City Chiefs resumed practice inside, at their training complex, three days shy of facing the Buffalo Bills at Ralph Wilson Stadium.
After the team's morning walkthrough, Chiefs special teams coordinator Dave Toub, offensive coordinator Doug Pederson and defensive coordinator Bob Sutton completed their weekly press conferences, previewing their tough AFC East showdown this Sunday in Buffalo.
Coach Toub's first question involved the AFC Special Teams Player of the Week Award winner, Chiefs K Ryan Succop.
"We're all happy for him," Toub said. "It's really a culmination of his entire season. He put together a good season, so this is good recognition for him and the unit."
From his kicker to his kick returner, Toub spoke about Chiefs S Quintin Demps and the thought process behind bringing the ball out or taking a knee.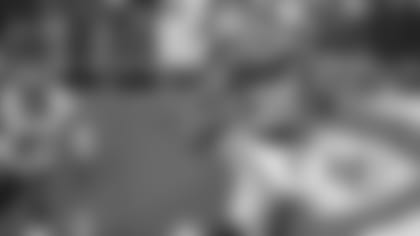 "We tell him, if it's nine (yards) deep and he's chasing the ball going backwards, or if he has to run laterally far for the ball and catch it and he knows that it's taking too much time, he's going to stay in," Toub said. "If it's a low-trajectory ball that he's getting it sometimes eight or nine deep, he knows the coverage is not all the way down there, we're going to come out with those. We're going to take a shot on goal. You want to try to give your offense the best field position that you can. Sometimes, we get stuck in there on the 15 (yard line) recently and it was really because of blocking. It wasn't because Demps came out; it wasn't his decision that really hurt us, it was the blocking."
Demps credited his coaches for the confidence he has behind each aggressive kick return.
"It just comes from coaching," Demps said. "Coach Toub told us to be aggressive, me and Dex (McCluster). That's what I'm doing, being aggressive, kind of the flow of the game. Sometimes I won't bring it out, sometimes I will. A lot of times, we need a spark, so I bring it out, no matter what."
When the Chiefs offense takes the field Sunday, it will be facing a stout Bills defense, coached by defensive coordinator Mike Pettine, who worked with Chiefs defensive coordinator Bob Sutton, while with the New York Jets. Chiefs offensive coordinator Doug Pederson was asked Thursday if he anticipates seeing a defense that looks a lot like the one coach Sutton has brought to KC. 
"Yeah, there are a lot of similarities with the structure, the style, the scheme," Pederson said. "They've got some great players in Buffalo and (Mike Pettine) is using them just like (Bob) Sutton uses them here. From that standpoint, it's very familiar to us, offensively. However, we still have to execute and handle all of the pressure that they bring."
Chiefs offensive lineman Geoff Schwartz also sees the similarities between the Bills defensive line and the guys he's faced in practice, since training camp.
"Yeah, scheme-wise they are, so that's nice," Schwartz said. "We saw some of the stuff in camp, as far as blitz packages and things like that. We dealt with it for a while, which is nice. It presents challenges, being on the road and they move around a lot, but we'll be ready."
Speaking of Bob Sutton, the Chiefs defensive coordinator said that whichever Bills quarterback is under center on Sunday likely won't change what they will try to do on offense. 
"It doesn't dramatically change what they do," Sutton said. "There is always a little slant to what they think, whoever the quarterback is going to be. We have to keep practicing the things that we have seen on film and on Sunday, adjust to need."
One of Sutton's Pro Bowl LBs, Tamba Hali spoke to the total team effort that has brought the Chiefs to 8-0, knowing that each phase will have to be on-point, come Sunday.
"I don't think we're doing it on just defense," Hali said. "I think we're doing it in all three phases. We do our part, the offense gets out there and they do their part and special teams, they do their part. I think collectively, we're winning games. The numbers might seem the defense is playing well, but our offense plays well. There are games where they have to carry us. They have to score points and carry us. We're doing what defenses should do; just try to keep points off the board."
The Chiefs will close out the week of practice on Friday, followed by a travel day on Saturday, culminating with the Week 9 contest against the Bills at 12:00 PM CDT on Sunday.
For a look at Thursday's Injury Report, click here.