Days after helping lead their groups in what was an impressive three-phase victory, 45-10, against the Washington Redskins, the Kansas City Chiefs coordinators met with the media on Thursday, describing improved play, throughout the entire team.
As soon as Chiefs special teams coordinator Dave Toub stepped in front of the cameras, he was quick to speak to the depth and discipline of his group.
"We have some real good returners," Toub said. "We're pretty blessed there; we also have a lot of good players that are buying into everything that we're doing and they're practicing hard and they're making it happen on the field. And, once you score, the same thing happened in Chicago, once you score, it kind of feeds of itself and the guys really start buying in and they want to get them in the end zone. We have three guys that can do it and guys just block a little bit extra harder and it's really paying off for us right now."
One of Toub's returners, Chiefs S Quintin Demps described the reason for special teams success in 2013.
"It starts with great coaching and the other ten guys blocking and doing their job," Demps said. "Having a good returner, of course, always pays off. I think we keep getting better. I think we hit a couple of bumps here and there, but I think it's a constant growth. The team is getting better every day."
The Chiefs offense has come on strong in their last three games, thanks a large part to their offensive line.
"They've steadily improved from Week 1 to where we are today," Chiefs offensive coordinator Doug Pederson said. "Is it dramatic or drastic? There have been subtle changes, throughout the year. Our guys have overcome some adversity (with) injury, throughout the year and moving some guys around. They've hung together; they've hung tough with that. You always say you're as good as your offensive line. In the last month of the season, they've played really well."
Pederson noted the improved play of the team's top-pick in 2013, RT Eric Fisher.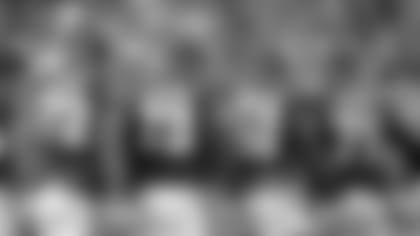 "He's probably the one that has improved the most or is the most consistent there," Pederson said. "He's understanding how to play; he's trusting (Chiefs offensive line coach) Andy Heck and the technique and fundamentals that he's teaching him. He's trying it in practice and it pays off for him in the game, when he does it. There is that confidence, (when) it worked in the game and now (Fisher) can work off of that. He's done a really nice job, these last couple of games. For a young, rookie tackle to go against some tremendous defensive ends, he's held up nicely."
Fisher offered the media a self-evaluation of his season-long improvement.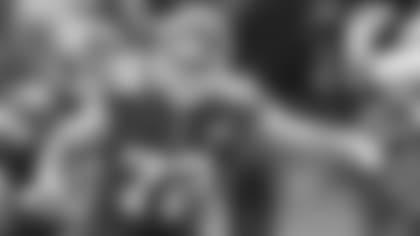 "Every week is feeling better and better," Fisher said. "Everything is slowing down; everything feels more natural. I can see it in my play on film. I'm just trying to get better every week with technique and pass (protection). I think my punch has gotten better, my hand-usage has gotten better, which is huge at my position. I try and work on that every day and I can see that on film."
On the other side of the ball, Chiefs defensive coordinator Bob Sutton described must-dos for his defense, facing Raiders rookie QB Matt McGloin.
"You have to play like we do all the time," Sutton said. "You have to have really tight coverage and you have to try to disguise things, a little bit, which we're not doing exclusively for him, obviously. We try to do it every week and try to make things look like they're not. Anything that we can slow him down, just a little bit, or slow the receiver down, whether it's a good jam or a disguising coverage, where he doesn't know exactly what he's seeing, all those things help."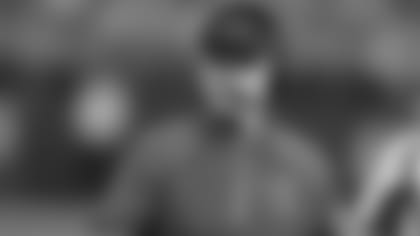 During his media session, Sutton also spoke to the solid play of Chiefs LB Frank Zombo.
"I think he's done a good job," Sutton said. "We don't lower the expectation rates or change what we want or expect, because you just can't do that. I think Frank's gone in and done a really good job. The tribute to Frank is that he's been preparing the whole time, with little reps in practice, but mentally staying on top of all of these things; it is showing up in film. He's an aggressive, tough guy. I think he's gone in and done an outstanding job for us."
As for Zombo, he previewed what to expect from Oakland's offensive line.
"They have a different mentality, it looks like on film," Zombo said. "They're more aggressive and it seems like they have a little bit of a chip on their shoulder and the quarterback isn't running around as much; so, I think those things go together and they're giving up less sacks."
Zombo and company will return to One Arrowhead Drive on Friday, working on ways to get to McGloin as quick as possible, during the team's final practice of the week, before traveling to Oakland on Saturday.
For a look at the team's injury report from Thursday, click here.